In this article we're going to talk about PassFab 4WinKey, a handy software that can be used to reset any Windows 10 login password in a matter of seconds. Why should we need to do that, you might ask? Well, the answer is simple: no matter how hard we can try to remember our passwords, if we don't use password management tools (such as LastPass, ClipperZ and the likes) we'll always risk to forget or lose them. And when this scenario occurs, we'll likely get into a lot of troubles. We might be forced to reset our Windows system or go through a reinstall, which could result in a permanent loss of data (if we don't have a backup ready) but will also eventually determine a permanent loss of time.
This software aims to help us when these unsettly scenarios occur: we would be able to instantly reset our lost password, thus being able to regain access to our system without having to reinstall it and avoiding the risk of data and time loss. Not bad, right? Well, let's see if the software really does what it claims.
Main features
The software can be used to reset/remove password from any Windows environment, from a single Windows machine (no-domain, typical home installation) to a domain-controlled operating system (such as business or enterprise scenarios).
Here are the main features that can be used within a local Windows machine:
Remove admin/guest local account user password
Reset admin/guest local account user password
Reset Microsoft account user password
Delete Windows local administrator/guest account
Create a new local admin account
And here are the main features for domain-based Windows environments:
Remove domain admin and user password
Reset domain admin and user password
Reset RAID Server user password
Delete Windows domain admin account
Create a new domain admin account
As we can see, the features are very similar in both environments: the tool can be used to remove Administrator, Domain or other local guest user passwords when we can't remember it, as well as domain administrators and domain-wide system accounts. It can also be useful if we need to remove permissions based upon a old Windows administrator account, which is a common need when we have to deal with broken hard disk drives (such as those coming from other family members / colleagues, and so on): here's a list of the most common use case scenarios.
It goes without saying that we have to carefully deal with these kind of scenarios and ensure to have the owner's permission to access those data - even if they forgot how to access them in the first place!
Installation
Let's now see how we can use this software. The first thing that we need to do is to download and install it. In this review we're going to use the PassFab 4WinKey Free Trial edition, which offers a limited amount of features for 30 days and thus gives a good chance to test the product before buying it.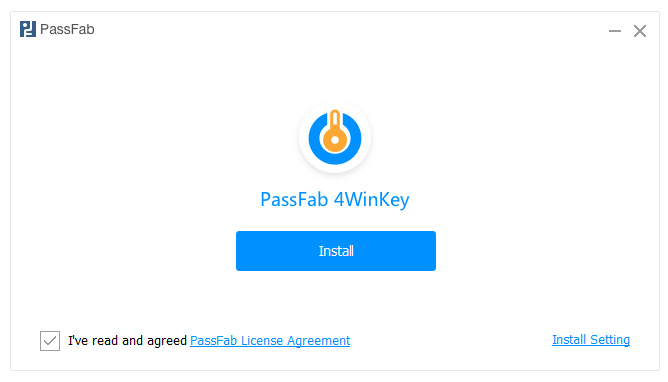 Usage
As soon as the installation process ends, the software will bring you to the PassFab 4WinKey official guide, where you can take a look at three screenshots that basically explains everything we need to do:
Create A Bootable Disk. This is how the software will actually work: a bootable CD/DVD disk (or a USB flash drive) that will get exclusive access the machine and perform the low-level tasks required to remove the account's password that you might want to get rid of.
Choose a Windows Account. As soon as the above disk will boot, you'll be asked to select the Windows account that you want to "unlock".
Reset windows password. Once you select the account and fire the engine, the tool will start to reset the windows password, eventually making you able to access it.
If you need further assistance you can also watch this small Youtube 4-minute tutorial that visually explains everything.
Available Licenses
Let alone the Free Trial, the product is available in four licenses, each one with a different set of features:
STANDARD. A entry-level license that can only be used to remove admin/guest local account user password, without domain and Windows Server operating system support: it basically works on Windows 10/8.1/8/7/Vista/XP/2000 machines only. Despite its lack of advanced features, it's still the best option for most home users.
PROFESSIONAL. All features of the Standard license, but also supports most Windows Server operating systems (2019/2012 (R2)/2008 (R2)/2003 (R2)/SBS 2011).
ENTERPRISE. All features of the Professional license, plus the capability to remove admin and user password from Windows-based active directory domains.
ULTIMATE. All features of the Enterprise license, plus the capability to reset, delete and/or create accounts from both local and domain environments.
For a more precise comparison of the features available for the various editions, check out this page.
Pricing
As for the pricing, here's how it works:
STANDARD. 19.95$
PROFESSIONAL. 29.95$
ENTERPRISE. 39.95$
ULTIMATE. 69.95$
If you want to spare some bucks, you can use this 30% off discount promo code: A8DTE (click here to apply it).
How you can get a FREE license
To support ths product review we asked to PassFab to support us with some free license giveaways for our blog readers, and they agreeded to do that! This basically means that you have a chance to win a FREE PassFab 4WinKey license if you do the following:
Give us a like on our Facebook page.
Follow us on Twitter.
Send us an e-mail message with:

FREE PassFab 4WinKey license giveaway as subject
A screenshot of the Facebook Like and Twitter follow
Your computer OS (Windows or Mac)
The e-mail address that you want to use for activating your license.
As of today (17/11/2020) we do still have many licenses available, meaning that you're still able to retrieve one of them!
Conclusion
That's it, at least for now: we hope that you found this review helpful enough and that you'll be able to win our giveaway and get yourself a free license of this interesting product. If you want to share your PassFab 4WinKey experience with us, feel free to do that in the comment section below.