P7M Studio is a software tool that includes all the features offered by P7M Convert and P7M Extract into a single desktop application. The software allows you to:
Convert P7M files (digitally signed e-invoices in CAdES format) into plain XML files, so that they can be imported into the main management software applications not supporting P7M files.
Estract the attachment files embedded into the P7M and/or XML invoice files and save them in a customizable destination folder.
The software was created with the Electron development framework and can therefore be installed on all major Windows, Windows Server, Linux and MacOS operating systems.
Features
Reading one or more digitally signed P7M files in CAdES format (plain text or Base64 format).
Conversion of the aforementioned files into standard XML

format, ideally identical to the original document before the digital signature was applied.

strazione di tutti gli allegati presenti nei file P7M e/o XML individuati, con possibilità di configurare le modalità di estrazione (solo P7M, solo XML, etc.) e la cartella di destinazione.
Automatically delete the P7M files after the conversion and / or extraction of the attachments (optional - this feature can be activated or deactivated as needed).
It can be used through a Graphical User Interface (GUI mode) for standard usage and a Command-Line Interface (CLI mode) 

 to allow massive conversions and/or interoperability with other tools.

ZIP archive support (the source P7M input files can be in a ZIP file or in a folder).
Subfolder support (optional - this feature can be activated or deactivated as needed)
Transparent copy of all XML files in the input folder to the output folder.
The software application allows you to select a source folder, containing one or more P7M files to be converted;  destination folder, which will be used to store the converted XML files; and an attachment folder, which will be used to save the extracted attachment files from the input P7M files. The destination folder may be the same as the original folder, as the name of the converted files will be the same as the original files with an additional .xml extension at the end.
Request a Demo
The software is currently available in two licensing plans:
Perpetual license: the owner can install it on all his own devices, but he can't sell it to third parties (no resale).
Perpetual resale license : similar to the previous one, but the owner can also resell the software to third parties.
For information on pricing and how to purchase, or to request an evaluation version without obligation, contact us here or through this e-mail address.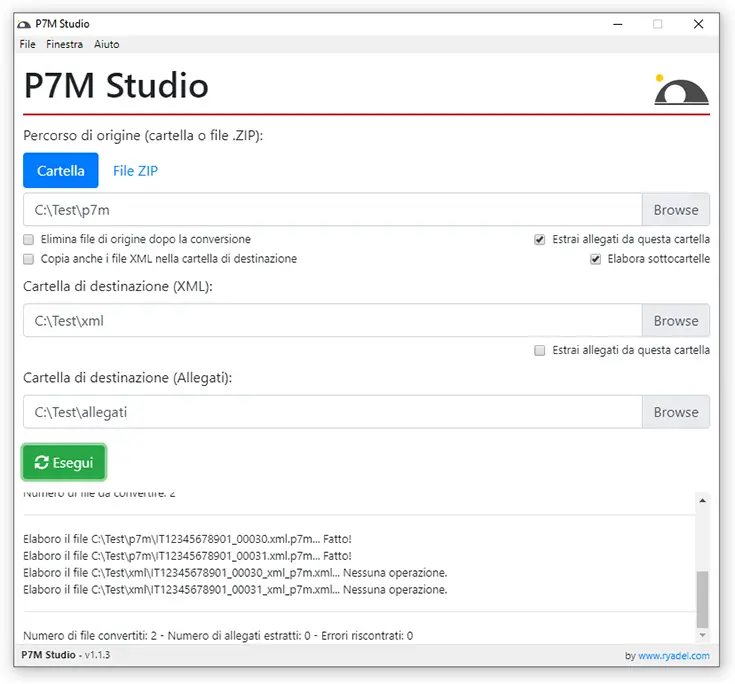 Compare Editions
| Features | P7M Convert | P7M Extract | P7M Shell | P7M Studio |
| --- | --- | --- | --- | --- |
| P7M to XML conversion | | | | |
| Delete P7M files after conversion | | | | |
| Extract attachments from P7M files | | | | |
| Extract attachments from XML files | | | | |
| Graphical User Interface (GUI) | | | | |
| Command-line execution (CLI) | | | | |
| Extract P7M/XML from ZIP archives | | | | |
| Sub-folders support | | | | |
| Unsigned XML copy | | | | |
| | | | | |
| Pricing without resale rights* | 99 EUR | 99 EUR | 99 EUR | 139 EUR |
| Pricing with resale rights* | 299 EUR | 299 EUR | 299 EUR | 389 EUR |
| DEMO version | Download | Download | Download | Download |
| Full version | Acquista | Acquista | Acquista | Acquista |
* VAT not included