[TOC]
This is not the first time we are talking about Stellar Corp. and its software tools: within the latest years we have reviewed Stellar Repair for Exchange (to fix a damaged MS Exchange database), Stellar Repair for Excel (to fix damaged MS Excel files), Stellar Converter for EDB (to convert EDB to PST), and Bitraser File Eraser (to securely erase files). The reason for that is simple: they do provide recovery tools that can be a lifesaver for most IT Administrators at an affordable price.
This time we're going to review Stellar Repair for Photo, a software tool that can help us to fix damaged image files - which could be handy in several scenarios, considering how much we use image files in our daily life, as well as for working and business purposes.
Download & Install
The trialware version of  Stellar Repair for Photo can be downloaded from the official website: once there, click the Free Download button to start the download, as shown in the screenshot below: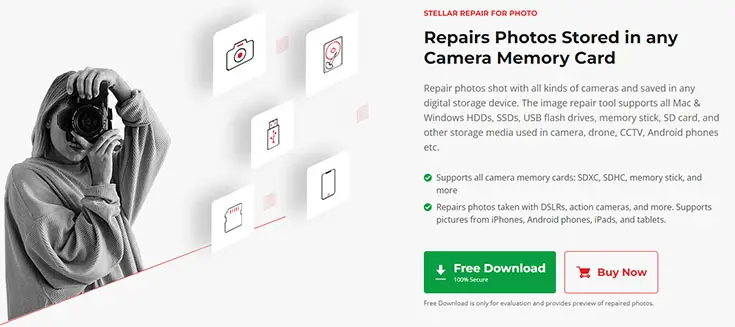 In our review and test drive, we're going to use the Windows version: however, a macOS version is also available, with the same UI/UX, features, and price.
Once the download is completed, double-click the executable to start the installation process. The installer provides a standard, wizard-like interface that lets you choose the installation folder, add the software's icon to the Start menu, and accept the End-User License Agreement.
Once the setup wizard is done, we'll be asked to launch Stellar Repair for Photo - which will run the software and bring us to the program's main dashboard.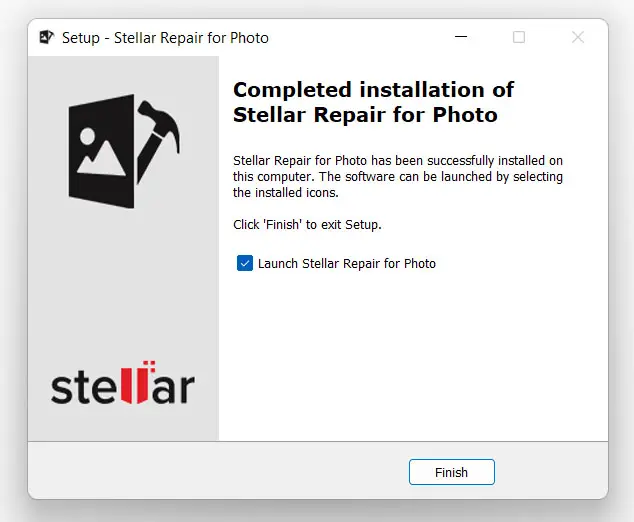 Testing the product
As soon as we launch it, the tool will show a simple, dashboard-like window, that we can use to drag and drop a corrupt image file or, alternatively, choose it from the hard disk using a standard file selection modal window.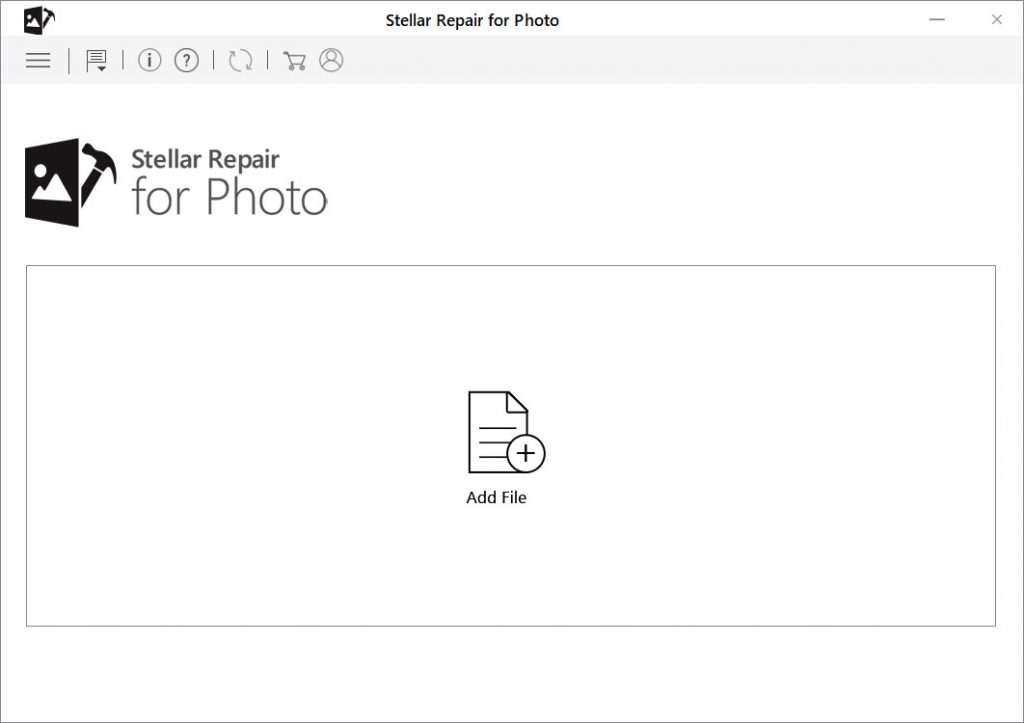 As we can see, the interface is extremely simple and easy to use: we just have to feed the tool with our corrupt image file(s) and start the repair process, which will be completed in some seconds or minutes (depending on the damage).
Test Drive
For our test drive we have downloaded a free-to-use tree image file from the www.pexels.com website, then we have manually corrupted the image file using our HEX editor of choice (Notepad++ with its HEX editor plugin) to delete some of its content until Adobe Photoshop became unable to open it anymore.
Once done, we've launched Stellar Recovery for Photo and fed it with the corrupted image file: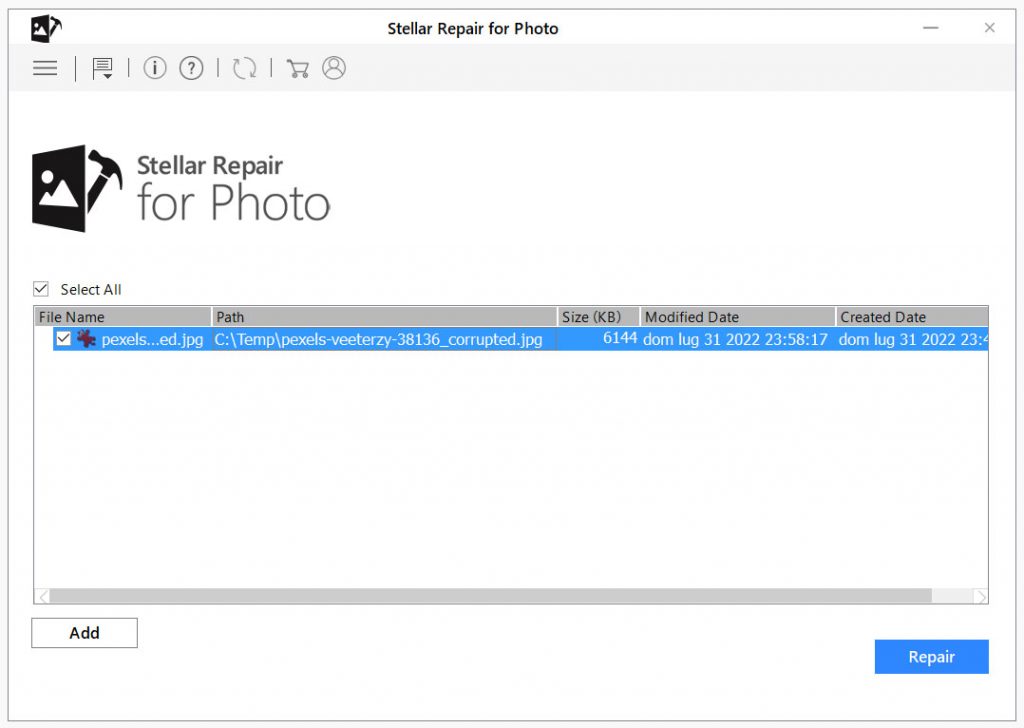 Right after that, we clicked the Repair button and started the repair process. After less than a minute, we have been welcomed with the following outcome: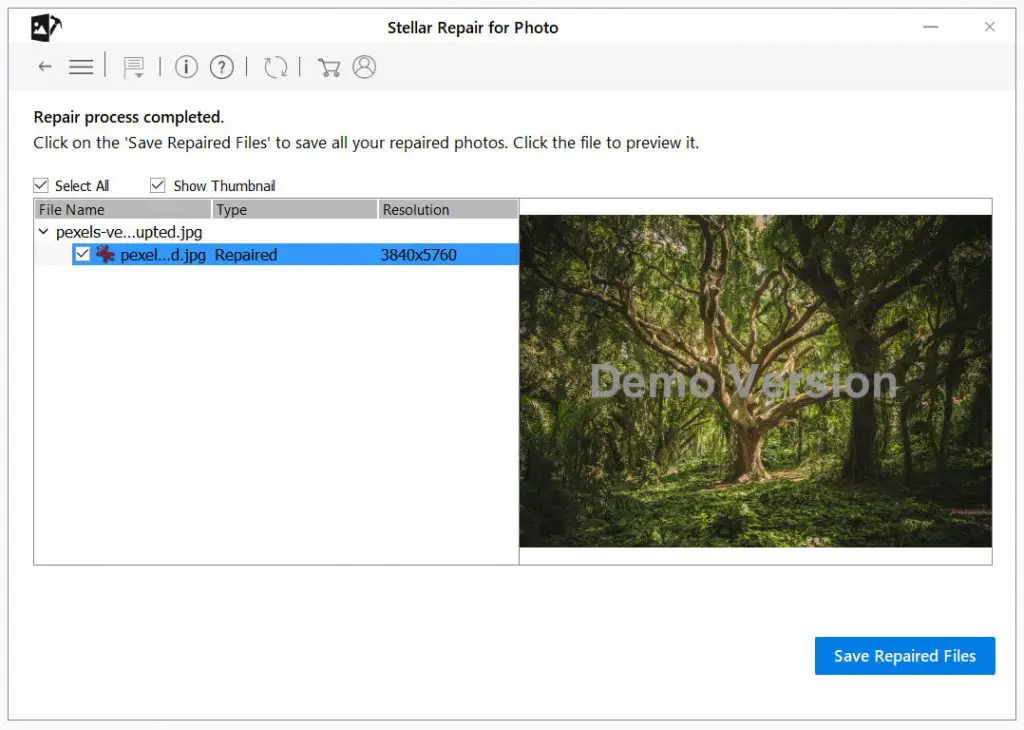 As we can see by looking at the right-side thumbnail, the repair process was a success: all we had to do after that was click the Save Repaired Files button, which created a copy of the repaired image into a brand new file - which we could open with Adobe Photoshop, just like the original file before we corrupted it.
Pricing options
Stellar Repair for Photo can be purchased in three different editions, each one coming with its own price: 29.99 EUR (Standard), 59.99 EUR (Professional), or 69.99 EUR (Premium). The three editions have the following features:
Standard. Repairs Corrupt/Damaged Photos (CRW, DNG, NEF, TIFF, JPEG, ORF, PEF, CR3, HEIC, etc); Provides an option to see the preview of repaired photos before saving them; Extracts Thumbnails of Images; Simultaneously Repair Multiple Photos.
Professional. All of the above, plus: Recover Lost or Deleted Photos; Recovers all media files (with any file extension); Supports Internal & External Drives; Provides an option to see the preview of photos before saving them.
Premium. All of the above, plus the capability of recovering video files (header, sound, slider, and movement corruption), as well as previewing them.
The website also provides a try-before-buy free edition, which has all the Standard features available but cannot save the repaired images - meaning that we will only be able to see the thumbnail preview of the repaired file(s); although not being much useful like other trialware editions, it's still a great chance to try the product before buying it.
Video tutorial
If you like video tutorials we strongly suggest taking a look at the following YouTube video that shows the Stellar Repair for Photo tool in action.
Conclusion
All in all, we can honestly say that this photo repair software lived up to expectations, allowing us to recover a corrupted JPG image file in a few seconds: all that considered, we strongly suggest to try it if you need to recover corrupted or damaged image files: its trialware preview-only mode, while not allowing to save the recovered file, would still allow you to check if it can help you before having to actually purchase it.