We've already talked about EDB to PST conversion in a previous post, where we've shared some useful PowerShell scripts that allows to perform such tasks for free. However, we've also enumerated a number of cons in doing that, including: no central management, lack of backup statistics, increased execution difficulty and no content preview.
In our humble opinion, the biggest downside among them is the overall complexity of performing such a critical task using a series of scripts, which might be great for navigated System Administrators and/or experienced Powershell programmers, but it's probably too much to ask for those who aren't much used to it.
If using PowerShell is too tricky for you, or if the drawbacks of a manual process seems to outweight the advantages, you might consider to use a dedicated tool such as Stellar Converter for EDB, one of the many EDB to PST converter tools available on the market. This toolin particular comes with some convenient features that ease up the whole conversion process, such as:
Convert EDB to various target formats, including yet not limiting to PST files. More specifically, other conversion formats include EML, MSG, RTF, PDF, HTML, and even Live Exchange.
No file size limitatons. The software can migrate any EDB archive, regardless of its size.
Supports all MS Exchange versions (including 2019, 2016, 2013, 2010, 2007, 2003, 2000 & 5.5) in a trasparent way, without having to change/refine/modify the PowerShell syntax and/or version to adapt the New-MailboxExportRequest cmdlet to older Exchange installations.
Bulk export. That's arguably the most important feature: although the New-MailboxExportRequest cmdlet can be executed using a PowerShell loop, scripting such kind of process can be a long and tricky task.
No Database dismount needed. To obtain access to the archive user data using PowerShell, the current database on the server needs to be dismounted first, meaning that all ongoing activities must be stopped until the whole export task completes: this might easily lead to time and/or productivity waste, which is far from ideal in any business or executive scenario.
System specifications
Stellar Converter for EDB requires the following minimum system requirements to be met:
Processor: Pentium Class
Operating System: Windows 10, 8.1, 8, 7 & Windows Server 2016, 2012, 2008
Memory: 2 GB minimum (4 GB recommended)
Hard Disk: 250 MB of Free Space (plus the space required to export the EDB data)
Usage
The software is very easy to use: right after the installation phase, you'll be asked to select your installation type (Hosted Exchange or Offline EDB files):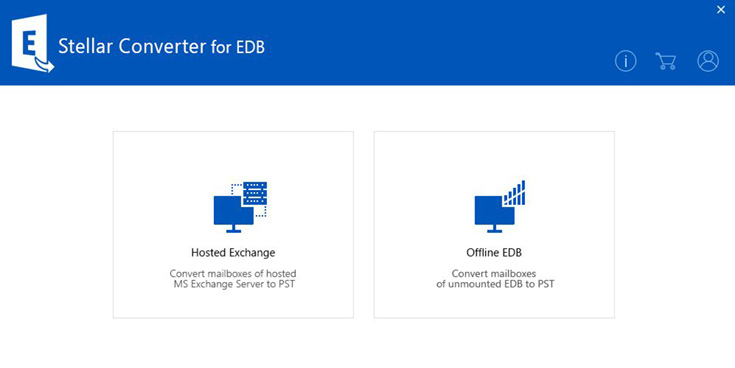 Hosted Exchange: select this options to convert mailboxes of a hosted (on-premise) MS Exchange Server to PST files.
Offline EDB Files: select this options to convert mailboxes of unmounted EDB files to PST files.
Once done, you'll be asked to select the MS Exchange Server instance (or the EDB files) you want to convert using a standard modal popup: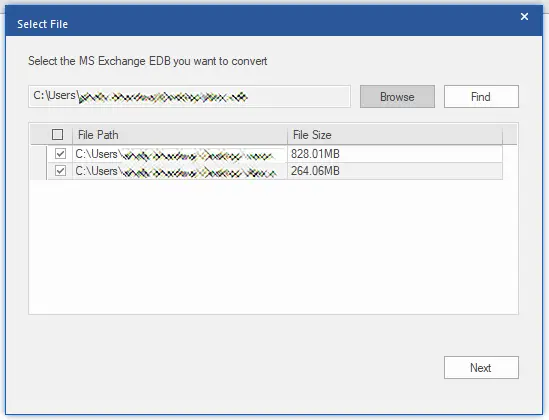 as soon as you do that, the EDB will be opened and you'll have access to all the mailbox(es) and messages; a convenient, tree-based UI will let you select the mailboxes, folders and/or messages to export.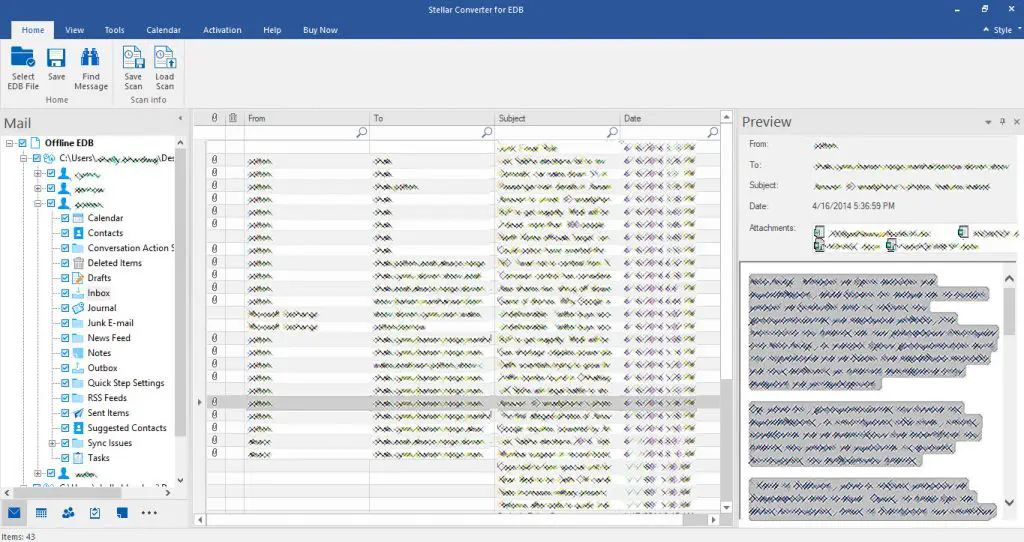 After doing that, you'll be asked to choose a target (output) format: PST files, Live Exchange, Office 365, an Exchange Public Folder, or one of the other available formats (EML, MSG, RTF, PDF, HTML):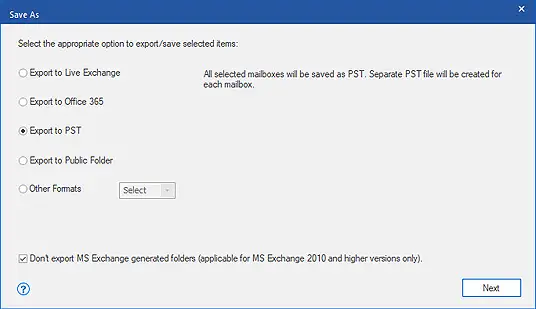 depending on your choice, you'll need to specify additional parameters (an output folder for an export to the file system, the target MS Exchange settings for an export to a Live Exchange, and so on).
Product Demo
In case you want to see the product in action, you might want to check out the official Stellar Converter for EDB Product Demo video on Youtube:
Conclusions
That's it, at least for now: we hope that this post will help those System Administrator that are looking for a way to convert Exchange database (EDB) mailboxes into PST file format.