If you have stumbled upon this article it is likely that you have encountered a typical problem affecting MS Outlook clients connected to a MS Exchange server: the "disconnected" status, which effectively prevents both sending and receiving mail, as well as the ability to view any shared resource (public folders, calendar, address book etc.) that is not stored in the local cache of your system.
This peculiar condition can be easily acknowledged by looking at the MS Outlook's bottom status bar: if you see a DISCONNECTED messsage with a danger icon, such as the one depicted in the screenshot below, it means that you are currently experiencing this issue.

What to do in these cases? Here's a list of the most effective solutions that might allow you to solve the problem for good.
1. Force reconnection with Offline Mode
The most common cause of disconnection with the MS Exchange server is a temporary interruption of the connection between the client (Outlook) and the server (Exchange). This can happen for a number of reasons, such as network problems, connection issues or a MS Exchange Server restart: in all of these cases, the solution is extremely simple - just wait for the server in question to restart, and the connection with Outlook will work by itself again. In the unfortunate event that this is not the case, it is possible to "force" a reconnection attempt by clicking once or twice on the Work Offline icon in the Send / Receive tab of the topmost menu:

It goes without saying that, for MS Outlook to be connected, the button in question must not be pressed.
2. Exchange Server Restart (or Recover)
If the problem persists, the second thing to do is to check if it is also common to other MS Outlook clients connected to that particular Exchange server: if so, it is quite possible that it is a malfunction of the MS Exchange server. Among the most obvious symptoms of server-related problems, in addition to the DISCONNECT warning present in the taskbar, MS Outlook should output an error message when trying to browse public folders:
Cannot display the folder. Microsoft Outlook cannot access the specified folder location. The operation failed. An object cannot be found.
Furthermore, if the folder tree is shown, any attempt to expand the folder list would fail with the following error:
Cannot expand the folder.
When this happens, it most likely means that the MS Exchange Server is experiencing one of the following issues:
server unreachable, mostly due to an incorrect reboot or similar issues;
database corruption, which can either prevent the MS Exchange service to start or to function properly.
Let's see how we can deal with these two issues.
2.1. MS Exchange Server unreachable
In some cases, the sudden restart of the Windows Server machine on which MS Exchange has been installed can cause a malfunction of the Network Location Awareness service, which affects the way MS Exchange communicates with its clients .
This type of problem can be often fixed by restarting the service in question, which will allow MS Outlook clients to connect regularly as soon as it's started again.
2.2. MS Exchange Database corruption
If the previous solution doesn't apply or doesn't work, it is possible that the root cause of the server not being reachable is due to a malfunction of the MS Exchange database. To verify this scenario, it is possible to connect to the Exchange Management Interface, reachable through a specific link in the MS Exchange menu created following installation. Once connected, you can immediately check if the database is installed and reachable (Mounted) or not (Unmounted).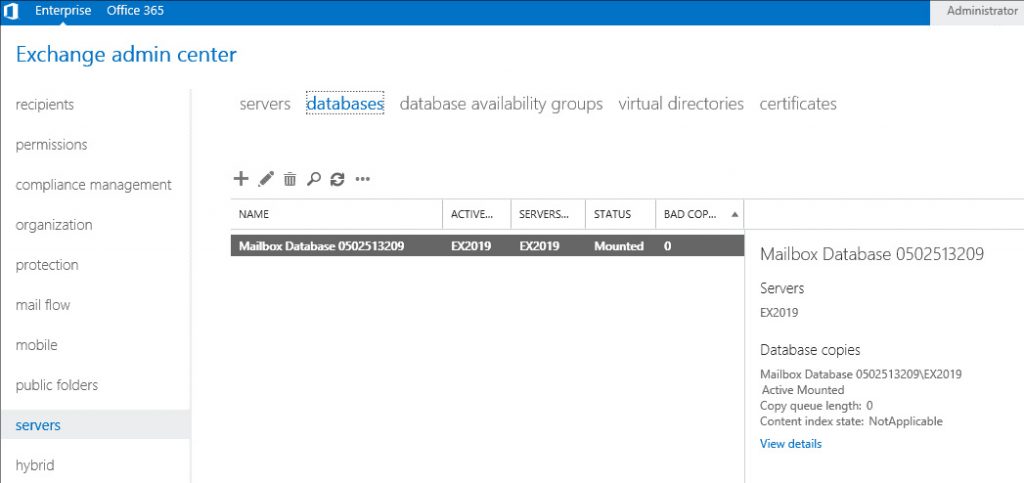 The MS Exchange database (also known as mailbox database) is located inside a huge .edb file that contains all user and public / shared folder emails. The location of the .edb file on the file system depends on the settings chosen during the MS Exchange installation, but is easily found from the administration interface.
To repair the MS Exchange mailbox database we refer to this article, which contains all the information you need to use the built-in ESEUTIL tool and the main third-party software: KERNEL for MS Exchange, Stellar Repair for Exchange and others.
Migrating to Exchange Online
As we can easily understand, the issues we have talked about so far are often caused by the inevitable weakness of a typical on-premise MS Exchange architecture: managing a mail server within a corporate infrastructure is not a simple thing, especially for small and medium-sized businesses, and can eventually lead to various security, reliability and stability issues. In order to avoid all, you could consider to migrate to Exchange Online, which today is a much more robust and economical solution for many companies.
If you want to know more about it, we strongly suggest to read our Why you should migrate to Exchange Online post.
Conclusions
That's it, at least for now: we hope that these advices will help other System Administrators to fix their MS Exchange Server issues and choose the most suited way to handle their corporate e-mail message boxes.