Few months ago we've published a post titled "Office 365 Backup: do we really need it?", where we explained a number of good reasons why we should seriously consider adopting a third-party backup solution to protect our valuable data stored within all the products related to Microsoft 365 ecosystem: Exchange Online, MS Teams, SharePoint Online, OneDrive for Business, and the likes.
In this article we'll review one of the most interesting solutions available for that specific purpose: we're talking about Altaro Office 365 Backup, a comprehensive solution that can help us to backup and recover all our company's Office 365 Exchange mailboxes, as well as our Teams, OneDrive & SharePoint data.
Overview
As we explained in this post, Microsoft doesn't perform a real backup of our Office 365 data because they enforce a shared responsibility model between the cloud provider (Microsoft) and the end-user (you or your organization). Most Microsoft 365 app do offer some (limited) recovery features that might seem to work like a backup: for example, the Exchange Online's Deleted Mail folder, or the OneDrive's Recycle bin; however, they always have limited quotas, short retention policies, and non-configurable behaviors, even when opting for the most expensive Office 365 subscriptions and plans. Most importantly, they often don't have a logging capability of the deleted/restored items, which could make hard to understand what we can recover - and what we're eventually going to lose.
Altaro Office 365 Backup has been designed to close that gap, by providing a way better implementation of those backup and recovery features in a single, centralized, and configurable tool, accessible from any browser (or smartphone) thanks to its convenient online interface: in a nutshell, we can define it as a Backup-as-a-Service (BaaS) software tool.
For a general overview of the tool and its notable features, we strongly suggest to watch the following introductory video:
Now that we got a general idea of the product, let's get down to the actual list of available features.
Features
The feature list can be split into four main areas: Backup, Recovery, Management, and Storage.
Backup
Altaro Office 365 Backup can backup the following data sources:
Exchange Online. User and group mailboxes, including mail, attachments, calendars and contacts.
OneDrive. All files and folders.
SharePoint. All files, folders, and websites.
MS Teams. Backup user chats, group chats, public & private channel conversations, files, shared attachments, meetings, meeting recordings, calendars.
All the above backup features can be set up manually using a programmable console; for each backup job we can define a Recovery Point Objective (RPO); once they have been setup, backup jobs will start automatically (up to 4 times a day).
Recovery
The tool can perform a full or granular recovery of every backed up data, including:
User and group mailboxes (all e-mail messages)
Specific e-mail messages
OneDrive and SharePoint files
MS Teams user and group chats, public & private channel conversations, files, shared attachments, meetings, meeting recordings, calendars.
The e-mail messages can be recovered to the original mailbox, to an alternate mailbox, or exported to ZIP or PST files; the same goes for OneDrive and SharePoint files, that can be recovered in-place or in different OneDrive folders or SharePoint document libraries. Teams chats and conversations can be recovered either back into Teams, or within HTML files, which can then be opened and read with any browser.
Management
The most interesting part of Altaro Office 365 Backup is its management interface. A convenient and user-friendly online dashboard, accessible with any browser, that can be used to perform the following tasks:
Create, manage, schedule, start, enable, disable, and monitor the backup jobs.
Access the backup logs audit trails
Create, edit and authorize users and groups (through a granular Access Control List)
Choose the backup location, which is a very important feature if your organization operates within a GDPR country and/or needs to meet strict data processing requirements
The management interface also allows the administrator to enable or disable Two-Factor authentication (2FA), which is often a requirement of most data protection & compliance regulations.
Storage
The backup files are stored in secure locations, that can be choosen from a selection of privacy-aware regions including USA, UK, and Germany. The BaaS service comes with no backup size and retention limit, which means that we don't have to worry about finishing our available space (which often happens with most Microsoft services).
All the backup data are encrypted using AES 256 and military-grade cyphers.
Test Drive
Our test drive was conducted using the 30-Days Free Trial plan, which is the perfect way to try the product before buying it. Creating a free trial account is a rather easy process: all we have to do is to fill out a simple form available on the official website: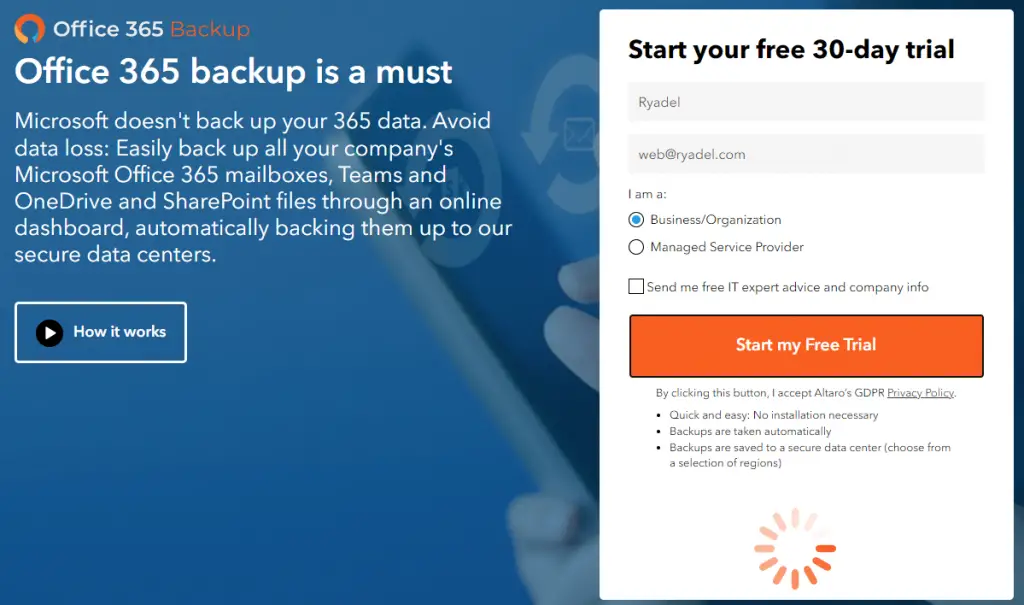 After doing that, the system will send us an email message containing an activation link that can be used to create the actual account.

Creating the account is a fairly simple process: we just have to add the company name and read (and accept) the software services agreement and the privacy policy. Once done, we'll be brought to the main dashboard: a centralized place that we can use to manage all the product's available features.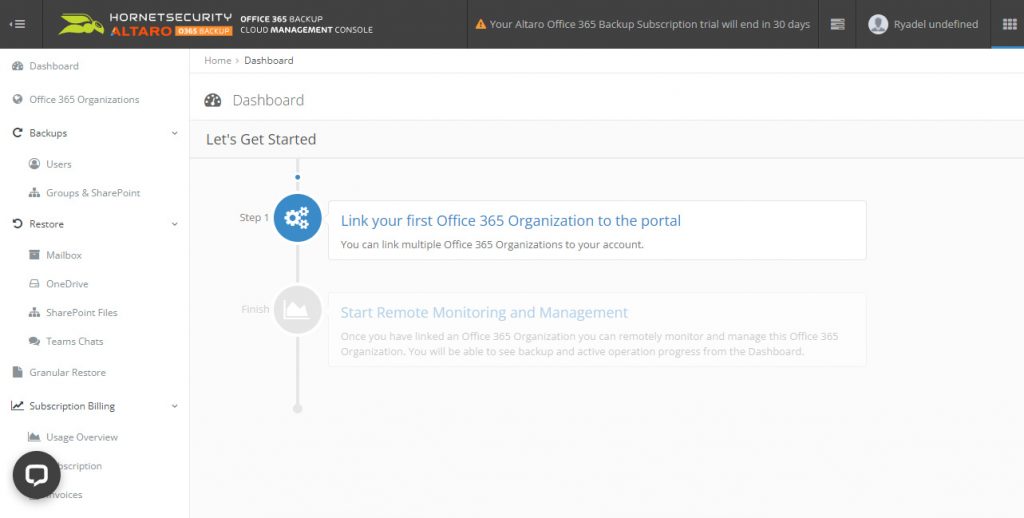 The first thing we have to do is to link our Office 365 Organization to the portal: to do that we must follow a wizard-like 5-steps procedure that guides us into the various setup and configuration phases:
Add an Office 365 Organization
Grant access
Choose Users to Back Up
Groups and SharePoint Files
Finish
The whole process is fairly simple to complete: along the way we'll be asked to select a Cloud Storage region (Europe, UK or United States): the choice is permanent and will apply to all our Office 365 Organizations.
Another fundamental step is granting access:  to be able to back up this Organization's Mailboxes, OneDrive Accounts, SharePoint Files, and Teams Chats, Altaro Office 365 Backup needs us to grant permission to four separate applications: such choice has been made to prioritize security, since each application will ensure that Altaro will be granted only the minimal access necessary to perform backups as securely as possible.
Once the permissions part is done, we will be asked to choose the users to back up: if you're using a trial subscription, you can activate up to 10 users (or less), which is perfect to test the product. For our test drive, we've only activated the backup for a single test user.
The next - and final - step requires us to select the Groups and SharePoint sites to backup: those two items don't belong to a specific user, for that very reason they must be selected separately.
Once the wizard is done, we'll be finally able to access the Backup and Restore features from the left menu. From now on the product becomes extremely simple to use: we just have to select the items to backup and schedule them. For each user, we can choose which items to backup: the Mailbox, the OneDrive files, the SharePoint files, and the Teams Chats; furthermore, we'll be able to backup our Groups and SharePoint sites using the dedicate Groups & SharePoint entry just below the Users tab.
Pricing
The tool's monthly fee depends on the number of users in the Microsoft 365 organization and can be calculated using the Altaro Office 365 Backup online calculator available on the product's home page: the minimum available quota is 348 EUR/year per 10 users, which means less than 30$/year for each single user. If the total number of users increases, the per-user yearly quota will be reduced accordingly. Other than that, there is a 5% additional discount for 2-years subscriptions, and a 10% discount for 3-years subscriptions.
Pricing includes backups, unlimited storage, the management dashboard, and 24/7 support.
Conclusion
Altaro Office 365 Backup allows to manage our Office 365 backups using a robust, secure storage system and a user-friendly, dashboard based interface that will be easy to use even to non-professional IT users. Its rich set of features, as well as the strong focus on IT Security makes it a perfectly viable alternative to more expensive Office 365 backup solutions. Furthermore, the 30-Days Free Trial Plan offers a great and convenient way to test the product before buying it.