What should we do when our Mac startup disk is almost full? This is a very popular question among Mac computer users, which has continued to grow in recent years, giving Apple a market share of almost 15% in 2022 (source: Statista), as shown in the chart below.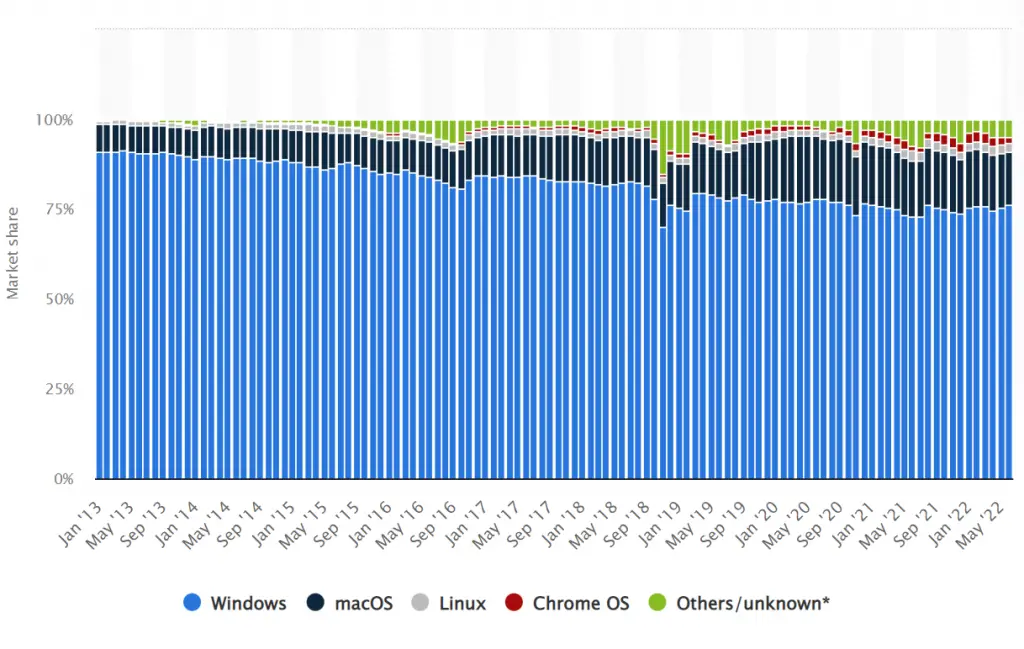 In this post, we'll briefly review some useful techniques (and tools) that can help us get rid of those unwanted files and recover storage space on our beloved Mac. Are we ready? Let's start!
Determine the storage space available
The first thing we should do is find out how much storage space is available on our Mac. Doing that not only allows us to know how much space we can recover in advance, yet also keep track of our cleaning and recovery progresses in real-time. How to do that depends on the macOS version used:
macOS Ventura (13.x) or later: Navigate to Apple menu > System Settings, then click General in the sidebar, then click Storage on the right.
Earlier versions of macOS: Navigate to Apple menu > About This Mac, then click Storage.
Activate the macOS recommendations
The first thing we can do to free up storage space is to let macOS can automatically optimize it using iCloud: for example, you can choose to move files, photos,  videos, movies, shows, and/or email attachments to iCloud, thus making them available on demand. The main benefit of doing this is that those files don't take up space on your Mac until you need to download them.
To do that, reach the Storage settings just like we explained early on, then choose between the OS recommendations available:
Store in iCloud.
Optimize Storage.
Empty Trash Automatically.
Here's a brief description of each one of them.
Store in iCloud
This option allows you to do the following:
Store files from your Desktop and Documents folders in iCloud Drive (as explained here).
Store photos and videos in iCloud Photos (as explained here).
Store messages and attachments in iCloud (as explained here).
The OS will automatically optimize your storage space by keeping only recently opened files on your Mac when space is needed. For additional info regarding this option, consult the official Apple guides by following the above links to the Apple official guides.
You can modify these settings later in the iCloud pane of Apple ID settings, Photos settings, and Messages settings.
Optimize Storage
This option allows you to save space by automatically removing Apple TV movies and TV shows that you already watched, and by keeping only recent email attachments on this Mac when storage space is needed. To do that, we need to change the file settings in the TV app and change the account information settings.
Empty Trash Automatically
As simple as it might sound, a great strategy to recover disk space is to activate the option that allows macOS to automatically erase items that have been put in the trash for more than N days (default is 30, but this value can be changed in settings): here's how we can do that using Finder.
Reduce Clutter
You can use this option to scan the storage disk(s) looking for files, apps, books, movies, and other items that are taking up space (including temporary database files, interrupted downloads, staged macOS and app updates, Safari website data, and more): once the process completes, you'll have the chance to manually delete the items you no longer need. Read here to find out how.
Use a third-party tool
If the macOS native options are not enough or don't allow you to achieve the desired result, another option is to use a dedicated tool such as Clean My Mac X: a powerful Mac cleaner, speed booster, and health guard, designed to help your Mac run at full throttle again.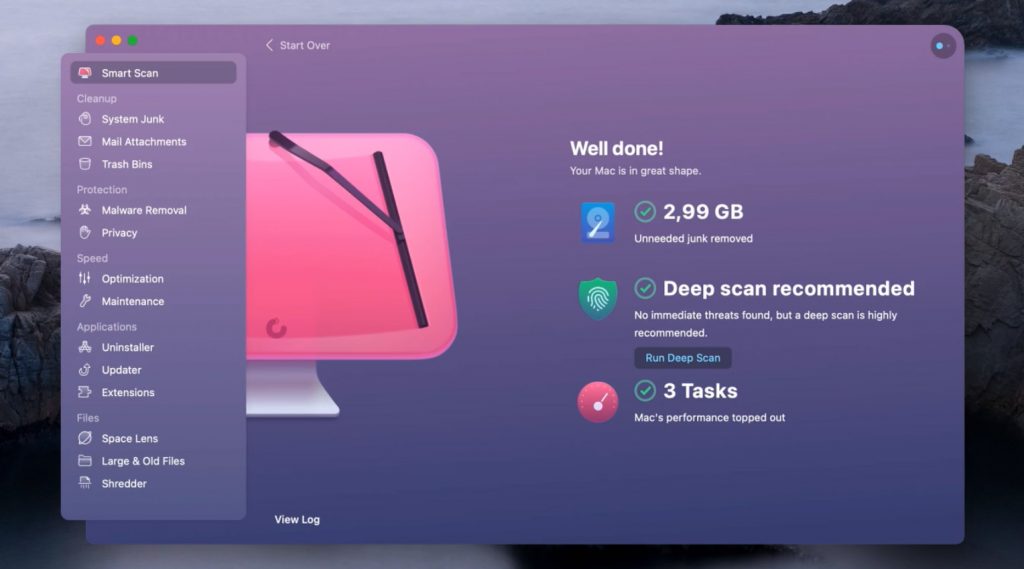 Clean My Mac X can help you to remove old files, uninstall apps, and delete useless data that waste disk space, as well as perform several other performance-related tasks, including:
Update apps to their latest versions
Detect lag extensions from web browsers (and give the option to remove them)
Free up RAM usage
Flush the DNS cache
Scan the system for malware, spyware, or adware (and give the option to remove them)
Build a visual map of your entire drive, that can be used to spot clusters of large files to delete
Using this tool we will not only be able to solve the problem of reclaiming disk space, but also fix several other issues that can hinder the performance of our PC.
Conclusions
That's it, at least for now: we hope that the techniques (and tools) described in this post will help other macOS users to free up disk space on their Mac!