If you own a Mac, you are probably already aware of the fact that, when your device is starting to slow down, frequently freezes, and/or regularly runs out of RAM, then it probably needs a FileSystem clean. As a matter of fact, deleting the clutter and digital debris from your system is often the key move not only to reclaim a lot of free space on your HDD/SDD, yet also to recover your performance.
Luckily, there are a lot of software tools that can be used to clean up your Mac and obtain this kind of result. In this article, we'll talk about MacKeeper, which is basically one of them - a neat Mac cleaner utility that can be used to reclaim disk space, and hence regain performance, on your Mac device.
Introducing MacKeeper
MacKeeper can help you to remove old files, uninstall apps, and delete useless data that often steal some valuable space on your drive. More specifically, it will delete logs, caches, mail attachments, as well as unused localization languages:  and the best thing about that is that it's able to do that automatically and without putting your important files at risk of being deleted.
Other than that, it can also be configured to send you timely reminders when it's time to perform the cleanup task again, in order to ensure you will never forget to recover space - and performance - on your Mac.
System requirements
MacKeeper will run on any macOS 10.13 or later and requires roughly 100 MB of available disk space.
Download
The latest version of the software can be downloaded from the MacKeeper official website: installing the tool it's quite easy, you just have to save the .pkg file somewhere in your local drive and then perform the following tasks:
Click on the downloaded MacKeeper PKG file
Select Continue to begin the installation
Select Install to complete the installation
Execute the software by clicking on its icon, which will appear on the system tray

Once done, you'll be welcomed by the MacKeeper welcome screen.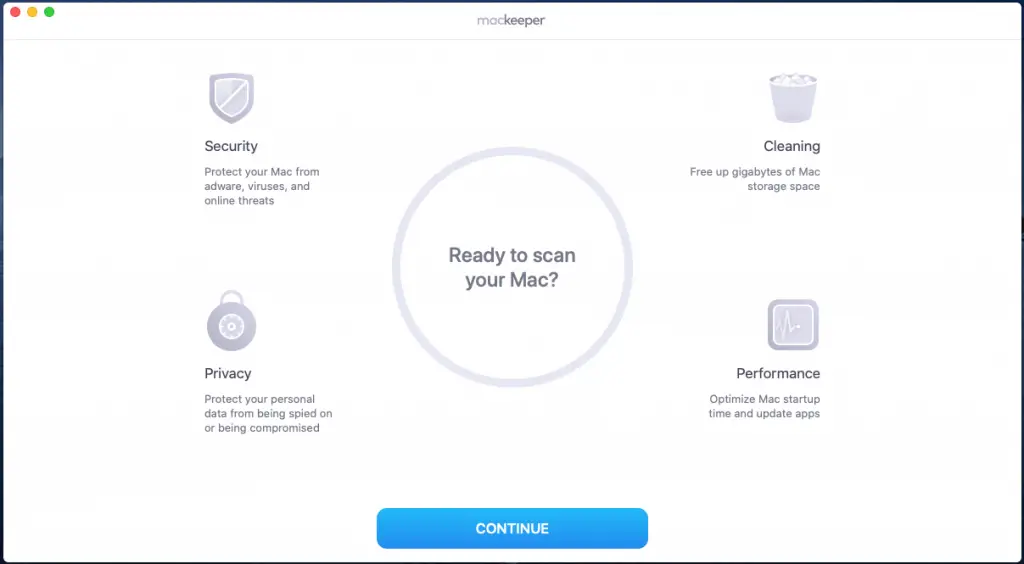 Full feature list
By looking at the welcome screen, we can immediately see the 4 main categories containing most of the MacKeeper's distinctive features, such as:
Security. Protect from viruses in real-time, scan for malware infections, clean adware apps & tracking cookies.
Cleaning. Remove junk files and unused apps, find duplicate files (so that you can delete them), and uninstall software.
Performance. Quit memory-draining apps, find and install software updates, and disable the unwanted startup items to help your macOS load faster
Privacy. Identify your personal data when it is leaked on the dark web, browse anonymously through a secure VPN, and block annoying advertisements, browser alerts, and site trackers.
As we can see, we're talking about a lot of features - not only disk cleaning! As a matter of fact, MacKeeper is an all-in-one utility to take care of Mac computers, combining 11 security, cleaning, performance, and privacy tools in a single app. However, for the purpose of this post, we'll mostly focus on the cleaning stuff.
Disk cleaning
As soon as we click Continue, we'll be prompted to grant the app the required grants to access some system folders that often contain junk and malware, in order to ensure they won't be skipped during the system scan.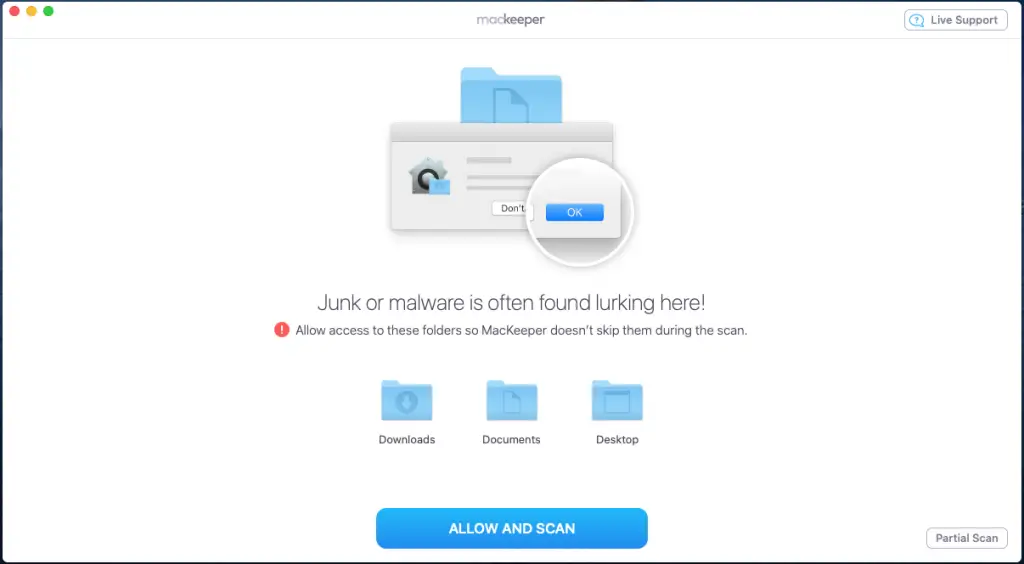 We're asked to do this because it's the first time we are running the software: since we trust the tool, it's highly suggested to hit the Allow and Scan button and perform the first full-surface scan. However, if you don't want to grant access to these folders, you can also click on the Partial Scan button in the bottom-right corner to continue.
After granting the required permissions (or not), we'll be able to access the software's main dashboard, as well as the real-time report of the ongoing scan: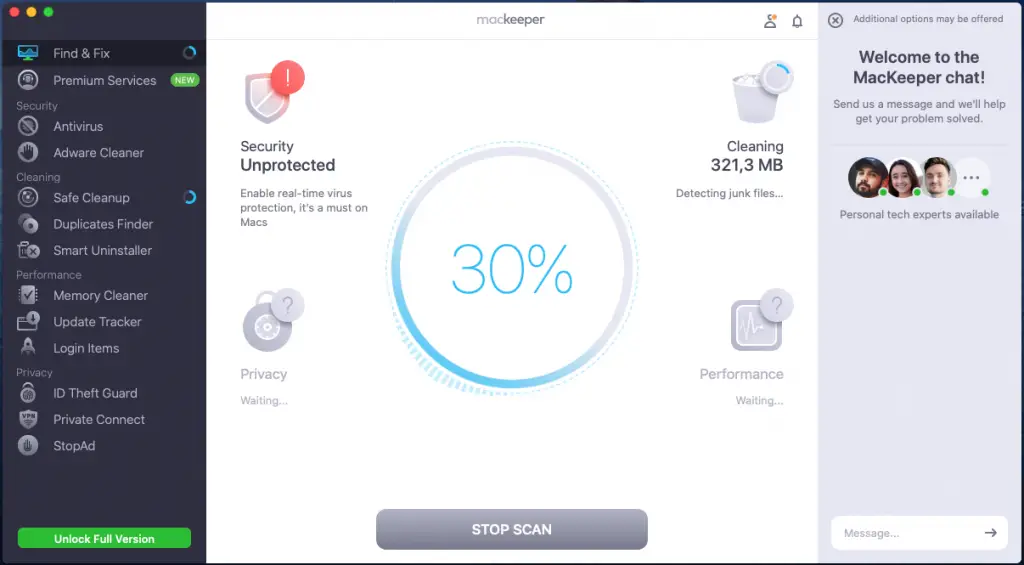 Expect the scan to find A LOT of junk stuff - that's pretty normal: it's the first time we run it, after all. As soon as the scan ends, we'll be able to either auto-fix or manually review each of the issues that have been found.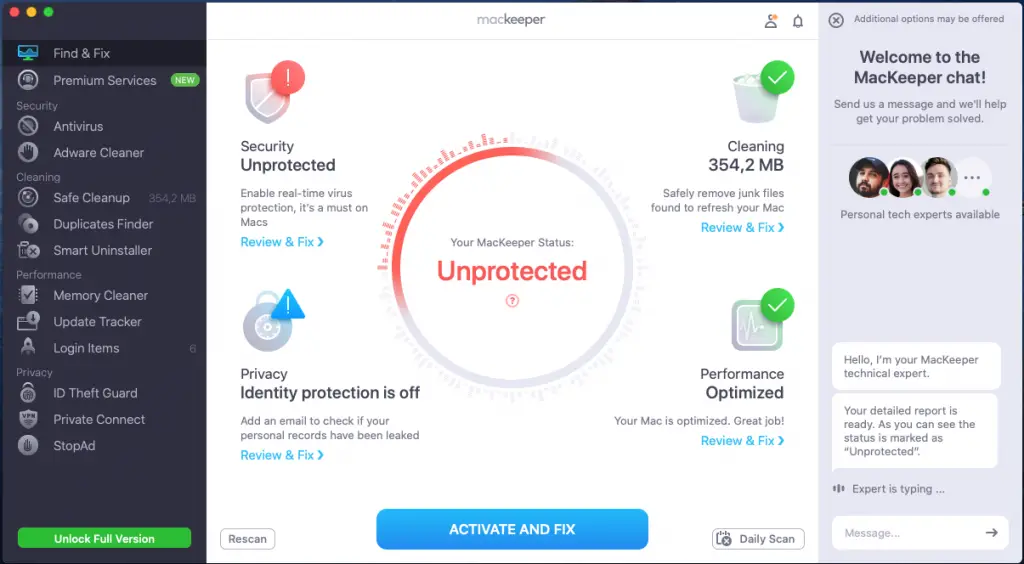 As we can see by looking at the above screenshots, the Mac we're using to perform this test drive has been marked as unprotected - which is a pretty accurate result, since we're currently lacking an antivirus software. Other than that, we can see how the Identity protection is currently off, and 354,2 MB of space can be cleaned without issues: let's focus on this cleaning task.
Click on the Safe Cleanup button in the dashboard's left menu, activate the checkboxes depending on what you want to clean, and then click on the Clean Junk Files button to activate the process, as shown in the screenshot below.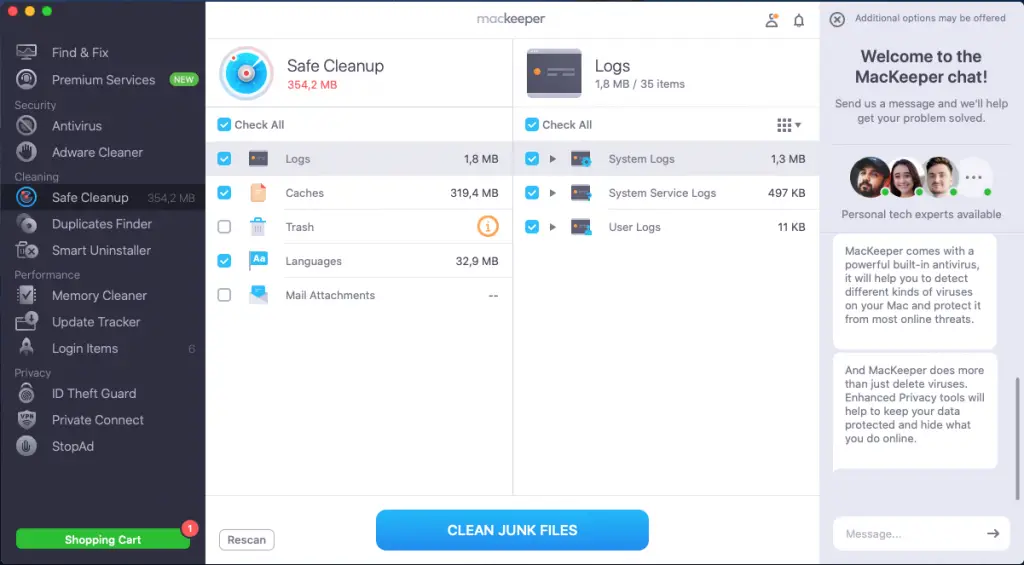 Assuming we're using the free trial version of MacKeeper, we'll be briefly prompted for creating a free account (if we didn't do that already): right after doing that, the cleaning process will start, prompting you with the results after a few seconds.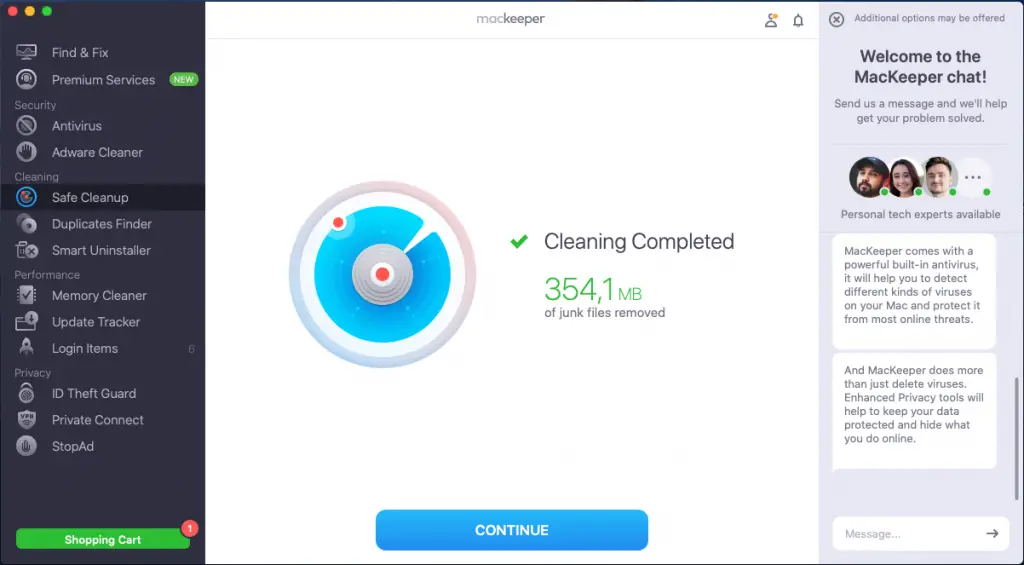 That's it! We've just recovered 354,1 MB: not bad, right?
Test drive specs
To run our test drive, we have used an iMac running MacOS 10.15.7 (Catalina), powered by a 3.2 GHz processor, a 256GB SSD, and 8GB RAM.
Pricing and plans
MacKeeper is currently available with the following pricing plans:
1-year subscription for 1 single Mac device - 5.33$ per month
1-year subscription for 3 Mac devices (plus 1 extra license for free, hence 4 Mac devices in total) - 5.67$ per month (limited offer)
1-month subscription for 1 single Mac device - 10,95$
These prices have been updated on 05/24/2023: to get the latest quotes, visit the MacKeeper official website.
The free, trial-before-buy version that we have used for our test drive allows the following features:
Remove junk files and unused apps (once)
Quit memory-draining apps
Scan for malware infections
Real-time antivirus protection (only 1 month)
Block adware and pop-ups (once)
Chat with tech support 24/7
It doesn't include the VPN service and the monitor for personal record leaks.
Conclusions
All in all, MacKeeper has proven to be a software that lives up to expectations: the 11 features available make it a much more versatile product than a simple disk cleaner, and they will certainly be very useful to any Mac user looking for a quick and effective way to recover disk space and boost up the performance of their Mac.