In this article, we will talk about Surfshark, a very well-reviewed VPN provider (average ratings between 8.8 and 9.3 on Trustpilot in 2022). Don't know what an as-a-service VPN is? No problem: check out this guide before continuing!
Although an affordable rate can certainly be a positive aspect, the main strengths of a VPN are above all the reliability, performance, and security of the connection, as well as obviously the simplicity and versatility of use of the VPN client and the package of features offered. For this reason, we have decided to check out the service offered by SurfShark - using the Windows and Android VPN clients - by performing a test drive, with the aim of being able to fully and satisfactorily measure each of these parameters.
Introduction
If you have read our VPN informative post, you already know that the reliability of the VPN service provider plays a fundamental role. It is therefore important to start with a brief introduction of the company that manages the service, namely SurfShark Limited. It is a company active since 2017, based in the British Virgin Islands, therefore outside the European Union: this allows SurfShark not to have to fulfill the obligations of having to record or archive user activities, which are therefore not stored. in any way. In spite of its young age, the company already has a VPN network of over 800 servers distributed worldwide (over 50 different geographic areas) that is rapidly expanding.
The company further expresses this concept by speaking, from the initial page of the site, of a strict No Log policy, underlining how the service does not provide for monitoring, tracking and / or archiving of users' online activities: it will therefore not be created. no logs of connections or activities.
The young age of the service does not allow for long-term reliability assessments, but most of the reviews found on the web (many of which were made by users) seem to confirm a rather high-quality level (average 4.1 / 5). Surfshark also reports that it passed a security check by the German security company Cure53: this check, however, seems to have been limited to examining Surfshark's browser extensions, so it does not "certify", so to speak, the statements of the company regarding the (non) management of logs or other back-end processes. However, the Cure53 report is substantially very positive and testifies to a high degree of satisfaction, especially as regards the aspects relating to privacy.
How to get it
SurfShark VPN can be downloaded from the following links, depending on the device you plan to install it:
Needless to say, you can use the same account for multiple devices (see "unlimited devices" section below).
Main Features
In the next sections, we are going to list the distinctive features of the SurfShark VPN service.
Cleanweb
An optional feature, which can be activated or deactivated at the user's discretion: such features acts as an ad-blocker, eliminating the presence of advertisements, trackers, malware, and phishing attempts. This is an extremely important feature, especially for those who surf on potentially compromised sites and/or want to avoid potentially harmful banners.
Dispositivi illimitati
Unlike other VPN provider subscriptions, which require the registration of a limited number of devices, the Surfshark VPN subscription allows the use of an unlimited number of devices. This means that, with the same subscription, it is possible to connect to the service simultaneously on all personal and family devices, desktop and mobile.
Whitelister
Another interesting feature provided by SurfShark is the one that allows you to exclude the VPN for one or more apps, sites, or web services: it is an ideal feature for not conveying content via VPN that already has effective protection and/or that they expect to receive connections only from certain pre-authorized IPs. Some examples: apps and sites for mobile banking; VPS or Private Cloud services protected by a firewall that authorizes access only to our IP address (or netmask); applications of our Internet Service Provider and reserved for service users; and so on. These are scenarios that normally require the temporary disconnection from the VPN: thanks to the whitelister feature this can be avoided, with noticeable benefits in terms of performance.
Kill Switch
The Kill Switch feature is also present, and that's a good thing - being it a fundamental feature of any good VPN: it is a feature that provides for the automatic shutdown of one or more applications (or even the internet connection or the entire PC) when the VPN connection terminates for any reason. A real safety net that protects the system against accidental disclosure of the user's activities and/or sensitive data in case of connection problems.
Private DNS
Each SurfShark VPN node has a private DNS, which reduces IPv4 packet losses and increases the reliability of the connection.
Camouflage mode
The camouflage mode is a feature that allows you to mask the use of the VPN to all the actors (the so-called third parties) who manage the internet connection: by activating this mode, not even the Internet Service Provider should be able to detect that the user is using a VPN.
MultiHop
Another feature common to many top-tier VPN services, Multi-Hop (also known as double-VPN or dual-VPN) allows connecting to multiple VPN servers at the same time (perhaps located in different countries) to hide exponentially more effective one's IT "digital footprint".
No-Borders mode
This functionality, which we have not had the opportunity to test or verify by connecting from Italy, is presented by SurfShark as an innovative way to overcome the geo-limitations provided in some countries or geographical areas subject to particular restrictions, according to the principle that the Internet should be accessible to all.
Free Trial
SurfShark's free-trial mode, despite being a bit limited, allowed us to carry out the tests necessary to write this review. In our opinion, the "try before buy" approach still represents the ideal way, as well as the cheapest way, to understand whether a particular VPN service is suitable for its characteristics or not, since it allows you to measure performance in a specific geographical area: that of the user who will then actually use it!
Unfortunately, Surfshark does not offer the possibility of a free trial as it does for other VPN services: there is the possibility to try the service after purchasing it for 30 days, after which it will no longer be possible to withdraw from the subscription. If during the 30-day trial you decide to withdraw from the service, the money spent will be fully re-credited. This basically means that we don't get a "try before buy", but rather a "money-back guarantee" approach: better than nothing, but we believe that on this specific aspect there can be ample room for improvement.
Security and Protection
In this section, we'll discuss the actual cryptographic characteristics, fundamental for measuring the security of the connection provided by the VPN service.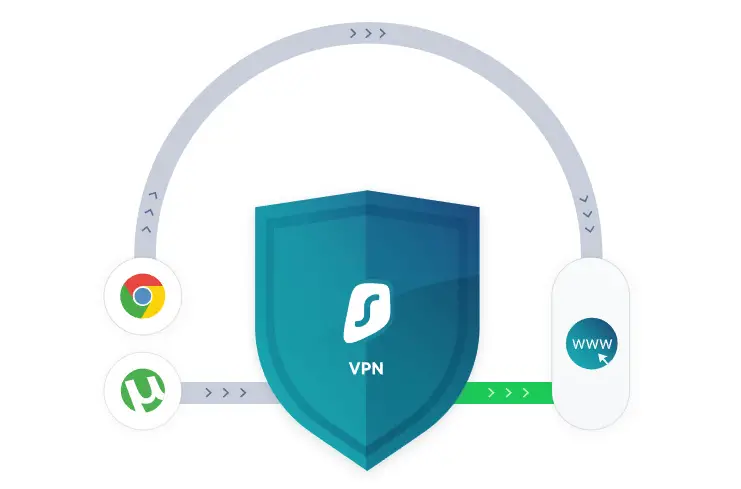 SurfShark implements the following protocols: OpenVPN (UDP and TCP) and IKEv2, with AES-256 algorithm: it is also equipped with a couple of additional security features (Kill Switch and Private DNS on each server) to manage failover and Multi-Hop mode to further conceal user tracks. It is therefore an above-average set-up, even if not particularly innovative.
Performance
The test-drive we carried out was mostly oriented on performance, i.e. on the ability of the VPN to maintain a satisfactory speed over time with a series of applications: Torrent, Emule/eDonkey, web surfing in HTTP and HTTPS mode , FTP, SFTP, RDP connections, TeamViewer, online gaming (using CounterStrike: Global Offensive, MTG Arena and Hearthstone) and video streaming (Netflix, Amazon Prime Video, CrunchyRoll, Youtube Red).
The results were generally positive: apart from FPS-based online gaming, which remains substantially out of the question for all VPNs as the ping rate drops below the minimum acceptable levels (150-300 latency), the service has always performed quite well, recording extremely moderate speed drops (between 15% and 30% less in WWW downloads, between 10 and 20% less on P2P), provided obviously you choose the best performing servers: in some cases (BitTorrent), the relocation of the destination server has even made it possible to record better performance in the speed of obtaining the seed/peer slots, as has already happened with other VPN services using servers located in geographic areas evidently "closer" to the main ones seed such as Germany, Sweden, and the United States.
User-friendliness
We conclude our review with a brief analysis of the SurfShark VPN client, which we tested in the Windows and Android versions. It is an application that offers a minimal interface and a set of essential options, but still more than enough to use the entire package of features available on both Desktop and Mobile devices: from the Kill Switch to the Whitelister, from the list of servers to connection methods (Multi-Hop, No-Borders, etc.).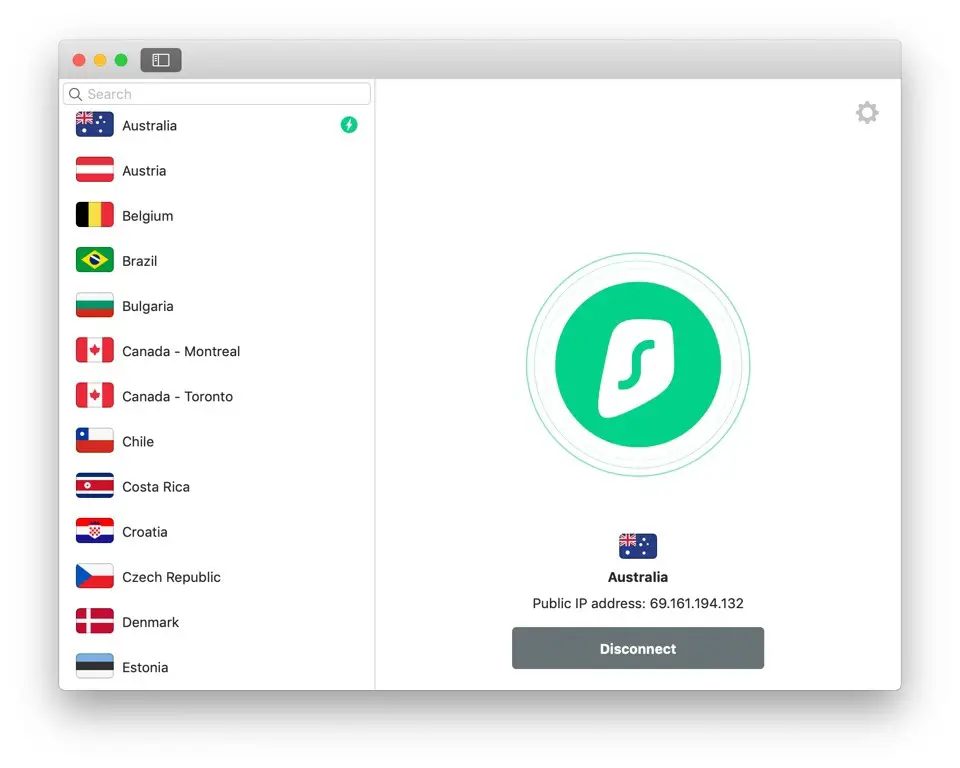 Conclusions
Ultimately, SurfShark VPN made a good impression on us: despite being rather cheap when it comes to the subscription price, the service offered has the same quality as several big players in the VPN sector, guaranteeing a good level of security supported by excellent performance.
[COURSE_VPN_EN]