Ladies & gentlemen, the time has come: Windows 11, the latest version of Microsoft's operating system, is now available for download. The link was published by Microsoft on the official "software download" page, which until a few days ago only contained the installer tool for Windows 10.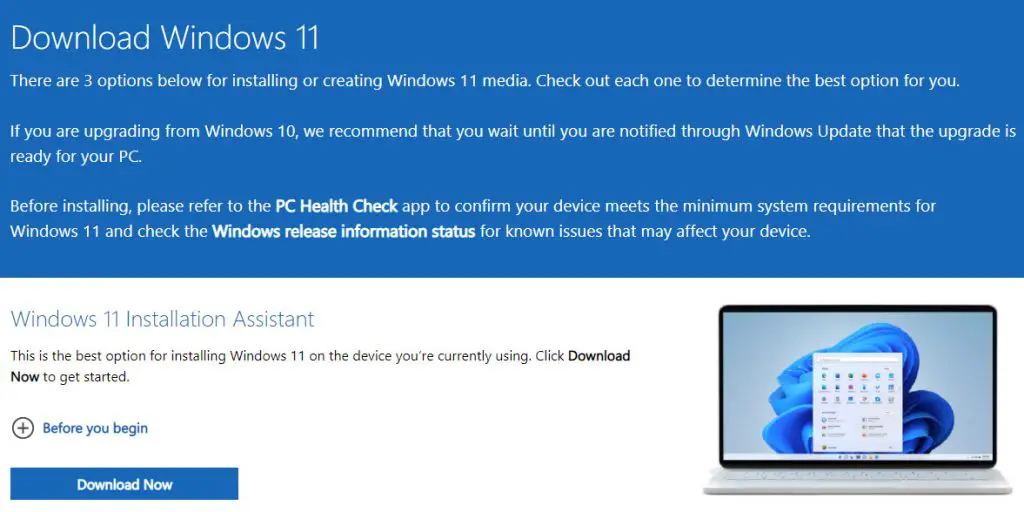 The link to access the above page is the following:
To install Windows 11, you will need to download the usual "Windows Installer" executable file, which will allow you to perform the following:
an in-place installation on a PC that is already running an older version of Windows, such as Windows 10;
create an installation media (CD / DVD, BD or USB) to install Windows 11 on another PC.
It goes without saying that before updating from Windows 10, it is recommended that you wait until the notification via Windows Update that the update is ready for your PC.
IMPORTANT
: Performing the upgrade to Windows 11 requires some non-trivial IT knowledge. If you don't feel like you can handle it, it's strongly advisable to refer to a professional or company that offers
managed IT services
to minimize the risks of causing permanent issues to your operating system that could make you unable to use your PC.
Before installing, it is also essential to refer to the PC Integrity Check app included in Windows 10 (read here to find out where it is and how to use it) to verify that the device meets the minimum system requirements for Windows 11.
Windows 11 major changes
Here's a list of the main new features and innovations shipped with the new Windows 11 operating system.
Task Bar. The taskbar has been completely revamped, with icons placed in a central position (along the lines of MacOS and Chrome OS). However, if you prefer the "classic" left-alignment, you can opt-in for that.
Start menu. Graphically and functionally renewed, the new start menu marks the disappearance of the Live Tiles in favor of a much cleaner and more airy design: the search functions, whose algorithm seems to be much improved, and the recent links have been kept.
Interface. The new interface seems much more intuitive and closer to what is the way of thinking and interacting of the new generations, used to dealing with touch devices and UI of smartphones and tablets: from notifications to new settings to adjust the volume, from the brightness control to that of WiFi and bluetooth devices, everything is managed with a logic that is very reminiscent of that of smartphones.
File Explorer. The new File Explorer features completely revamped and more distinguishable icons, thanks to the use of sharper shapes and more vibrant colors.
Contextual menu. Even the context menu (the one that opens by clicking on an element with the right button) has been redesigned, with the inclusion of icons for the most used functions (cut, copy, paste). In addition, a number of new file-specific "contextual" features have been added, such as the "rotate" options for images.
Multi-Monitor Support. Using Windows with more than one monitor has now become standard for many IT professionals and more: developers, graphic designers and designers. The new management mode allows you to memorize the position of windows based on the position of the monitor and, above all, to automatically minimize what is shown on a monitor that is turned off or disconnected, a feature that can be extremely useful especially for those less experienced users.
New Widgets. In this new version of Windows, the widgets have been redesigned, lightened, improved and inserted in a special section (the same that also contains the news feed): obviously the weather, sports scores and calendar remain active. , the to-do list and many others.
Multiple desktops. Finally this feature, which for years has been the unique prerogative of Linux (and third-party tools), has been implemented in a satisfactory way: in fact we have a dedicated button on the taskbar which, if pressed, shows all our desktops in a single curtain. , allows us to add new ones and to switch with clicks from one to the other. Individual desktops can be fully customized, including wallpaper, and it is also possible to open the same application on more than one desktop.
Resizing and repositioning. Previous versions of Windows have accustomed us to a position-based resizing and repositioning mode: in other words, in order to automatically resize or reposition a window you had to drag it to its edges or corners. A particularly inconvenient mode in some situations, such as the many cases in which the shortening and / or lengthening of the window ended up placing it between two (or more) screens. In Windows 11 this problem can no longer occur thanks to a small window that appears thanks to the presence of convenient layouts that appear automatically if you keep the mouse cursor on the icon for full screen enlargement for a few seconds. Once the preferred layout has been selected, Windows will suggest which apps to insert to fill in the relative spaces.
Touch support. Support for touch devices has been significantly improved, and it clearly benefits from the many improvements in the user interface.
Conclusions
That's it for now: we strongly hope tha this post will help those windows users & enthusiasts who are looking for a chance to try out the new Microsoft operating system.