A couple days ago we've reviewed PassFab 4WinKey, a handy software that can be used to reset any Windows 10 login password in a matter of seconds. In this new article we'll talk about another PassFab product that performs a rather similar task: remove passwords from protected MS Excel files. The software is called PassFab for Excel and is basically a simple to use, yet quite powerful MS Excel password breaker.
Why should we ever need a "password breaker" in the first place? The question might sound odd at first place, but it definitely makes sense if we spend some seconds to think about all the possible scenarios that might push us into wanting to do that. Here are some typical examples:
We forgot a password that we've previously used to prevent unwanted access to a MS Excel file
We "inherited" a password protected MS Excel file from a family member, a colleague or other people who isn't available anymore.
We need to modify an existing MS Excel workbook that has been sent to us in "locked" format in order to prevent changes, such as adding sheets.
We need to edit a MS Excel workseet that prevents changes from being made.
We are unable to print a MS Excel worksheet or workbook due to locking restrictions applied by its owner.
As we can see, these are all legitimate requirements, at least in a vast majority of cases: when such things happen, we might definitely use a software like PassFab for Excel.
Main features
The software can be used on any Windows environment and is compatible with all MS Excel file versions and formats:
Excel Versions: 2019, 2016, 2013, 2010, 2007, 2003, XP, 2000 and 97
Excel File formats: *.xls, *.xlsx
The software's main features can be summarized in two categories:
recover Excel open password, also known as password breaking.
remove Excel restrictions password, which can be done even without having to actually break the open password.
Recover Excel open password
The recover Excel open password (password breaking) feature can be configured to work with three different attack types, that the user can choose depending on his/her given scenario.
Dictionary Attack

: The default option. This attack type should be used if you have a "possible password list" and don't know what you might have used to protect that specific MS Excel file.

Brute-force with Mask Attack

: This attack type should be used if you know or remember some base characteristics about the password, such as its length, characters, prefix or suffix.

Brute-force Attack

: This attack type can be used if you can't remember anything about the password: it will just try any possible combination of letters, number, words and special characters until it will find the right password.
The process will likely last a considerable amount of time, depending on the chosen attack type.
If you want a more specific tutorial, you can either check out this PassFab for Excel - recover open password guide or take a look at the following video:
Remove Excel restrictions password
The remover Excel restrictions password feature doesn't need to break the open password and will likely end in few seconds. All you need to do to perform such task is to select a MS Excel restricted file and tell the software to get rid of that protection for you: the "unlocked" MS Excel file will be saved in a different location, thus preserving the original file.
If you want to see how the whole process works, you can either check out this PassFab for Excel - remove restrictions password guide or take a look at the following video:
Installation
Let's now see how we can use this software. The first thing that we need to do is to download and install it. Since we don't have a license (yet) the software will install in Unregistered mode: to register it we'll have to click to the key in the upper-right corner and insert our registration code (see Plans & Pricing section below for details):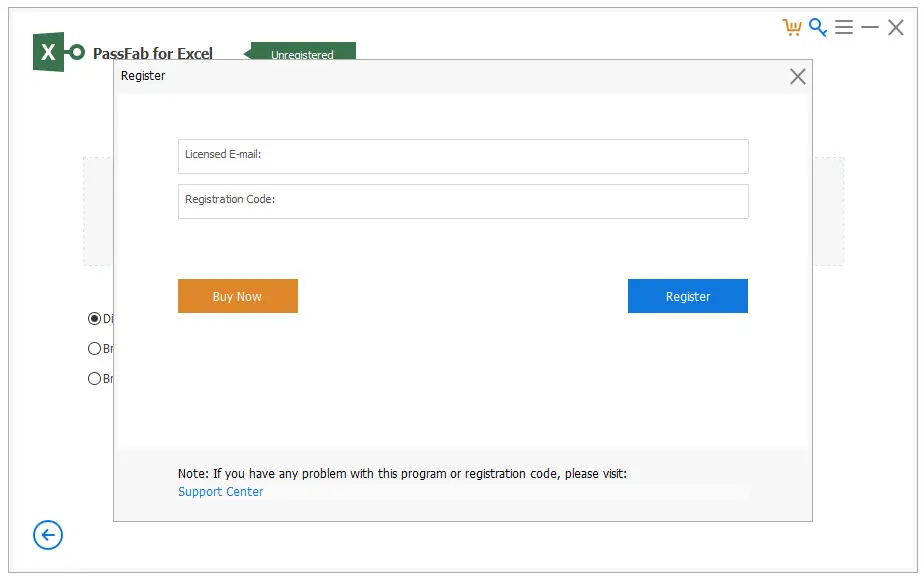 Once we insert the Licensed E-mail and our personal Registration Code in the required fields, we'll be able to unlock the software and use all its features.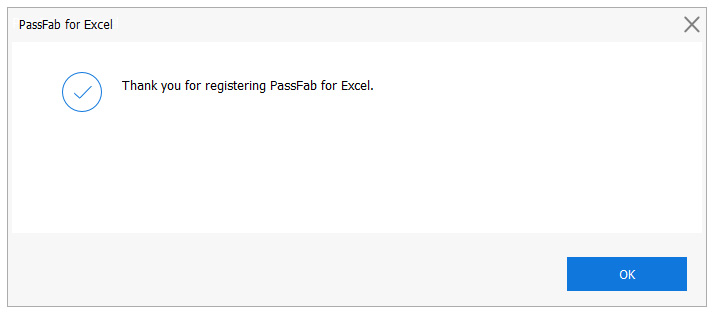 After the "thank you" windows has been closed, we'll be able to select what we want to use the product for. In our example we're going to use the Recover Excel Open Password for a MS Excel file that we've purposely "protected" with a typical home-baked password: "KoalaFloyd".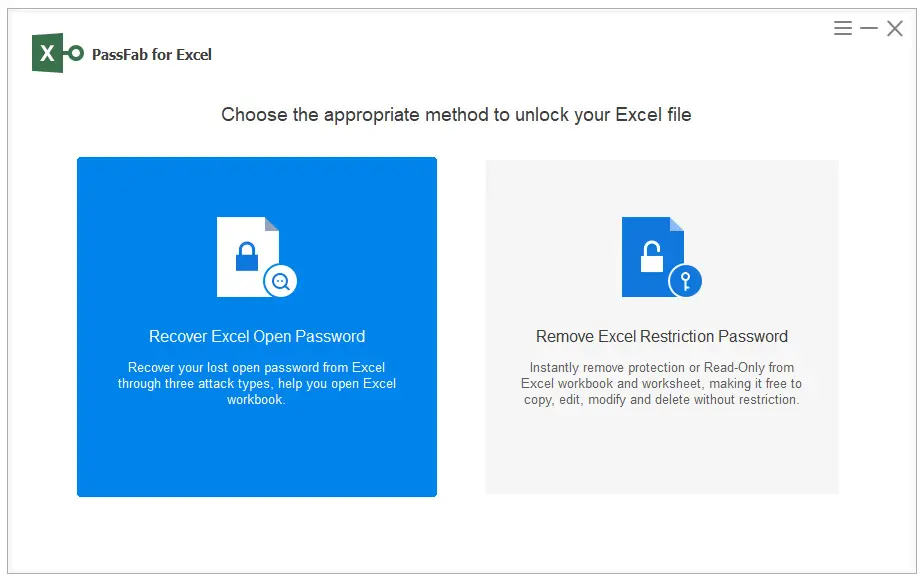 To recover our chosen password we're going to use the Dictionary Attack type: let's see if it will be enough to break it! Click to the Download button to download the default dictionary, which contains thousands of thousands of "commonly used" english words, phrases and character combinations. More specifically, that file - as of 2020/11/17 - contains no less than 7089640 unique words, which happen to be quite a lot.
Once the download is completed, we'll need to select our Excel file, choose the attack type and click the Recover button.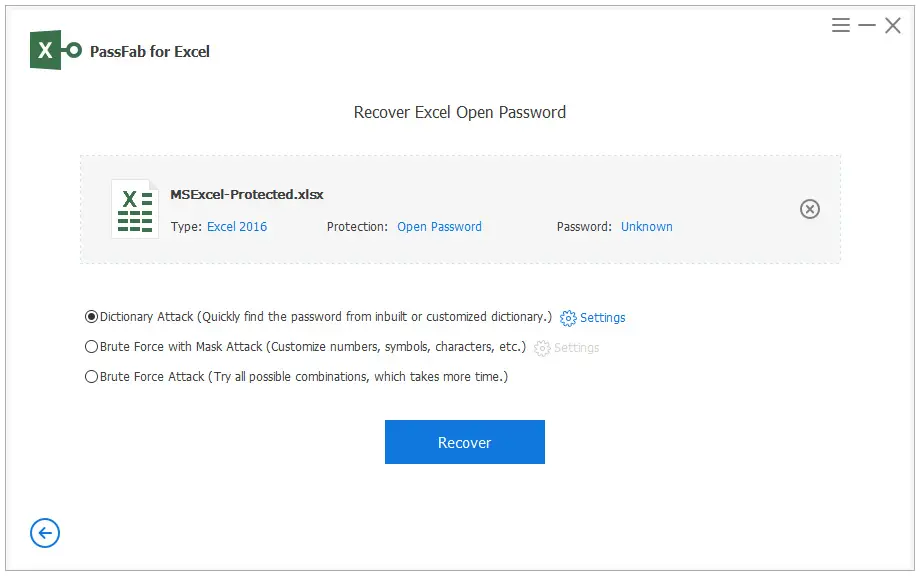 The software will try out all the passwords included in the dictionary files: on our averace Intel I7 testing machine, it was able to try roughly 190 password per second, which happens to be quite a lot. The dictionary attack will likely last for some hours, with the software perform a number of attempts against our MS Excel file.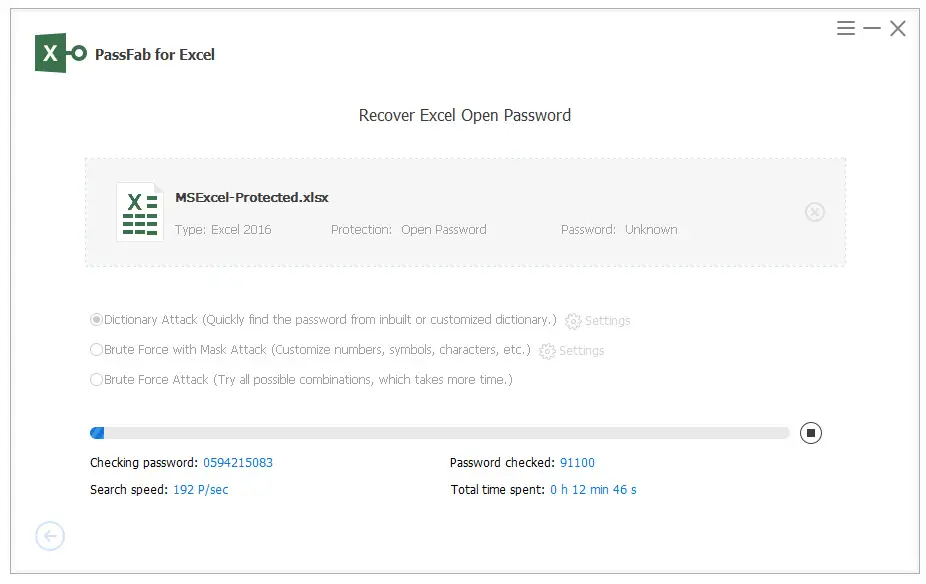 Our password was found after 4 hours, 16 minutes and 38 seconds of work: not bad at all, if we consider that we didn't give any clue to the software!
Plans & Pricing
The software can be dowloaded from the PassFab for Excel official website and then unlocked by activating one of the following available plans:
1 Month License at 15.95$
1 Year License at 19.95$
Lifetime License at 39.95$
All plans are subject to auto-renewal and can be cancelled at any time: the license is valid for a single PC only: if you need to cover multiple devices or computers you can ask for a custom quote using a dedicated form accessible from the product purchase page.
If you want to spare some bucks, you can use this 30% off discount promo code: A8DTE (click here to apply it).
How you can get a FREE license
To support ths product review we asked to PassFab to support us with some free license giveaways for our blog readers, and they agreeded to do that! This basically means that you have a chance to win a FREE PassFab for Excel license if you do the following:
Give us a like on our Facebook page.
Follow us on Twitter.
Send us an e-mail message with:

FREE PassFab for Excel license giveaway as subject
A screenshot of the Facebook Like and Twitter follow
Your computer OS (Windows or Mac)
The e-mail address that you want to use for activating your license.
As of today (17/11/2020) we do still have many licenses available, meaning that you're still able to retrieve one of them!
Conclusions
That's it, at least for now: we hope that you found this review helpful enough and that you'll be able to win our giveaway and get yourself a free license of this interesting product. If you want to share your personal experience with PassFab for Excel with us, feel free to do that in the comment section below.