PDF editors are a must-have in any professional organization: after the global scale digitalization process that took place in the last 20 years, PDF files undoubtely became one of the main document-based resources used for official communications. However, these kind of tools are often quite difficult to handle for the average "Acrobat Reader" user, and usually come with a non-trivial cost. Dedicated PDF editing software suites - such as Adobe Acrobat DC - are definitely not cheap for most companies, and might also be unnecessary for those who only need to take care of some basic needs, such as: converting PDF files to other document formats; merge, split and compress PDF files, as well as removing pages and add watermarks. For that very reason, most organizations are seriously considering adopting a web-based SaaS alternative, as long as it offers a good set of features at an affordable price.
In this post we'll review one of them: WorkinTool Free PDF Converter, a simple and easy to use PDF web-based editor that lets you edit your PDF files using either an online, web-based application (SaaS) or a typical Windows app (on-premise). As the name suggests, the main purpose of this tool is to convert PDF files to other formats (such as DOCX, RTF, and the likes): however, WorkinToolPDF is even more than just a mere PDF converter - as we'll get to see in a short while.
Online version
Let's start with the online version, which is definitely faster and simpler to use. We just need to connect to the WorkinTool official page and click the Online Tool button, which will bring us to the web application's main dashboard.

The web application's dashboard is filled with a list of buttons that allow to launch the various available features.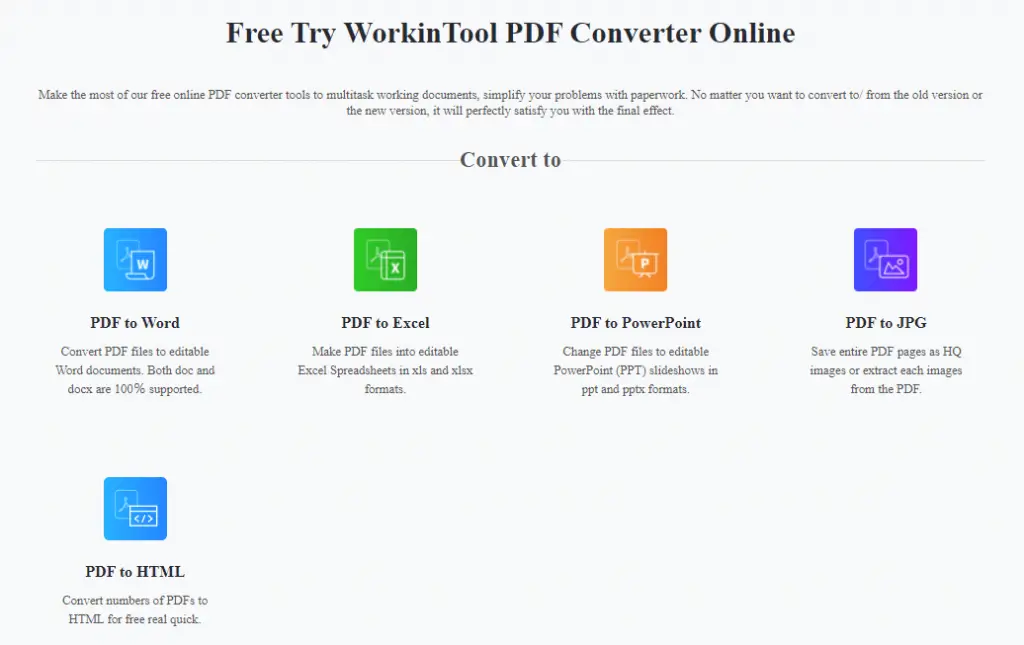 From there we can launch the conversion tool, as well as some additional features such as:
Merge PDF. Combine a range of PDFs into one unified document
Compress PDF. Reduce the size of your PDF files without losing quality
Encrypt PDF. Add a Password to your PDF file to protect it from unauthorized access
Unlock PDF. Remove password, encryption and restrictions from a PDF file
Pros and Cons
The main advantages of the online version are the following:
No need to download anything. The web application can operate everywhere, as long as the user is connected to the World Wide Web.
Stable conversion speed. The web application does all the job at the server-side, meaning that the conversion speed (and quality) won't be impacted in any way by the client CPU, RAM or performance features.
Privacy aware. The uploaded files won't be stored and will be securely erased right after the job is performed, thus granting full GDPR compliance.
Free of charge. Both the conversion-based tools and the additional features are offered free of charge, thus giving the users the chance to try the product before buying the offline, on-premise version.
However, the online version also comes with limitations:
Max 4 files at a time. Only four files can be processed.
Max 50MB. The maximum size of each uploaded file is capped at 50 MB
Pricing
And here's the good news: the web-based version is currently on a limited-time trial offer, meaning that it can be used free of charge.
Offline version
Let's now switch to the offline, on-premise version of the product. In order to get it we have to connect to the WorkinTool official page and click the Desktop Software button, which will allow us to download the executable setup file. Once the download is completed we can execute the setup file,  we'll be prompted by a typical, wizard-based setup process, whch gives us the chance to agree to the software's EULA, choose the installation folder (C:\Program Files\ being the default one), and start the application.
The offline application's dashboard is quite similar to the online version: a list of conversion features, and a couple other tabs containing the additional tools.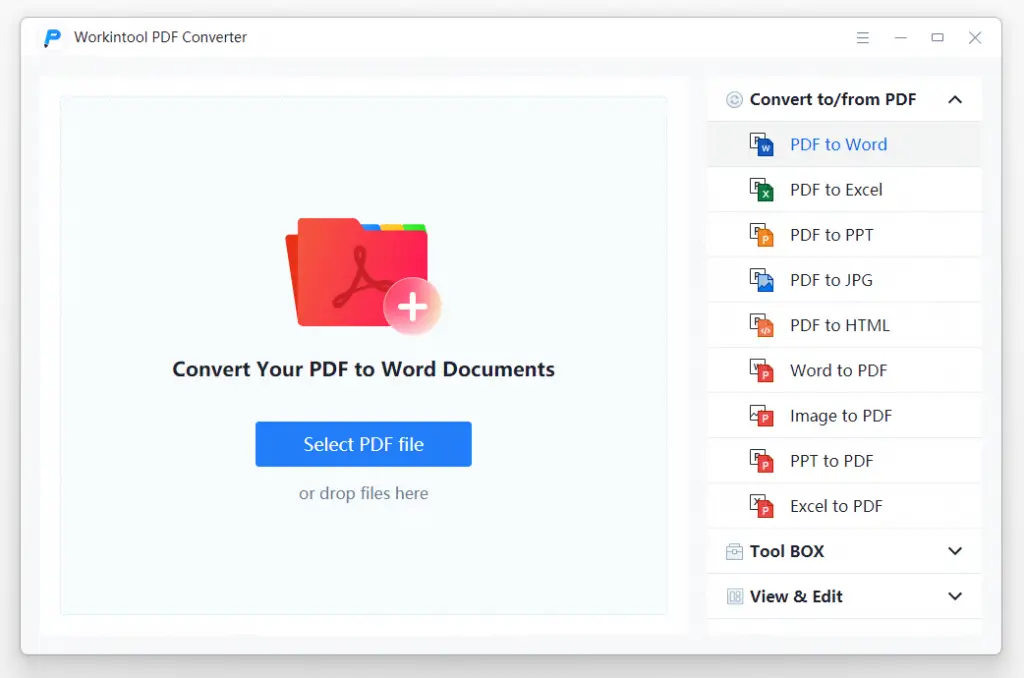 The best part about this dashboard is its flat-out simplicity: we only have a big button to select our PDF file and a list of features to choose from. This is what we like the most of this software - the ease of use, which is of utmost importance since this is a software that often needs to be used by non-technicians, administrative users.
PDF to Word conversion
The first test drive we did was a PDF-to-Word conversion: to test such feature we took a 580-page PDF with 300dpi color images - definitely not a simple file to work with. To start the conversion task we just had to select the PDF to Word feature from the Convert to/from PDF tab, select the PDF file, and hit the Convert button.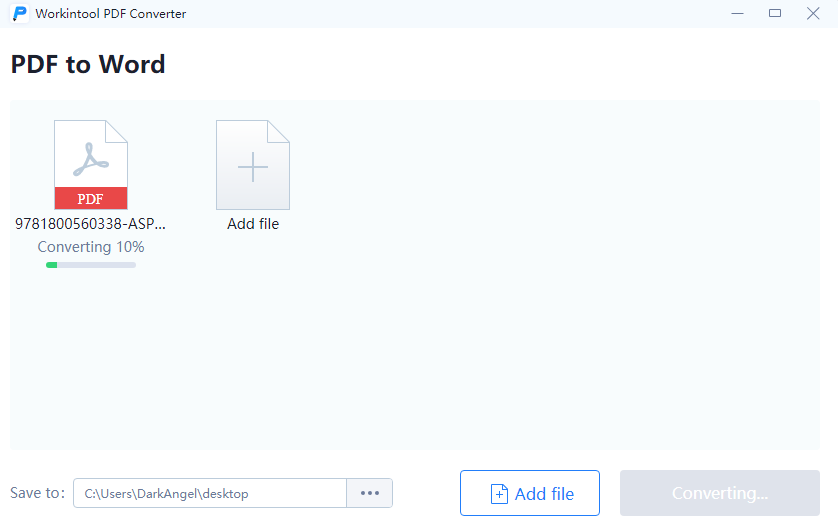 As we can see from the above screenshot, the software also gives the chance of converting multiple PDF files within the same job (using the Add file button): the added PDF files will be merged together into a single DOCX file.
The whole conversion process took 9 minutes and 43 seconds on a quad-core i5 CPU machine with 16GB of RAM - not bad at all, if we consider that we're talking about a 580-page PDF file!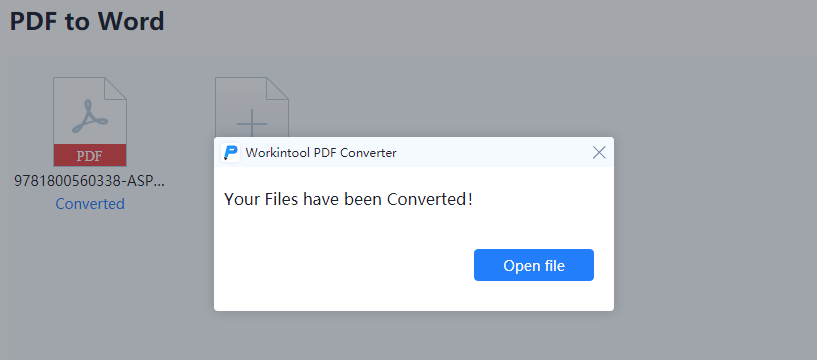 Furthermore, we were very pleased of the outcome: the resulting DOCX file closely resembled the PDF source, with only minor, unavoidable differences due to the different format and page settings.

Feature list
Here's a full breakdown of the offline version's available features, which we've carefully tested one by one:
Convert to and from MS Word (DOCX), MS Excel (XLSX), MS Powerpoint (PPTX), JPG, and HTML
Merge and Split
Remove Pages
Add Watermark(s)
Compress PDF
Protect PDF
Unlock PDF
Rotate Pages
Add File Numbers
Pricing
Just like the online, web-based version, the offline software is currently on a limited-time trial offer, meaning that it can be used free of charge.
Conclusion
We were very pleased of the WorkinTool PDF Converter features and performance: if we consider that the software is currently available free of charge, we can definitely say that it's one of the best PDF processors available for Windows nowadays for everyone who need to deal with PDF files.