The most important decision that a user needs to make is choosing the correct method for Office 365 migration. But before starting the migration process, it is important to do proper research on all existing email condition and business requirement. All this will help in deciding which migration process suits best for the organization.
Never escape by the promotion that marketers make for Office 365 migrations. There is not always one recipe for all kind of situations to migrate Exchange Server to Office 365. It is because all Exchange Server migration situations are not same. However, one has to choose between the migration ways from on-premises Exchange to Office 365. And, the decision must be on the basis of how fast you want to switch, what are the number of clients, and how important your IT assets are. Before, you make your decision, have a look at all migration techniques discussed in the next section to replace your on-premise Exchange Server to Office 365.
Cutover Migration
This choice is relevant, where all mailboxes are moved in the meantime. You can rely on this type of migration if you are working under 2000 mailboxes and need to complete things as fast as could be allowed. Despite the fact that cutover migrations are believed to be simple and easy-to-use, it cannot be considered as the best arrangement to move all emails to Office 365 at once. In addition, this method at some point in time become challenging for even small organizations. In the case of a vast number of mailboxes, the cutover migration will take a large amount of time which is not acceptable. Thus, before using this method, it is important to make sure that there are enough resources for the same.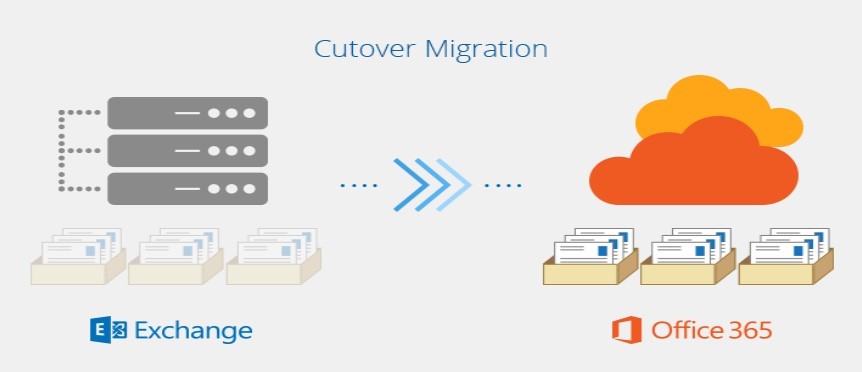 Hybrid Exchange Deployment
If you need to move mailboxes in small increments with time, Hybrid Exchange Deployment is the best alternative. This method enables you to incorporate the Exchange on-premise with Office 365. As a rule, a hybrid arrangement encourages the likelihood to give a blend of on-premises and Office 365 email clients for a specific amount of time until look and feel of environment brought together. If you are going for a hybrid preparation, just make sure that you have overseen both on-premises mailboxes and those which depend on the cloud. Because it is a monotonous process that can rapidly influence IT assets by putting a strain on them.
From another aspect, a hybrid Exchange organization will likely end up being the most effortless strategy for the clients. You can get both offline and online assets via a single login credential. And, without much of a stretch, you can manage password policies via Active Directory and stay in full control.
IMAP Migration
In order to perform non-Exchange environment to Exchange Online migration, one can choose IMAP migration. In a few cases, IMAP migrations fill in as an alternate route while moving mailboxes from obsolete Exchange Server versions (Exchange 2000 and above are supported). Moreover, the IMAP migration process will not move anything except emails. This will result in loss of pivotal data like contacts, calendar entries, and every single other task during the Office 365 Exchange Online migration.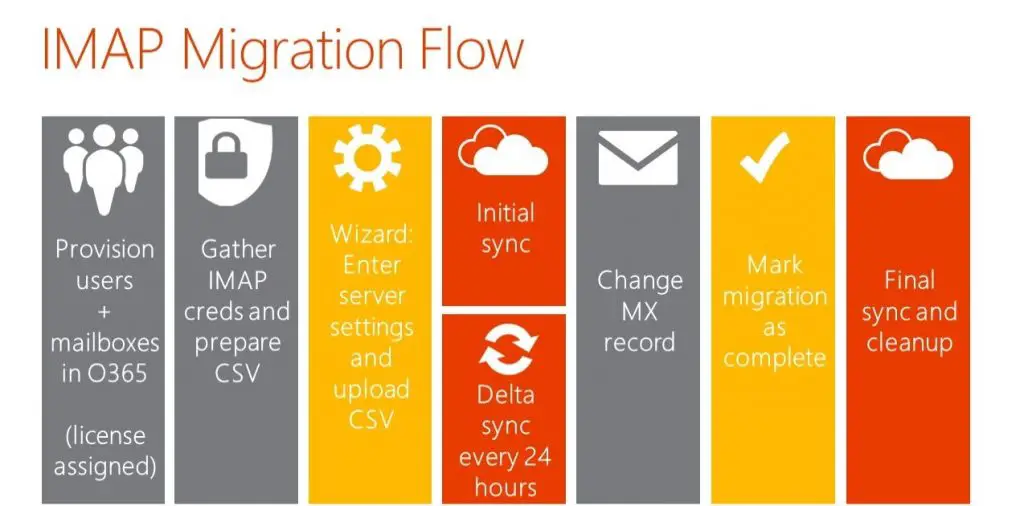 Staged Migration
This type of migration allows users to move a bunch of mailboxes from Exchange Server to Office 365. This makes it a feasible choice when you need to manage more than 2000 clients and want to move them over the cloud as fast as possible.
It sometimes sounds like a Hybrid Exchange migration. Because in both the cases there will be some mailboxes in your on-premises Exchange and some in the cloud. The main difference is in the length of the conjunction of the two environments at the same time. In spite of a staged migration, where mailboxes are planned to be moved to Exchange Online as fast as possible, the hybrid deployment is also there for you to at the same time. It let users run on-premises and online mailboxes simultaneously for some span of time.
Conclusion
Migrating to office 365 is the most useful task to perform. As the mail are the heart of business communication. It makes easier for the marketers or users to work more productively. It also bring numerous benefits to big organizations. The above methods are based on the latest trends or requirements of users. You can even learn more about how to migrate emails messages to office.