Do you remember the good old times when PC manufacturers used to apply those fancy stickers to the back of your laptop or desktop PC depicting your Windows Product Key? If you're a system administrator you probably already know that these times are gone since Windows 8. Now almost every PC with a pre-installed copy of a Windows OS doesn't show any physical info or evidence of its product key, nor it features a Certificate of Authenticity (COA) sticker on its back, battery bay or any other place.
The product key is now embedded into the computer BIOS or UEFI, and it can only be accessed there: this also means that we don't need to type it anymore, because it's automatically fetched by the OS during the install phase. This can be really good at times, because you won't ever need to remember or protect it - the system will do the hard work for you. However, it can become a huge problem if you ever need to type it, which is something that can always happen in some edge-case scenarious such as: relevant hardware upgrades, damaged/erased BIOS, OS upgrades, reinstall using a different ISO image and so on.
Whenever such things happens, we most certainly want (or would've wanted) a way to retrieve that product key before it's too late. Luckily enough, there's a great freeware tool that comes to the rescue: it's called Windows 10 Product Key Tool and is made by NeoSmart technologies, the same guys that developed the great EasyBCD software (if you don't know it, check it out!). The tool is compatible with both 32-bit and 64-bit versions of Windows 7, Windows 8.1, and Windows 10.
This handy tool can be downloaded here from the NeoSmart official blog. Once executed, it will retrieve our Windows Product Key from the BIOS / UEFI and show it to us in a convenient pop-up window:

In case the Windows installation has been performed by manually typing a OEM Product Key or using the free Windows 10 upgrade offer from Windows 7, Windows 8 or Windows 8.1, this tool won't find anything in the BIOS / UEFI records, thus showing a "Unable to open MSDM table" error message instead: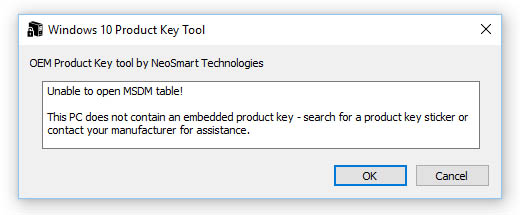 If that's the case, it simply means that our Product Key is stored into the Windows Registry. Don't worry! This only means that, in order to recover it, we will need to use the good old ProduKey tool by Nirsoft, which helps users and SysAdmins to recover Windows, Office and SQL Server Serial Numbers, License Keys and Product Keys since 2005. Despite the rather rusty interface it still flawlessly gets the job done, just like it used to do since the early days of Windows XP:

That's it for now: happy recover!