If you've stumbled upon this post, you are likely looking for a way to record a video of your computer screen. There are many reasons why you might need to do such a thing: recording the progress made on a videogame, creating a video tutorial, showing something to your friends and/or colleagues, and so on.
In this post, we'll briefly review five screen recording solutions available on the market that can easily allow you to achieve your goal. Some of them are completely free, while others offer several purchases or subscription plans. For each alternative, we'll also give an overall score between 1 (not recommended) and 10 (highly recommended) by taking into account the price, the ease to use, and the number of available features.
EaseUS RecExperts
The first solution we're going to review is EaseUS RecExperts, a screen recorder software tool with a lot of interesting features that can satisfy even the most demanding gamer. The tool can capture the entire screen or a precise area of the screen, as well as record multiple screens at the same time.
Needless to say, we can also choose whether to record the audio (sound effects and music) coming from a given source or even multiple sources at a time: that's great if we want to record gameplay on PC, as well as for game casting, as this allows us to record the game sounds as well as our microphone in real time!
While testing EaseUS RecExperts, we found that recording a game is quite easy. We just had to follow the following steps:
Step 1. The first thing we did was launch the game we wanted to record (Hades).
Step 2. Once the game was running, we launched the tool, choosing the Full Screen recording option since we wanted to perform a full-screen recording.
Step 3. We used the Settings page (accessible through the Settings button on the top-right side of the UI)  to set up the output folder, the video format, and the overall quality of the recording, as well as a suitable frame rate (30FPS).
Step 4. We switched back to the game and pressed F9 (the start/stop hotkey) to start the recording, and then F9 again to stop it after a while.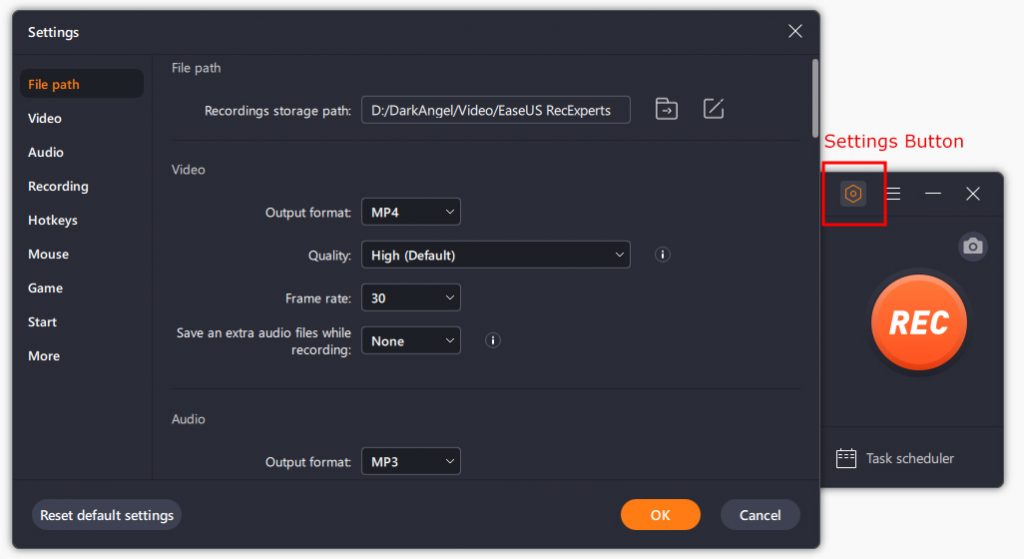 Other notable features of EaseUS RecExperts are:
Overlay mode. The ability to capture the video from a given source (such as a webcam) as an overlay, positioning the video stream in a corner of the screen: this is a technique typically used by gaming streamers to increase the involvement of their audience.
Video to GIF. All videos can be converted to animated GIFs
Auto-start & Auto-stop. We can schedule an automatic start and/or stop of the recording task, to ensure that the screen (and/or video source) will be recorded at a specific time.
Real-time Screenshots. We can take screenshots at any time - even during the recording - and save them in several image formats (JPG, PNG, GIF).
Configurable HotKeys. We can configure the start and stop recording keys in order to manage everything from the keyboard.
Let alone the above features, what we really liked about EaseUS RecExperts - and the big advantage we found when we compared it to other screen recording alternatives - were the performance levels: the tool is powered by a dedicated GPU acceleration technology that allows games and Windows sessions to be recorded without any significative lag - even on low-end computers! That's a fundamental aspect when talking about game recording tools, and is the main reason that led us to give this tool a near-perfect overall score.
Platforms: Windows, macOS
Price: 19.95$ Monthly, 39.95$ Yearly, or 69.95$ Lifetime.
Free trial: Available (with some limitations)
Score: 9 out of 10
OBS Studio
If you are looking for a free/open-source alternative, you should give a try to OBS Studio (formerly Open Broadcaster Software): a great streaming software with full-screen recording capabilities available not only for Windows and macOS, yet also for Linux and FreeBSD.
The most obvious advantage of OBS is the fact that it's free - which is kind of great if you have a thin budget, especially considering that it comes with most of the bells and whistles of its paid alternatives: it also has tons of support and a very well rounded community backing its use, which is ideal if you are a newbie and need to understand how it works - which is also one of its biggest issues, as we'll see below.

The thing we didn't like that much about OBS Studio - which is also the reason why we didn't give it a full score - is the UI/UX part: we found the interface rather difficult to use, with a lot of complex options that are not easy to understand. The software is stacked with several options granting complete control of the recorded audio and video which will probably make the day of experienced video makers: however, such a granular approach could easily discourage less experienced users.
In our test drive, we also had a nasty issue with some audio/video delay (desync) during HD video streaming on a mid-range laptop PC that we weren't able to solve until we lowered the resolution from 1080p to 720p: we don't know if it was a performance issue, but we are inclined to think that since we found the software to be rather slow, especially when recording at high resolutions.
Platforms: Windows, macOS, Linux, FreeBSD
Price: Free (open source)
Score: 8 out of 10
iCapture
If you don't want to install a dedicated software tool (or suite) to record your computer screen, you might be interested in installing a browser extension that does just that. The best one that we found so far is iCapture, a Chrome extension that can record a full application or a single browser tab (with or without audio support) and save or share the output file.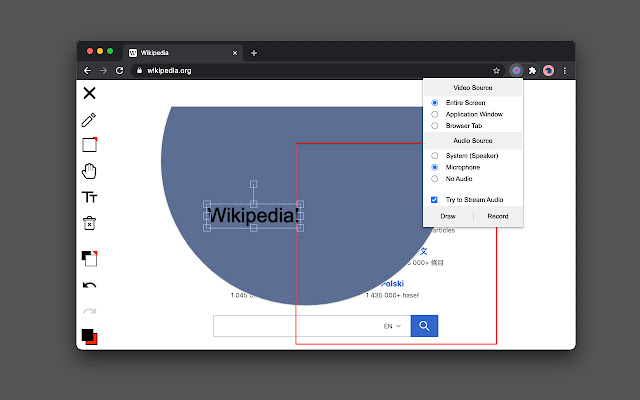 The iCapture extension comes with three operational modes:
Full-screen Capture. As the name suggests,  this mode captures the entire screen: it also supports multiple monitors.
Window Capture. This mode only captures a single application's window of our choice: the output video size will be equal to the application's window size.
Browser tab Capture. This mode will capture the content of a browser tab.
The iCapture extension can be set to record video files in various resolutions/quality (HD, Medium, Low). As for the sound recording, we can either record the system sound or use a different device (such as a microphone). Output videos are recorded using the WebM format, a high-performance format with great compression level and real-time rendering capabilities, which makes this extension-based alternative ideal for video sharing - yet not too much if we want an optimal recording quality.
Platforms: Windows, macOS, Linux, FreeBSD
Price: Free
Score: 7 out of 10
Reelia
If you prefer MS Edge over Chrome, you might want to try Reelia - a browser extension similar to iCapture, but made specifically for Microsoft's flagship browser. Just like its Chrome-based counterpart, Reelia is able to record our whole screen, a window, or a browser tab, as well as save the resulting video file on our local device(s) or share them.
The extension is completely free to use (no watermarks, sign-up actions, and the like) and it's quick and easy to use. It also has a great "annotation" feature, that allows annotating the website (or the browser tab) while recording it, as well as highlight mouse location and clicks to keep watchers engaged.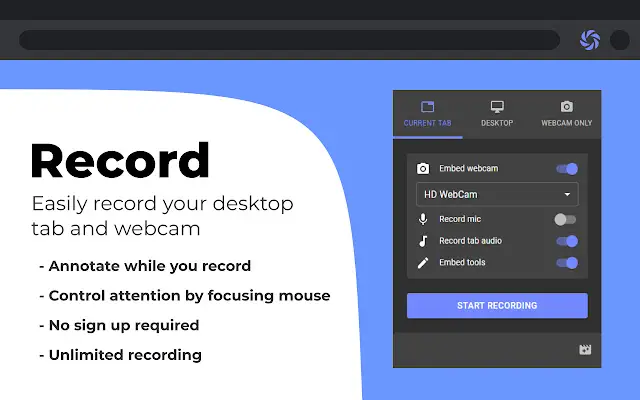 Furthermore, it has some neat (although limited) post-recording editing capabilities, allowing us to cut, crop, and/or merge our captured videos, as well as rearrange the video cuts in a dedicated media library.
Last but not least, it comes with native (and configurable) shortcut support that allows us to start/stop and pause/resume our recordings directly from the keyboard.
Platforms: Windows, macOS, Linux, FreeBSD
Price: Free
Score: 7 out of 10
Camtasia
Last but not least comes Camtasia (formerly Camtasia Studio), a fully-featured software suite, created and published by TechSmith. Initially released in 2022, it became over the years one of the most popular software tools for creating and recording video tutorials and presentations.

The software revolves around two components:
Camtasia Recorder. A recording tool that can be used to start and stop the video recording. When the recording is halted, the captured video is saved into a proprietary TREC file that can be either saved to disk or imported into the Camtasia component (see below).
Camtasia Editor. A professional video editor that can be used to open and modify TREC files, as well as other supported video and audio files (MP4, AVI, MP3, WAV, PNG, JPEG, and so on). The editor features a timeline, which can be used to handle several files at a time, overlapping them as we please, as well as adding annotations, effects, transitions, and so on. The generated video can be saved as TREC file, exported as a local MP4, Animated GIF, AVI, or MOV file,  or even directly uploaded to a media or file-sharing platform (such as YouTube, Google Drive, and so on).
Camtasia is a great software tool for video editing, and we highly recommend it for creating video tutorials or video presentations of any kind: however, it's not suited for recording game sessions, as it lacks some key features and - most importantly - the performance benefits of its competitors.
Other than that, the proprietary TREC file format is not compatible with most video-editing software tools (such as Adobe Premiere, MAGIX Vegas, and the like), and requires a dedicated codec (TSC2) to make Windows able to play them. Last but not least, the licensing plans are quite expensive.
Platforms: Windows, macOS
Price: $299.99/user (volume and non-profit discounts available)
Free trial: Available (with some limitations)
Score: 7 out of 10
Conclusions
That's it, at least for now: we hope that our reviews will help you to choose a great screen recording software to record your games and/or browser sessions in a quick, easy, and effective way!