No matter if you're a seasoned System Administrator, a IT expert or a PC enthusiast, you've most likely already stumbled upon a EaseUS product at least once: we're talking about one of the most important software companies / software providers of storage management and data recovery solutions, with millions of active users (private and business) in over 180 countries and areas.
Introduction
Founded in 2004, EaseUS is constantly releasing software tools for tasks such as Backup & Recovery, Data Recovery and Partition Management: each package usually comes out with a free with limitation (or trial) edition and professional/enterprise versions with additional features: thanks to this sale strategy, which is pretty common for these kind of software companies, they can address the need of every potential customer - from the home users to SMBs, enterprises, technicians and the likes. All EaseUS tools can be purchased online from their e-commerce website.
In this article we'll perform a test-drive + in-depth review of one of their flagship products - EaseUS Data Recovery Wizard: that's basically a software tool that allows users to undelete files and folders deleted by mistake (or by malicious software/attackers) from various storage media, including Hard Disk Drives, USB pendrives, memory cards, iOS devices, music players, and so on.
Installation
Installing the software is very easy, you just have to choose between picking up the free trial or directly go for the professional edition - or even the technician edition:
As you can see, they made a dedicated website for each edition: i'll perform the comparison between them later on, for now I'll just pick the free edition and go ahead with the test-drive.
The installation process is pretty much straight-forward, you'll just have to hit Next a number of times: it won't ask you for sponsored softwares and/or adware, which is indeed a good policy that I appreciate a lot from EaseUS products.
Dashboard
Once installed and launched, the tool will welcome you with the following dashboard, which will be the starting place of all our recovery sessions: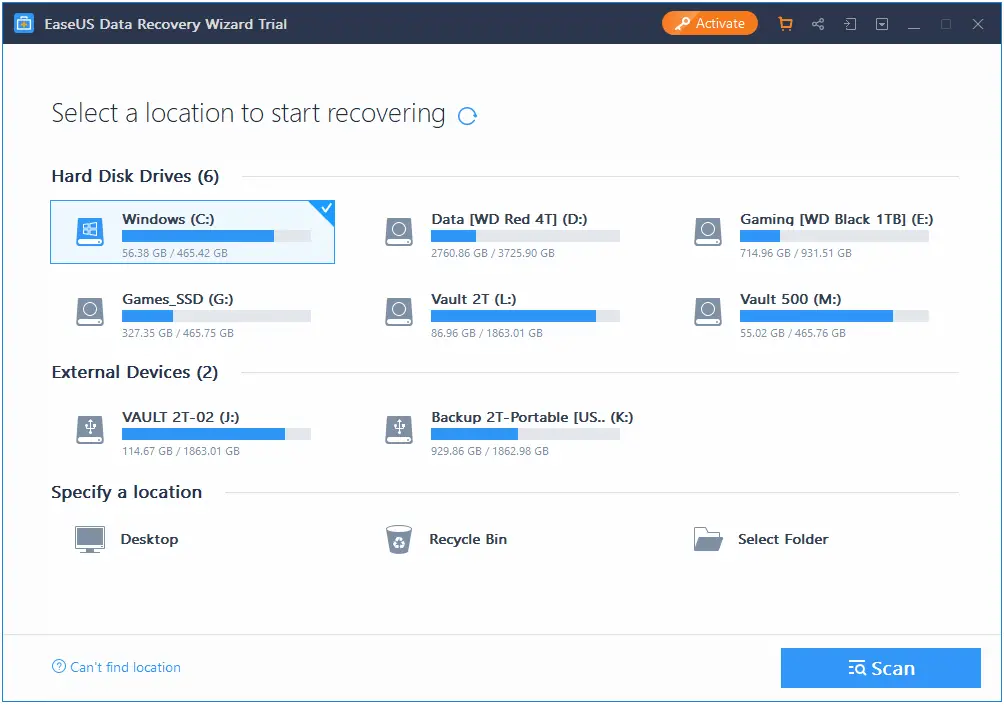 As we can see, the software does a good job in locating all our locally available storage media: we just have to double-click one of them - arguably the one which contained the file(s) we want to recover - and we will access the File Explorer panel.
File Explorer
As we can see from the screenshot below, this basically is a file manager interface specifically designed to help us to identify and recovery our missing/lost/deleted files:
As soon as the window opens, a quick scan will be performed over the storage media surface: the results will be shown in real-time. As expected, all the deleted files are shown nested in their folders and are kept in the same hierarchy as it originally existed. This choice makes it quite easy to focus only on the relevant files (those who are looking for), giving us the chance to easily skip all the others.
File Filter
On the top menu, a filter option can also be used to filter out specific file types, non-recent files and so on: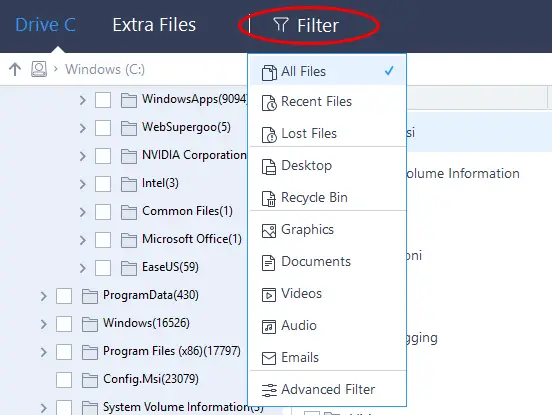 If you need additional options you can also activate the Advanced Filters by clicking on the bottom item: this will open a modal windows that allows you to further customize your scan with various options (modification time, file size, initial letters, and so on).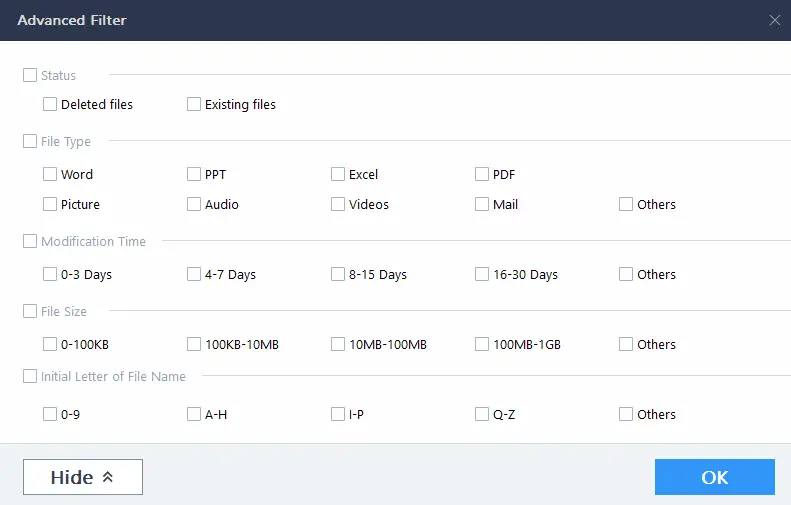 Deep Scan
While you navigate the File Explorer through the folder tree looking for the files, a further, more effective scan (deep scan) will be performed in background thorough the whole drive. The deep scan is much more "intense" of the quick scan and will definitely take much longer to finish, depending on the size of the drive. On my 500GB SSD Drive (Samsung 970 Pro) the deep scan took roughly 5 minutes to complete - which is quite fast, considering what it does.
The results of the scan will be shown on separate panes, on the left part of the File Explorer window.
Preview before Recovery
A neat feature - which we liked a lot - is that all the "found" files can be previewed before being recovered with a right-click:

We personally found such "contextual preview" to be a very practical add-on, expecially when recovering few specific files with non-identifying names (images/photos, PDF files, and so on) between a large amount of siblings which I didn't want to recover.
Compare Editions
Unlike most demos and trial versions, the Data Recovery Wizard - Free Edition actually lets you to access all the most important features - and even recover the files! The only functional limitation is the maximum size of the files that you'll be able to recover, which - for the free edition - is capped at 2GB: however, you'll still be able to see all files even when you'll hit such limitation, therefore you'll be able to choose between purchasing the professional edition or not depending on what the tool will find.
Needless to say, both the professional and technician editions feature an unlimited size of recoverable files.
Technician Edition and Help-Desk feature
As for the technician edition, it has the same set of features of the professional one, but it comes with an additional feature that could be rather useful for most resellers, service providers and IT services companies:  the license does include a top-tier "technical service" offered by EaseUS and directly aimed to end-customers in order to help them recover data at critical times. In other words, you'll buy the tool and the customer service for your clients, directly handled by EaseUS.
Supported Devices
Here's a list of devices that will be auto-detected by the software if connected to the PC:
PC (desktop & laptops)
Hard Drives
External Disks
SSD
USB Drives
Micro Cards
Camcorders
Digital Cameras
Music Players
Video Players
RAIDs
CF/SD Cards
Pen Drives
Other Storage Devices
System and Hardware requirements
File System

FAT(FAT12,FAT16,FAT32)
exFAT
NTFS
NTFS5
ext2/ext3
HFS+
ReFS

Operating System

Windows 10/8.1/8/7/Vista/XP

Windows Server 2016/2012/2008/2003

CPU

at least with x86

Disk Space

32MB minimum space for EaseUS Data Recovery Wizard installation

RAM

at least 128MB
Special offer - 50% Discount
If you want to purchase the professional or technician edition EaseUS Data Recovery Wizard you can do that using this 50% discount coupon - promo code that will let you get the software package at half the stock price - 54,86 USD instead of 109,74 USD: such special offer has been introduced by EaseUS since 2019 and should hopefully be available for the next few months.
Conclusion
EaseUS Data Recovery Wizard is definitely a valid tool to recover undeleted files and worked well under all our test scenarios, being able to recover deleted data from an existing partition, from a deleted partition, from a corrupted partition, and even deleted data from a partition that had been deleted and then overwritten with another.
We really liked some neat features such as the "preview before recovery" and the advanced filters, which - together with the easeness of use and the fact that the free edition actually works - gives the software quite an edge over the competitors.