It is no mistery that, in the latest few years, video has become the main form of media through which marketing, advertising, sharing, and communication are done. From the ever-growing YouTube to the most recent micro-video sharing platforms such as TikTok, the vlog industry is growing steadily - and will likely continue to do that in the upcoming years. Most social media platforms are even changing their original purpose hoping to preserve their user base, as proven by the recent introduction of Instagram reels and Twitter's "Quote tweet with reaction" feature (currently in testing phase).
In a context like the current one, it's no wonder that average video production has more than doubled over the past 12 months:  which, of course, also creates additional needs in users, such as being able to convert videos from one format to another in order to better share - or permanently save - them. That's the reason why, in the latest few years, we've witnessed to the birth of a series of software tools entirely dedicated to video conversion. That's also the main topic of this post, since we're about to review one of them: VideoProc Converter, a fully fledged Video Processing Software for Windows and Mac that can be used to quickly and effectively convert video content created with a number of different sources. Are we ready? Let's start!
Download and Installation
VideoProc Converter can be obtained by going to its official website and click to the Free Download button, which allows us to download the installation executable file. As soon as the download completes, we can launch the installation wizard, which will guide us into installing the software.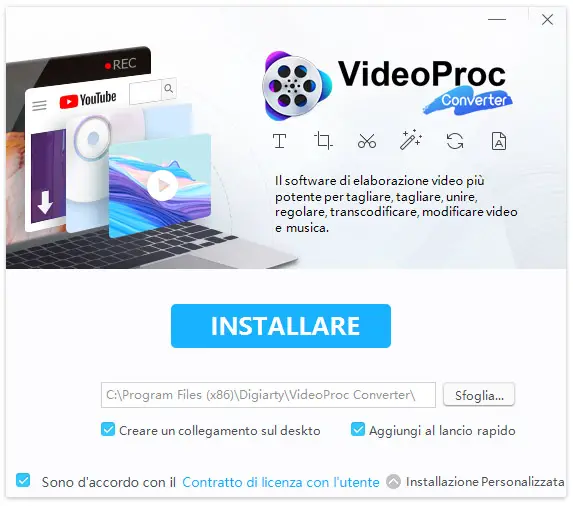 For the sake of simplicity, in this post we'll review the Windows edition of the product: however, the Mac edition supports the same identical features and a very similar User Interface.
The installation wizard is automatically localized to meet the language of the Windows UI. That said, the available settings are not difficult to understand: we can configure the setup folder, choose to create a desktop link and/or add the program's icon to the quick launch, and - most importantly - agree with the software's Terms of Services / End User License Agreement before proceeding. When we are ready, we can click the Install button to proceed.
Once done, we'll be able to launch the software and choose between activating it using a serial code (Paid Version) or to skip that part and activate the Free Evaluation Version instead. The evaluation version has the same feature set of the paid one, but it will only allow to convert the first 5 minutes of each video - which is a great way to test the software before buying it.
Main Dashboard
After we make a choice, we'll be sent to the program's main Dashboard, which allows us to choose between the main four features of the software:
Video.  Cut, trim, merge and edit video files, as well as converting and/or compressing them.
DVD. Convert DVD content to MP4, AVI, MKV, MP3 and other media formats, or backup them to any available storage.
Download. Download video streams, live videos, playlists, video & audio content from YouTube, Facebook and other online sources, and save them into media files.
Recorder. Capture video from PC screen or webcams.
Furthermore, the first time we run the software another pop-up window will automatically appear: it's the Hardware Info Detection feature, which is used by the software to determine if our system is provided with some hardware devices - such as CPUs, GPUs and/or other video processing units - who can encode, decode and/or process some specific video formats, such as H264 and H265 (also known as HEVC).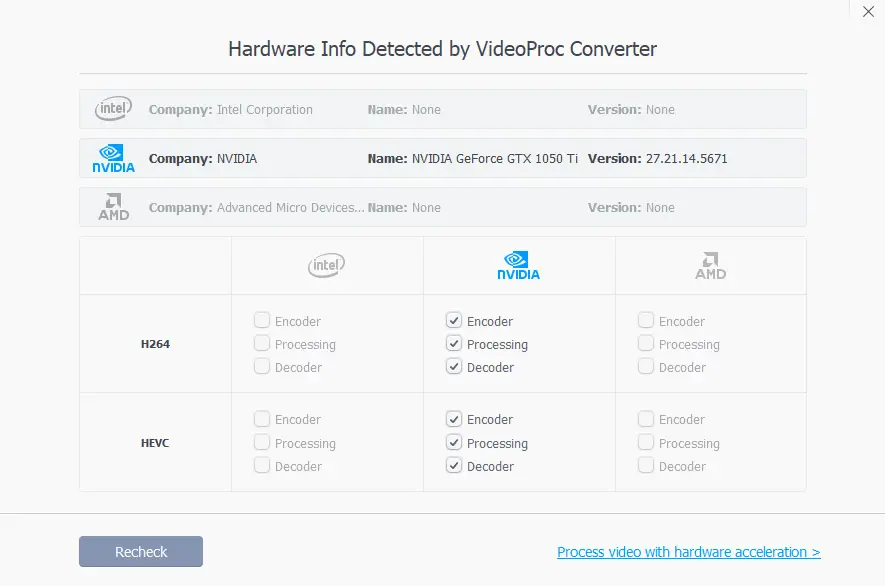 If that's the case - such as in the above screenshot, since our testing device is equipped with a NVIDIA GeForce GTX 1050 Ti card - we'll be asked to activate the Hardware Acceleration feature, which can bring significative performance and quality improvements to our video encoding, editing and rendering tasks - especially for 4K videos.
For additional info regarding the
Hardware Acceleration
benefits, read
this informative post
from the VideoProc's official website.
Let's now review each one of the VideoProc's four main features.
Video
The video processing feature is probably the most interesting and distinctive one: as soon as we press the button the software will launch a control panel that allows us to select (or drag) the source file, choose a target format and click the Run button to start the conversion process.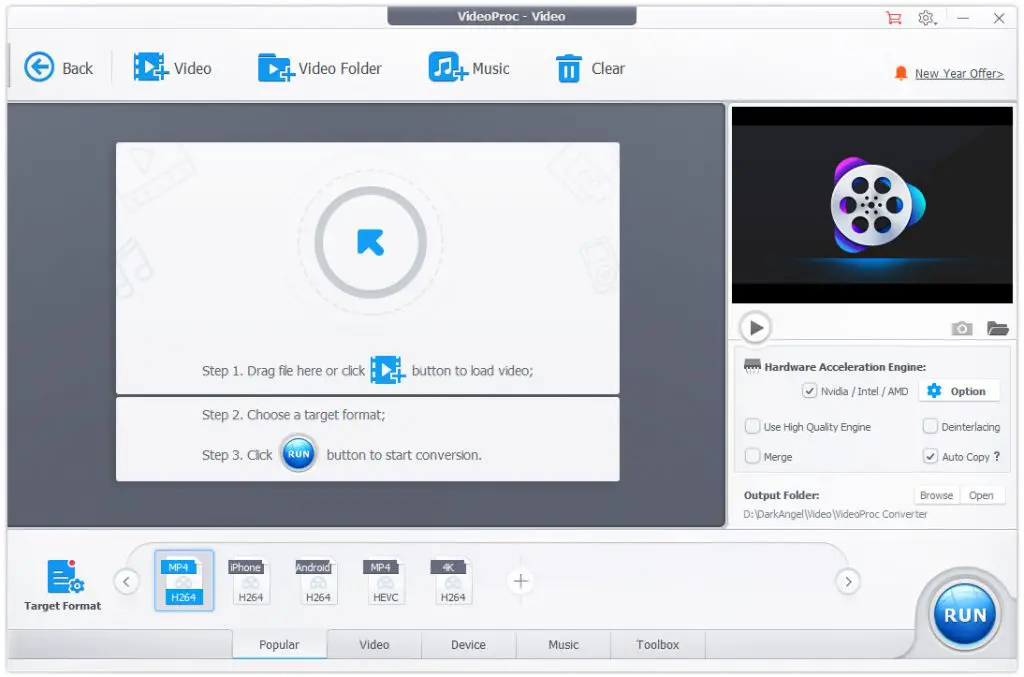 As we can see by looking at the above screenshot, we can choose from a number of default formats, including the most popular ones (MP4, iPhone, Android, PC): the various tabs includes a lot of other presets grouped by video formats, device, and music formats: we can also define some custom presets and add them to the list. If we don't want to use a preset, we can just click to the Target Format button in the bottom-left part of the screen and choose between a number of available formats and/or devices, including gaming console-aware formats such as XBox, PlayStation, PSP, and the likes.
The fifth tab, named Toolbox, includes some additional tools that we can use to apply custom filters and/or effects to video (such as denoise),  as well as extract specific part of the video (such as a screenshot).
Furthermore, in the right part of the screen we can choose to activate the Hardware Acceleration Engine, providing that our hardware supports it, as well as other settings such as: High Quality Engine, Merge, Deinterlacing, Auto Copy, and more.
DVD
The DVD tab gives us access to the DVD control panel, which is pretty much straightforward: we can choose a DVD from a DVD reader device or ISO file, choose a target format and hit Run to start the conversion process.
The bottom part of the panel is very similar to what we've already seen in the Video features: a list of customizable presets, plus the Target Format button to access a specific format.
The options near the right part of the screen are slightly different, since they are specific to the DVD source: we can choose to activate the Safe Mode and select the number of CPU cores to use for the conversion process.
Download
The download feature was an unexpected surprise: we didn't expect a Video Converter tool to give users the chance to directly download videos from A LOT of video providers and save/convert/encode them to the hard drive. You just have to add the unique URL of the video, audio, or live stream you want to fetch and the let the tool's auto-detect feature to automatically show you what it can be done with that source.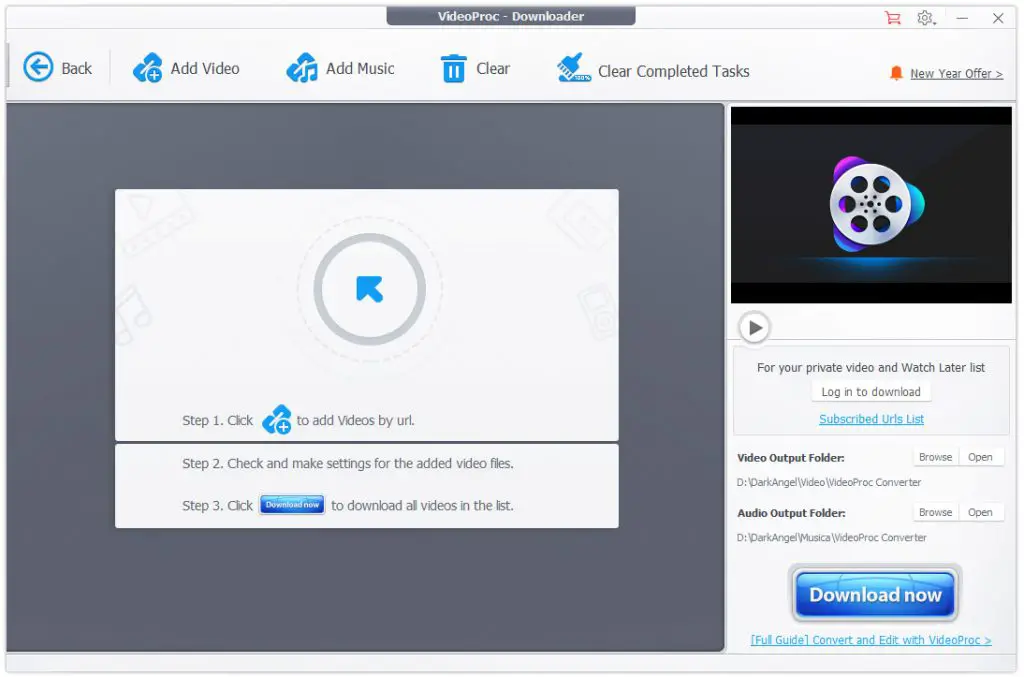 We won't enumerate all the video channel, audio streaming, media services, and Web TVs that we tried to use to avoid the post being blocked by copyright acts - we'll just say that everyone of them has been auto-detected and worked flawlessly! We'll just say that the download feature - trust us on that - is well-worth the software price. If you don't believe our words, just try the free version and see for yourself what it can be done.
Recorder
The recorder feature allows to record video from the screen, the webcam or both of them at the same time - which is very good for teaching purposes. The interface is very simple to use, you just have to select what you want to record, adjust the source (resolution, margins, recording area), and choose the target media, format and codec (audio and/or video).
In case you have a webcam, you can also use some Zoom-like features such as chroma key (remove background), smoothness, color spill reduction, and more.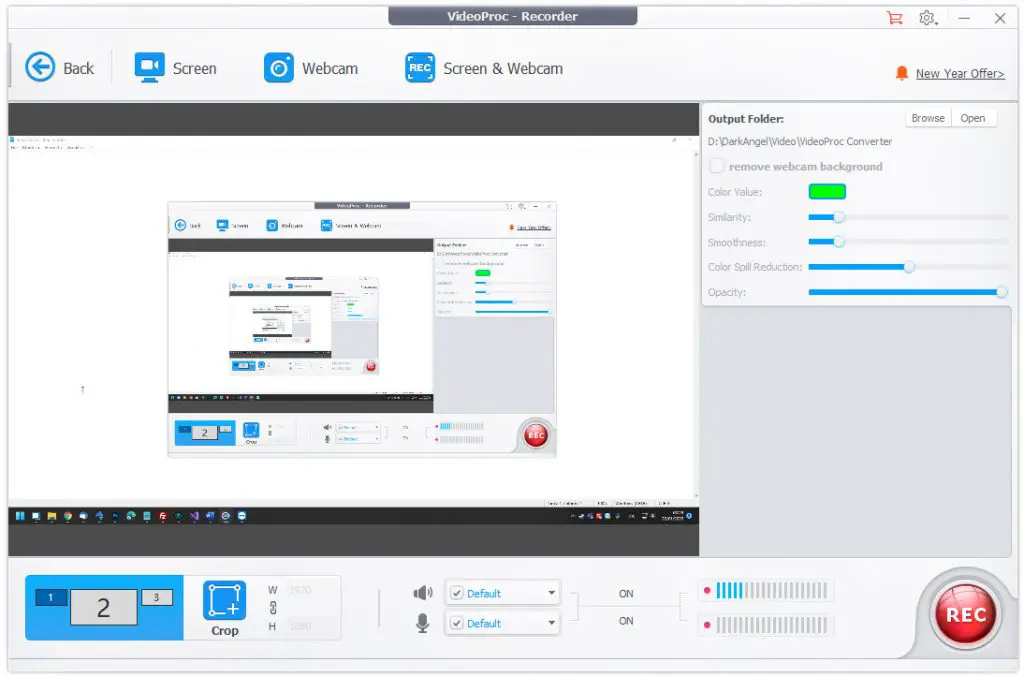 Another great feature here is the support of multiple monitors: as you can see from the above screenshot, we had three different video outputs on our testing machine - with different resolution, including a 4K monitor - and the software was able to flawlessly detect (and record from) all of them.
Pricing model
The software is available for Windows and Mac with the following available pricing models:
One Year License. One-time fee, valid for 1 Year and 1 PC, including free updates within 1 year, for 29.95$
Lifetime License. Once-in-a-lifetime fee for 1 PC, including free lifetime upgrade. 37.95$
Family License. Once-in-a-lifetime fee for 2 to 5 PCs, including free lifetime upgrade. 57.95$
You can download and test out VideoProc Converter for free with a trial period. Additionally, if you're interested in getting a license for an all-in-one video processing tool, then you can take advantage of VideoProc Converter's special holiday deal to get the software for 49% off.
Conclusion
Our test drive of VideoProc Converter couldn't go better: we were very pleased with the huge amount of features provided by the software: let alone the conversion, which is on par with the competitors, what really surprised us was the Download feature, which is something we've never experienced in the past - even when using dedicated online video downloader softwares or SaaS services! On top of that, having all these different - yet logically connected - features packed in a single tool is a great addition for all video lovers and media encoding enthusiasts, especially considering that they all come with a very affordable price.