As you most likely already know, disk partitioning (also known as disk slicing) is the process of creating of one or more regions within a disk storage (such a HDD or SSD drive) so that each region can be managed separately. The disk stores the information about the partitions' locations and sizes in an area known as partition table, which is read by the system before any other part of the disk and - depending on what is found there - will determine what your PC will actually load on each boot: the operating system also reads the partition table before anything else, giving the user the chance to access the various regions (if they are formatted with a supported filesystem standard) to read and/or write stuff.
The various "partitions" can be created using the operating system built-in tools or via third-party software - usually called partition editors, partition managers and so on: these tools can be used to create, resize, delete, and otherwise manipulate the partitions. The most widespread partition editor tools available in the past years are EaseUS Partition Master, Paragon Partition Manager and AOMEI Partition Assistant, which we'll be testing and reviewing in this article.
Introduction
Before diving into the actual review, let's spend two words about the developer. AOMEI Technology Ltd., simply called AOMEI for short, is a software developing company founded in 2009 and dedicated in data backup, disk partition and multi-cloud file management. AOMEI offers serves for both personal users and small and medium-sized enterprises. Their current market focus on Europe, Asia and the America. AOMEI is a freeware-based company, meaning that their tools always have a "freeware" edition (for personal use) which is usually fully usable. AOMEI Partition Assistant is no exception, as we'll see in the next paragraph.
Standard and Professional
AOMEI Partition Assistant comes in two different versions: Standard (freeware) and Professional (trialware).
Standard Features
The standard version, which is free for personal use, comes with the following features:
Basic Partition Management: Create, Format, Delete, Label, Check, Hide, Unhide Partitions, Set Active Partition, Change Drive Letter.
Disk Partition Utilities: Rebuild MBR, Wipe Disk or Partition, Change Partition Type ID, Check Bad Sector.
Change Partition Size: Extend, Shrink and Move Partitions, Merge Partitions or Unallocated Space
Copy Data Disk & Partition
Migrate OS from MBR Disk to MBR SSD or HDD
Convert Data Disk between MBR and GPT Styles
Convert File System between NTFS and FAT32
Create Windows PE Bootable CD/USB
Professional Features
The professional version covers all the standard stuff plus the following advanced features:
Recover Lost or Deleted Partitions
Copy System Disk from MBR to GPT, GPT to MBR and GPT to GPT
Advanced Data Migration features: OS from GPT Disk to GPT/MBR SSD or HDD
Advanced Convert features: System Disk between MBR and GPT; Dynamic Disk to Basic Disk (and Vice Versa); Partition Type between Primary and Logical
Align Partition to Optimize SSD Performance
Allocate Free Space from one Partition to another
Extend Partition Wizard to Enlarge NTFS System Partition without the need of a reboot
Advanced Partition Split features, such as spliting one large Partition into two or more smaller ones
Command-Prompt mode, to be used within batch files and scripts
Dynamic Disk Management: Resize, Move, Create, Format Dynamic Volumes
SSD Secure Erase Wizard
24/7 VIP Technical Support
Sector-level Data Protection
AOMEI Partition Assistant embeds a proprietary sector-level data protection technology to ensure safer partitioning operations even with large drives (> 2 TB).
Supported OS, FS and Storage Devices
Both Standard and Professional versions supports the following:
Operating Systems
Windows 10
Windows 8.1/8
Windows 7
Windows Vista
Windows XP
Windows 2000 Pro SP4
File Systems
NTFS
FAT32/FAT16/FAT12
exFAT/ReFS *
Ext2/Ext3/Ext4 *
Bitlocker and other encrypted file systems *
* These file system cannot be resized, but you can still move and clone them.
Supported Storage Devices
Traditional hard disk drives, solid-state drives (SSD) and SSHD, etc. (MBR disk and GPT disks) of any size
External hard drives (USB drives), PC cards, all Flash Drives and Thumb Drives and other removable media
All storage devices recognized by Windows, such as RAID, etc
As for the maximum supported size, there seems to be no limit: we tested the Standard version against a 16 TB HDD and we got no issues.
Installation and EULA
The Standard Edition has an installer file of just 22 Megabytes with a typical installation wizard, which briefly mentions the Professional edition, giving you the chance to Try it now! but doesn't suggest or force anything else (no third-party software sponsored advices).
Before running the program, you get the choice to Join the User Experience (UX) Improvement Program, which is the usual anonymous info-collecting feature used by most modern softwares to gather info regarding their end-users - hardware, usage, and so on. The Program is also briefly mentioned in the End-User Licence Agreement, which is indeed a good thing because they let you know what will be going on before accepting. Here's the relevant excerpt:
In order to understand our user's needs, and deliver better products and services to our user, we invite you to join our User Experience Improvement Program. If you choose to join the program, you will not be interrupted by additional messages when using your computer, and the operation of the program will not decrease the performance of your computer. AOMEI collects anonymous information about your computer hardware configuration, how you use our products and problems you might have with our products. We respect your privacy. No personally identifiable information will be collected, like your name, address, phone number, or keyboard input. The program is voluntary. You can opt in/out the program at any time by checking/unchecking Menu » Settings » Other » Join the User Experience Improvement Program.
User Interface
Upon the first launch, the software will immediately prompt for the preferred language (we chose English among the 20+ supported ones). Once done, the main control screen will load: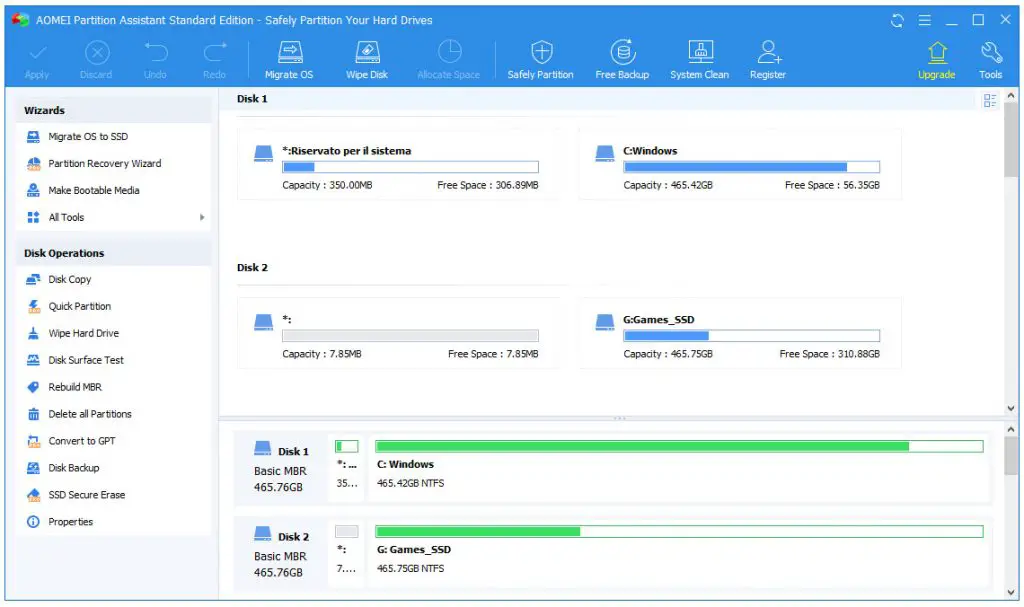 As we can see, there's no introductory dashboard - we're immediately brought into action thansk to a full-featured control panel which already contains everything we can do. With a single click we can start to work on our partitions, migrate OS to SSD, start the recovery wizard, and so on. This is a great approach for practical people such as the vast majority of System Administrators - which are the ones that will actually use the product anyway.
As you can see, some of the available Disk Operations do have an orange "Pro" label on them: it goes without saying that those will require the Professional version. Similarily, there are other features (such as the "Disk Backup") that do require other AOMEI products, such as AOMEI Backupper (which we reviewed here):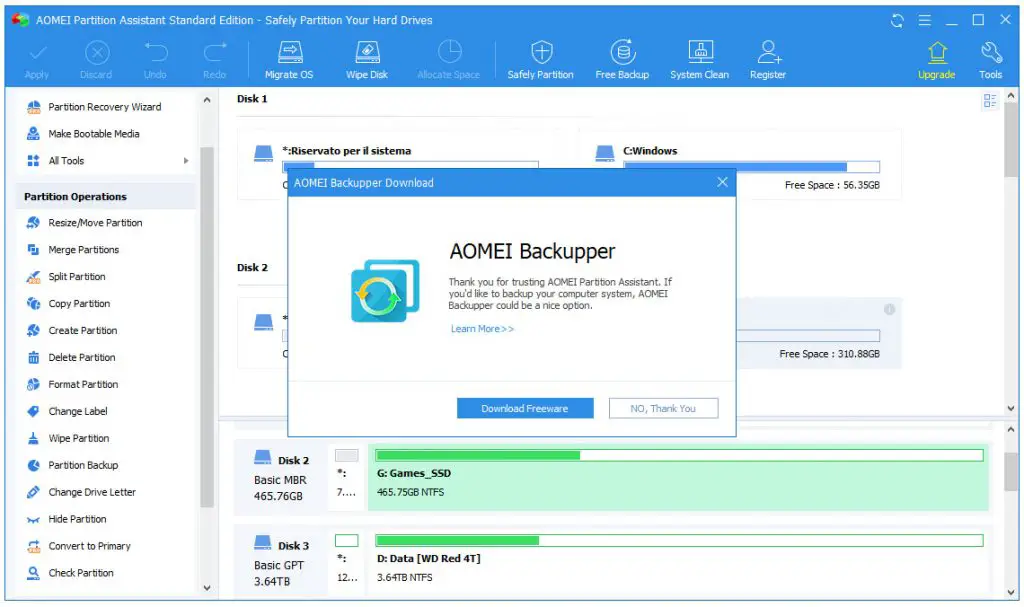 That's nice to know, but maybe it would've been better to place a label on them as well.
Overall Performances
During our test-drive we performed the following activities:
Disk Partition on a 16 TB Hard-Disk Drive (create, split, merge and delete)
Disk Copy from a 256GB SSD Drive to another identical 256GB SSD Drive.
Wipe Hard Drive on that same 16 TB Hard-Disk Drive that we partitioned early on.
Rebuild MBR from a damaged HDD with Windows 7 Home Premium.
The software performed really well on each task, with no nag screen, no delays and better performances compared to the aforementioned competitors. We found nothing to complain about, therefore we can only praise the overall results. We also checked our Task Manager to analyze the impact on system resources during the various tasks, and we found no significant issues there as well: needless to say, the software will ask you to reboot to ensure that your Operating System will reckognize the changes, but it's not mandatory - as long as you can live with the partition misalingments.
Conclusion
AOMEI Partition Assistant is definitely a great free partition manager tool which we can recommend it for any personal use. If you plan to use it on your company or business activity, the fair price of the Professional version ($49.95 at the time of writing, with lifetime free upgrades included) makes it a highly affordable choice for every business size.