If you're an experienced Windows user you'll be most likely aware of the Local Group Policy Editor, a powerful tool that allows Windows administrators to configure policies that often provide better customization options than what the Windows Settings offer: many features or settings are only available as policies, which usually correspond to registry key entries.
The Local Group Policy Editor, also known as gpedit.msc, is the tool that can be used to edit these policies by activating, deactivating or configuring them to suit your needs. Unfortunately, though, gpedit.msc comes with two major flaws:
It comes without options to search for specific policies, therefore you need to "already know" what you are looking for.
It is only available on professional and enterprise versions of Windows, meaning that it cannot be used on Windows 7 Home Premium or Windows 10 Home.
In order to overcome such limitations you can use three great (and freeware) tools that we'll be introducing in this post.
PolicyPlus
PolicyPlus is a great freeware tool that mimics the behaviour of gpedit.msc and can be used on any Windows version, including Windows 7 Home Premium and Windows 10 Home, thus making the GPEdit functionalities available to everyone.
Run and work on all Windows editions, not just Pro and Enterprise
Comply fully with licensing (i.e. transplant no components across Windows installations)
View and edit Registry-based policies in local GPOs, per-user GPOs, individual POL files, offline Registry user hives, and the live Registry
Navigate to policies by ID, text, or affected Registry entries
Show additional technical information about objects (policies, categories, products)
Provide convenient ways to share and import policy settings
At startup, Policy Plus opens the last saved policy source, or the local Group Policy Object (Local GPO) by default. To open a different policy source (like a Registry branch or a per-user GPO), use File | Open Policy Resources.
Much like the official Group Policy editor, categories are shown in the left tree. Information on the selected object is shown in the middle. Policies and subcategories in the selected category are shown in the right list. By default, both user and computer policies are displayed, but you can focus on just one policy source using the drop-down in the upper left.
To edit a policy, double-click it. If the selected setting applies to both users and computers, you can switch sections with the "Editing for" drop-down. Click OK to keep the changes to the setting. Notice: If a policy source is backed by a POL file (like Local GPO), changes to it will not be committed to disk until you use File | Save Policies (Ctrl+S).
Non-Registry-based policies (i.e. items outside the Administrative Templates branch of the Group Policy Editor) currently have no priority, but they may be reconsidered at a later date.
PolicyPlus is freely available on GitHub.
GPSearch
GPSearch is a online Group Policy search engine released by Microsoft that returns a list of policies that match the search term that you have entered. Results are sorted by policy tree and name, and a click on any policy that is returned displays detailed information on the website. The search engine supports policy templates that ship with Windows but also policy templates for Microsoft Office: this includes the description, possible values, the operating systems or programs the policy is supported on, and - most importantly - the relevant registry info, meaning that you can use GPSearch to find the registry key to add, delete, or edit to change your OS behaviour even on Windows Home.
GPSearch offers two main advantages over using filters in the Group Policy Editor when searching for policies:
It is easier to work with.
Registry keys are included (as explained above).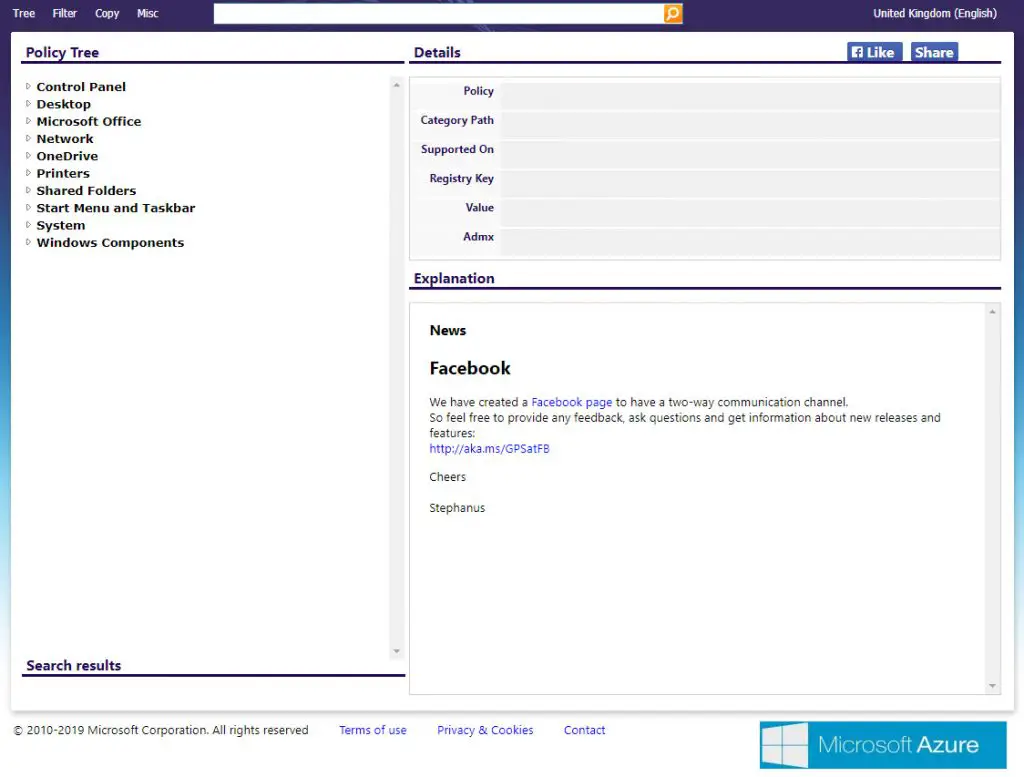 NIT-GPOSearch
NIT-GPOSearch is a free software program that you may use as a "offline alternative" to the above mentioned GPSearch to search the Group Policy database on your system. Again, this somehow fixes both limitations of the Group Policy Editor, providing both search functionalities and their relevant registry info - thus allowing experienced users to manually change the settings.
The program is compatible with 32-bit and 64-bit versions of Windows starting with Windows 7: the only (minor) issue we found is that it requires PowerShell 3.0, which is shipped on Windows 8 and Windows 10 but needs to be manually installed on Windows 7 and Windows Server 2008 systems in the following way:
The tool interface is very straightforward: the program parses the data on start and reveals to the user when it has done so, allowing to switch between local and domain search in the second field and enter search terms in the third and final field the program provides. GPOSearch will then run the given search and display results in real time.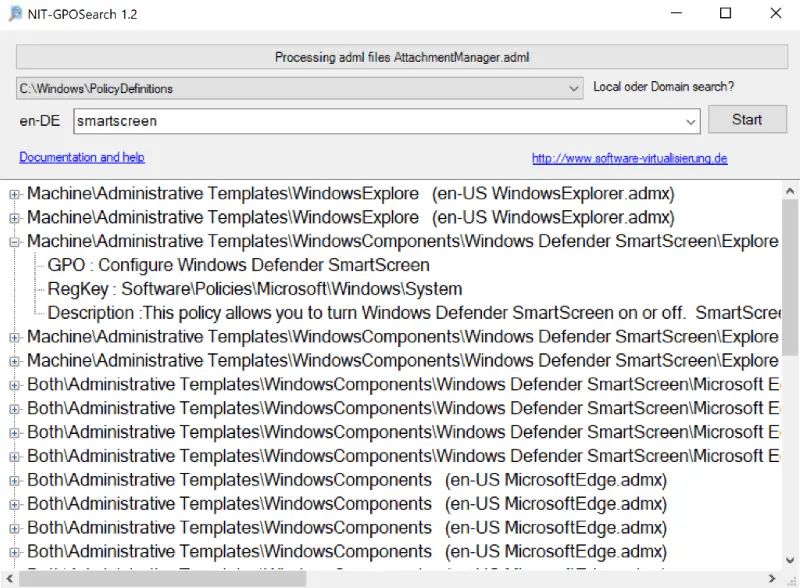 Results are listed together with their full path and source; a double-click on a result will show the name of the Group Policy Object, its linked registry key, and description. You can also expand multiple entries and hover over the description to display the full text in a popup.
You can download NIT-GPOSearch for free from its official website.
Conclusion
This post shows three different methods that can be effectively used to fix the two major limitations of the GPEdit.msc tool: That said, we sincerely hope that experienced users and system administrator will find these workarounds useful enough. It's important to understand that changing the Windows policies requires to know what you're doing, therefore only to that if you are 100% aware of the possible outcome. We also strongly suggest to take note of your changes so that you can rollback them if needed.