Have you ever experienced some performance issues on your Windows 10 machine (Hard-Disk, CPU and/or RAM) and, opening the Task Manager to see what was causing this, found the culprit being the Microsoft Compatibility Telemetry service? Here's a short guide explaining how to get rid of it and recover Memory, CPU and Hard-Disk performances.
Microsoft Compatibily Telemetry: what is it?
If you don't know that already, let's spend 30 seconds to explain what it is: Microsoft Compatibility Telemetry is a service in Windows 10 that gathers technical data in real-time regarding how your Windows devices and their drivers are working: these data are periodically sent to Microsoft to give them the chance to enhance the user experience by improving them and/or fixing the potential issues that occur. That's great, isn't it? Except that these "telemetry" actions might have a considerable performance hit on your system, especially if your PC is already low on resources - which is a common scenario for gamers, hardcore web surfers (20+ browser tabs at the same time), Netflix / Amazon Prime Video binge-watchers, and so on. If you are one of them, there's a high chance that you would want to stop that service from fetching & sending your device data: in this article, we'll briefly explain how you can do that.
Method #1: Group Policy Editor
The Group Policy Editor (also known as GPEdit) is a Windows administration tool that allows users to configure many important settings on their computers or networks: it can be used to configure password requirements, startup programs, define what applications or settings other users can change on their own, and so on. Needless to say, you can seriously cripple your system if you don't use it properly: that's why it's mostly used by experienced users and administrators. However, it can still be used without risks by (almost) anyone as long as they pay attention to only perform the required actions, avoiding touching anything else.
Access the Group Policy Editor by pressing WINDOWS + R, then typing gpedit.msc in the box and clicking OK to confirm.
If the User Account Control warning window shows up, press OK to allow the execution of the file.
Navigate through the left folder tree up to Computer Configuration > Administrative Templates > Windows Components > Data Collection and Preview Builds.
Locate the Allow Telemetry option and double-click it to open the configuration window.
Select Disabled, then click OK.
Done!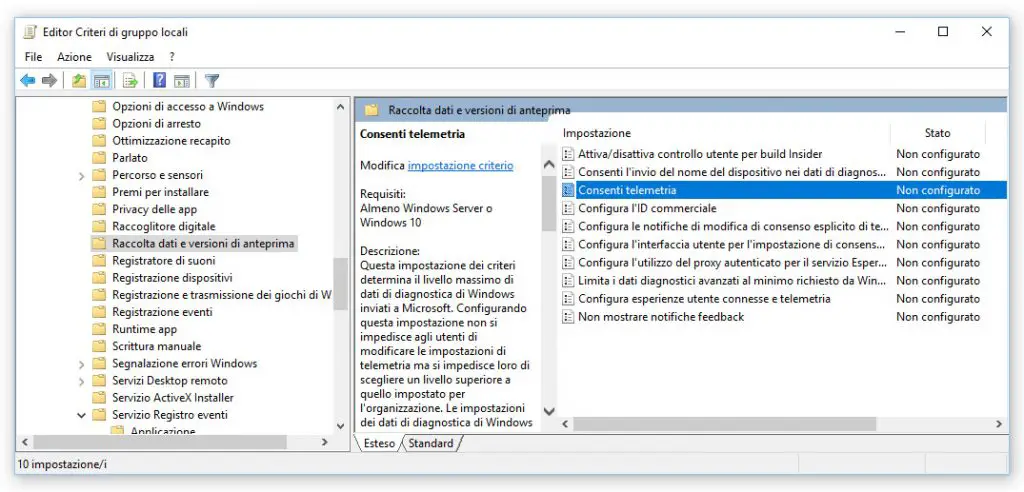 Method #2: Registry Editor
As you most likely already know, the Windows Registry is one of the key components of the Windows operating system. It's basically a hierarchical database containing most windows settings, application settings, device driver info and even product keys and passwords. When an application is installed, some part of the software is likely stored in the Windows Registry file, which can be accessed at any time using the RegEdit tool. Again, this is mostly a task for experienced users and administrators, but it can also be used by non-experts for some simple tasks such as... disabling the Windows Telemetry Service.
To access the Windows Registry, press WINDOWS + R, then type regedit in the box and click OK to confirm.
If the User Account Control warning window shows up, press OK to allow the execution of the file.
Navigate through the registry tree up to HKEY_LOCAL_MACHINE > SOFTWARE > Policies > Microsoft > Windows > DataCollection
Right-click on DataCollection, then choose New > DWORD (32-bit) Value. Give to the new value the following name: AllowTelemetry
Double-click on the newly-added AllowTelemetry value to open the configuration window.
Set the Value to 0 (zero) and click OK to confirm.
Done!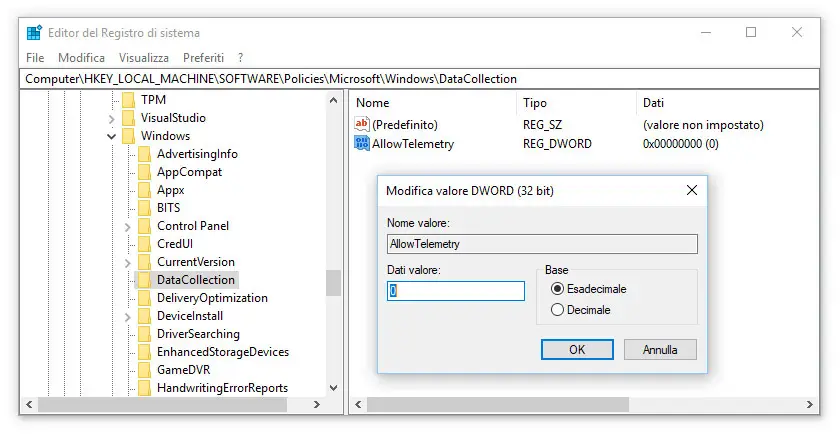 Conclusion
That's it: we sincerely hope that this small tutorial will help you to overcome any performance issues you might have with the Windows Telemetry Service. If you found this post useful, don't forget to like us on Facebook and/or follow us on Twitter & Medium to read our latest ICT-related news, tutorials, guides & insights!