Following our review of AOMEI Partition Assistant we took the chance to try another promising software tool by AOMEI - their backup, clone & real-time sync solution, which is called AOMEI Backupper.
Again, before diving into the actual review, it's worth spending two words about the developer. AOMEI Technology Ltd., simply called AOMEI for short, is a software developing company founded in 2009 and dedicated in data backup, disk partition and multi-cloud file management. AOMEI offers serves for both personal users and small and medium-sized enterprises. Their current market focus on Europe, Asia and the America. AOMEI is a freeware-based company, meaning that their tools always have a "freeware" edition (for personal use) which is usually fully usable, and one or more pro editions with advanced and/or additional features. AOMEI Backupper is no exception, as we'll see in the next paragraph.
Five Software Versions
AOMEI Backupper comes in no less than five different versions (!). Each one of them contains unique features to accomodate five common usage scenarios:
Standard (freeware), which is free for personal use only and comes with all the basic backup features.
Professional (trialware), intended to be used by companies and business activities.
Server (trialware), which can be installed on Server operating systems (such  as Window Server)
Technician (trialware), meant for IT companies and System Administrators with multiple customers, which provides unlimited billable technical services to clients and also allows a unlimited number of installations (no Server machines).
Technician Pro (trialware), which is similar to the Technicianone but can be also installed on Server machines.
Standard
The Standard version covers pretty much all the basic backup features, such as the following:
Extensive Device Support: Supports MBR/GPT disk, NTFS/FAT/EXT File Systems, Hardware RAID, UEFI boot mode, virtual machines and so on.
Hot Backup/Clone: a technology that allows to perform backup/clone activities without having to reboot the machine.
Backup & Restore for the whole System and/or specific Disks, Partitions, Files and Folders
File/Folder Sync
Many Backup Types: automatic/scheduled, full, incremental, differential, sector-by-sector, intelligent.
Many Backup Targets: local disk, external drive, USB Flash Drive, Network/NAS, Cloud Drive.
Backup Image operations: Explore, Compress, Check, Comment
Clone capabilities: Disk clone, Partition clone (no whole system clone - see Professional for that)
Create Windows PE & Linux bootable media
E-Mail notifications upon a successful backup and/or errors encountered during the backup task.
Being freeware, the Standard version can be installed on any number of desktop PCs (no server machines).
Professional
The Professional version has all the stuff of the Standard version plus the following features:
Bare-Metal System Clone: migrate OS from HDD to SSD, SSD to SSD, HDD to HDD, or SSD to HDD without reinstalling Windows and applications while ensuring system will be bootable after migration.
Bare-Metal System Restore / Universal Restore: Restore a backup image to different computer with dissimilar hardware, or move OS from physical to virtual machine (P2V) by backup and restoration.
Command-Line mode: Perform backup, restore and clone operations from command prompt or by creating batch scripts.
Merge Backup Images: Combine full backup and its chained incremental backups into a single backup for better management.
Differential Backup with Scheduled Tasks: Perform differential backup with schedule tasks in daily, weekly, monthly and event-triggers modes.
Backup Encryption: Password encrypt your backup image to prevent unauthorized access.
Split backup images: Divide a large backup image into multiple smaller files with specific size to fit your storage devices.
Backup scheme: Automatically delete old backup images based on various specified value to save backup disk space.
PXE boot tool: Start up client-side computers within LAN through the network booting for system maintenance.
Event-triggered scheduled backups: Automatically perform backup tasks based on user logon, user logoff, system startup and system shutdown.
Real-time sync files/folders: Monitor files/folders for changes and synchronize new added, modified or deleted files/folders from source to target path as soon as the change has occurred.
Backup/Restore/Clone dynamic system/volume
Each Professional license allows the tool to be installed on 2 desktop PCs (no server machines): if you need to install it on more machines, you'll have to buy additional licenses accordingly.
Server
The Server version is nearly identical to the Professional version, except that it can be installed on Windows Server operating systems, such as: Windows Server 2003/2008 (R2)/2012 (R2)/2016, SBS 2003/2008/2011 and WHS 2011.
Each Server license allows the tool to be installed on 1 Server: if you need to install it on more serers, you'll have to buy additional licenses accordingly.
Technician
The Technician version cannot be installed on Windows Servers, but is not limited to a given number of clients - it can be installed on unlimited PCs, without having to buy additional licenses. It also features the Image deploy tool, which can be used to deploy image to multiple computers within LAN over network.
Technician Plus
The Technician Plus version comes with all the stuff of the Technician version and two additional features:
Windows Server support, meaning that it can be installed on unlimited client and server machines, such as: Windows Server 2003/2008 (R2)/2012 (R2)/2016, SBS 2003/2008/2011 and WHS 2011 (just like the Server edition).
Portable installation: the installation directory can be copied for portable version creation.
Supported Operating Systems
Both Standard and Professional versions supports the following:
Windows 10
Windows 8.1/8
Windows 7
Windows Vista
Windows XP
Download, Installation and EULA
The software can be downloaded from the AOMEI Backupper official website (or you can just click here for the direct link). the Standard edition will require you to input a e-mail address and, during the installation wizard, will also ask you to try one of the trialware editions or skip it and just install the freeware version.
The EULA comes with a interesting GDPR PRIVACY NOTICE section that covers the User Experience (UX) Improvement Program, wich is a constant of AOMEI products. Here's a relevant excerpt of that:
In order to understand our user's needs, and deliver better products and services to our user, we add User Experience (UX) Improvement Program into the SOFTWARE. The program is voluntary. LICENSEE may join the program by manually checking the box during SOFTWARE installation, and opt out the program at any time by unchecking the box from Menu » Settings » Other » Join the User Experience Improvement Program. If LICENSEE choose to join the program, the SOFTWARE collects from LICENSEE's environment and automatically transmits to AOMEI's Google Analytics account, which may include:

 

The number of the SOFTWARE installed or uninstalled;
The number of the functions of the SOFTWARE used;

AOMEI collects anonymous information about how LICENSEE use the SOFTWARE. No personally identifiable information will be collected, like name, email, address, etc. If LICENSEE don't join the User Experience (UX) Improvement Program, AOMEI don't collect any information.
If you don't want to participate, you can also opt-out from the program by de-selecting a checkbox at the end of the installation process, as shown in the screenshot below.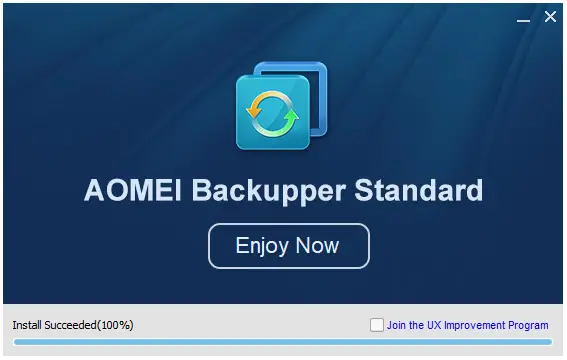 User Interface
By clicking the Enjoy Now button, the software will point the user to a minimal, wizard-like interface which poses little doubts about what we have to do:
From here we can create new backups, as well as navigate through the existing backups (if any) and access the Restore, Clone and Utilities panels. If we go for the backup route, we'll be asked to choose the backup type: System Backup, Disk Backup, Partition Backup and File Backup.
There's also a fifth option - File Sync - that can be choosen to setup a real-time synchronization between a configurable set of files and/or folders.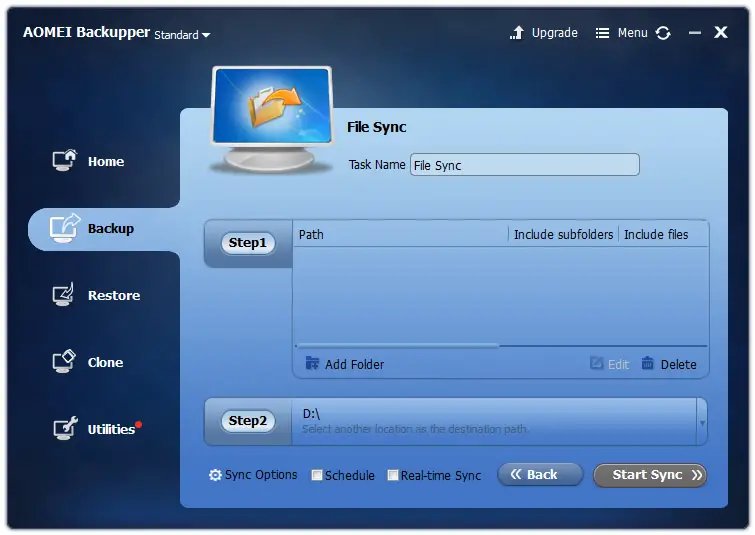 Overall Performances
During our test-drive we performed the following activities:
System Backup on a 16 TB Hard-Disk Drive
Disk Backup of a 256GB SSD Drive to the aforementioned 16 TB Hard-Disk Drive.
Partition Backup of the C:\ Partition (100GB) to the aforementioned 16 TB Hard-Disk Drive.
File Backup and File Sync between the aforementioned SSD and HDD drives.
The software performed well on each task: the File Sync feature is what pleased us more, since we found it really useful to perform a real-time mirror of some critical (and yet frequently updated) files. During the various activities we have always kept an eye on the Task Manager to analyze the impact on system resources, without finding any significant issue: therefore, we have nothing to complain about the tool's performances and usage.
Conclusion
AOMEI Backupper is a solid free backup software tool which we can recommend it for any personal use. If you plan to use it on your company or business activity, you'll have to choose among the Professional, Server, Technician or Technician Pro versions (from $49.95 to 899$ per license) depending on your given scenario: regardless of how you'll use it, the tool will most likely be a viable and rather affordable choice for every business size.