If you're reading this, you're most likely running Windows 8 or 8.1 and also experiencing problems with your Windows Update throwing the 8024402F error.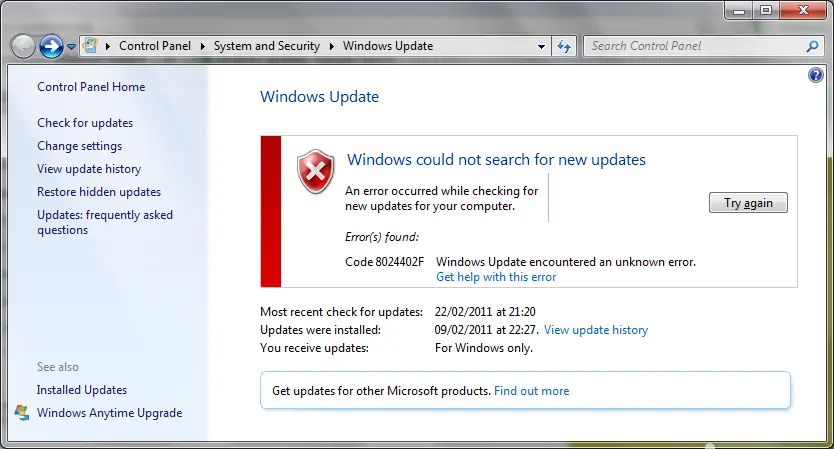 The problem
The issue has been addressed in a number of threads (see Other resources below), most of them offering some regedit script patches to fix common configuration errors; there is even an official Windows Update Repair Tool by Microsoft who can automatically solve most of them.
The thing is... there is a specific - and also rather common - scenario in which none of them seems to be helpful at all.
Here's what you have to do if you're one of the lucky ones.
The solution
The fix is articulated in four steps.
Step 1: Change Windows Updates Settings
Right click on the Start button (bottom-left) and select Control Panel. Or, if you prefer the gesture approach, go to the bottom-right corner and then click on Settings -> Control Panel.
Click on Windows Update and then, in the left column, select Change settings.
Step 2: Deactivate everything
Change Windows Updates settings to "Never Check for Updates". Also make sure to turn off the "Give me recommended updates the same way I receive important updates" and the "Give me updates for other Microsoft products when I update Windows" options by remove the checkmark on both. Don't worry, you'll be able to set them back on in a while.
Step 3: Perform a manual Update
Select the "Check for updates" and perform a Windows Update manually.
Step 4: Put everything back on
As soon as the update finishes, restart the system (if needed), then open Control Panel > Windows Update again and reactivate all the options you previously had - and/or you want to activate. They should work as expected from now on: if not, you'll have to repeat these 4 steps again until it will eventually fix.
Other resources
If this fix doesn't work for you, here's a brief list of other posts describing different approaches:
Hope you'll get it fixed.