When uTorrent came out back in 2005, it was a Windows-only program. Apple users felt left out, so developers started introducing various uTorrent alternatives. The long-awaited macOS app came out in 2008. But since macOS Catalina was introduced, we're back to the beginnings of uTorrent not working on Mac.
Apple decided to fully abandon 32-bit architecture in the new operating system. Many apps, including uTorrent, are no longer usable.  Instead of developing a 64-bit app, uTorrent developers did something different: they "upgraded" uTorrent Mac users to browser-based version of the torrent client. The new software is called uTorrent Web, and it's supposed to fully replace the classic uTorrent desktop client. The full story is well-explained here.
However, macOS users are used to having dedicated apps for the software they like using. The uTorrent not working on Mac issue is disappointing. Many are looking for uTorrent alternatives in the form of an app. Fortunately, such options are available. Let's discuss them!
What Happened to the uTorrent Mac App?
Before even macOS Catalina was launched, uTorrent developers announced that they would be upgrading Mac users to uTorrent Web. With that, they specifically disclosed their intention not to deliver a 64-bit uTorrent Catalina app. This was a huge disappointment.
If you check out the official announcement, you'll notice how they try to make it sound like a good thing. You're still able to download torrent files, just like you did with the app. However, this action now takes place in your browser. If you want to use your browser for something else during the downloading process, it's most likely to get slow. uTorrent Classic was faster and more reliable. 
The only good thing about uTorrent Web is the ability to stream content during the downloading process. But if you get a fast uTorrent Mac app, that wouldn't matter so much. You'd download the file in a matter of minutes and watch it right away. 
uTorrent recommends that if you want to keep using the app, you should stay with macOS Mojave. That's not really a good choice. You'll be missing out on some great Catalina features. If a 32-bit app isn't absolutely necessary and irreplaceable, there's no need to stay away from the macOS upgrade just to keep using it. 
Another issue about uTorrent not working on Mac is that its web version collects more data from the users.
But the main problem is that macOS users want apps. If they don't get an app, they don't think twice before they start searching for uTorrent alternatives. In many cases, the alternatives are way better than the most popular app that everyone talks about. 
What's the Best uTorrent Catalina Alternative?
Folx is a brilliant app to download when you're ready to surpass the frustration over uTorrent not working on Mac. You'll quickly adjust to it. After a few downloaded torrent files, you'll be wondering why you've been staying away from uTorrent alternatives for so long. It's way better than uTorrent.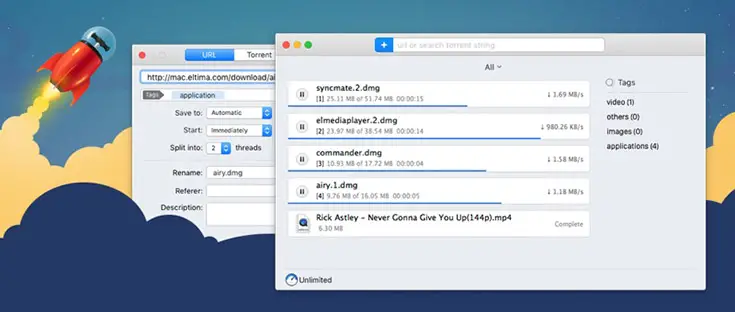 These are some of the most important features that users love:
You get a fully functional torrent client. It's fast and effective. It works just like your beloved uTorrent Mac app, so you'll quickly forget the inconvenience of switching between apps. 

It does more. Folx is like the upgraded uTorrent Catalina app we've all been waiting for. In addition to letting you download torrent files, it also enables you to search for torrents directly within the app. The built-in search feature comes with the PRO version, so you might consider the upgrade if you're after greater convenience. If you don't like going from one website to another to search for a particular torrent, this is a great deal. The app will scan several torrent trackers, so it makes your quest faster. 

Folx can remember your login information to sites you often use for downloading torrents. With the built-in search feature and the ability to instantly get a file, the whole process is much simpler. 

Folx is more private. The greatest concern about using uTorrent Web was the lack of anonymity. With Folx, you can download files by using proxy servers. With this feature, you'll be able to access content that's not available through your location.   

You can schedule a download to start later if you're using your computer at the moment. 

You can adjust the download speed. If you have a huge file to download, you can break it up into threads and manually adjust the download speed. If you don't do this, Folx will automatically set the speed. This is another useful feature to have if you want to use your computer while a download is slowly happening in the background. 

Folx PRO can get in sync with your Apple Music app. You'll immediately get the downloads on your iPod, iPad and iPhone. Isn't that convenient?
Use uTorrent Mac Alternatives Responsibly!
As a file sharing protocol, the torrent format is very effective. You can use it to upload large files without taking any space on the cloud. Torrents are popular because they enable you to quickly upload and download files without significantly slowing down your system. 
The only problem is that torrents open doors for illegal file sharing. Folx and all other alternatives to uTorrent for Mac are completely legal as apps. The torrents you choose to download may not be. Please keep in mind that it's important to download content only when it's not subjected to distribution or copyright laws. 
When you use torrent clients responsibly, you'll be okay. 
As for the issue of uTorrent not working on Mac, it's not that big of a deal. uTorrent developers decided not to give us a 64-bit app that would work fine on Catalina. What do we do? We search for alternatives! 
Folx can fully replace that app on Catalina. You'll find it even better. It's faster and more convenient to use. If you go for the PRO version, you'll be able to search for torrents within the app and sync audio files with Apple Music.