A few days ago we published a list of 10 Free Anti-Plagiarism Detection Checker software tools, where we enumerated a bunch of free plagiarism detection software available online that could help you to better deal with non-original abstracts, as well as with the most common rogeting techniques.
In this post, we'll talk about an additional anti-plagiarism checker tool which we were unable to include in that list: StudyMoose Plagiarism Checker, a free online tool released by StudyMoose.
Are you aware of the eternal struggle between 
plagiarism detection software
and 
rogeting tools
? If you don't, we strongly suggest taking a look at
this post
, where we explained how both of these algorithm-based techniques actually work.
Introduction
StudyMoose Plagiarism Checker is an online plagiarism checker tool designed with a high level of accuracy and a unique feature that calculates the exact uniqueness percentage, helping authors (as well as content managers) to avoid major problems with their texts. It does support copy/paste actions - thanks to its HTML textarea element - or document upload in PDF, DOCX or TXT format.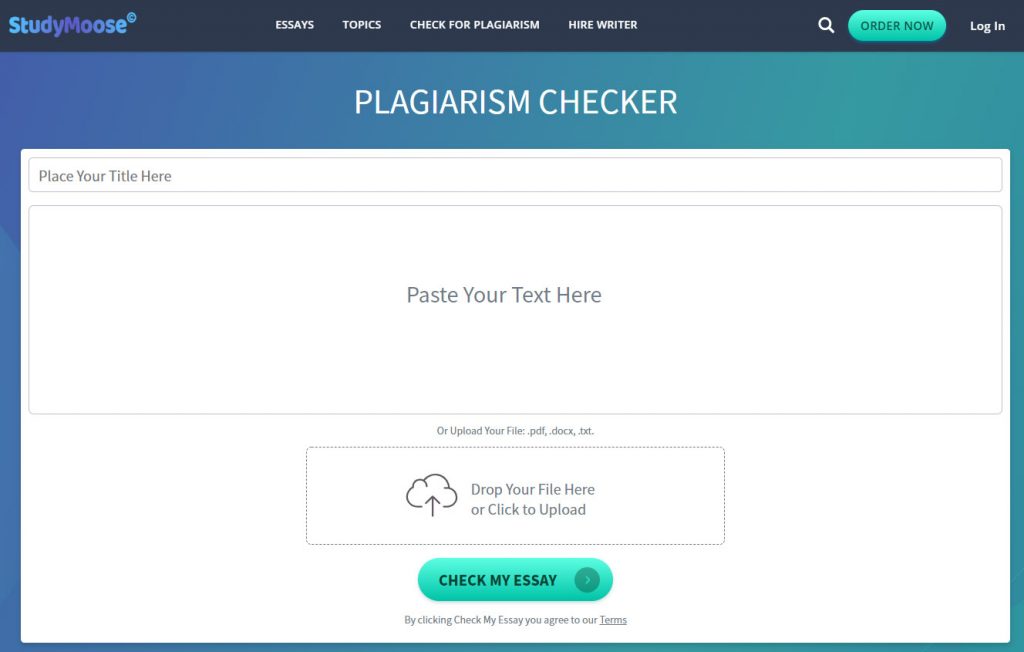 How to use it
The tool can be used online with any HTML-enabled browser: other than being 100% free, it doesn't even require a registration (no e-mail, no username/password). You just need to follow the steps below:
Upload your file from your PC or just copy and paste it into an area provided on the website to check for plagiarism.
Click or tap the "Check My Essay" button at the bottom of the box. As soon as you do that, the tool will cross-examine your text through many different databases to find similarities.

After a few seconds, the result will come up, displaying the extent of the originality of your work. In the results field, you will see any expressions that have been flagged as being identical to existing ones and showing the sources they were taken from.
It's worth noting that the tool will mark out all similarities found, expressing their extent in percentage.
Here's an introductory video that shows the whole process in 60 seconds:
Usage limitations
There are no limitations to the target users of StudyMoose Plagiarism Checker service, which can be useful for:
students who are interested in creating unique content;
teachers who either write their own scientific papers or need to check their students' works.
journalists, bloggers, and writers who want to scan and check their writings before publishing.
Security and Privacy
Basing on what the company says, this plagiarism checker is very safe. They guarantee that their system is well-protected against external attacks, making stealing works technically impossible. Other than that, the tool's activities (the actual check for plagiarism) are never saved and they will permanently disappear as soon as the user deletes the text, without being saved anywhere.
Conclusion
That's it, at least for now: we hope that this post will help those who are looking for a free anti-plagiarism checker tool that does its job.