Today it is difficult to find those who do not know Instagram, the worldwide-known photo and video-sharing social networking service owned by Meta Platforms. According to Wikipedia, the social network gained popularity at an incredible rate, hitting no less than one million registered users in two months, and 10 million in a year, eventually surpassing 1 billion users by June 2018, with over 100 billion photos uploaded.
However, despite its popularity, Instagram has some known limitations related to its UI and UX: if you are an avid user of the platform, you'll probably know the "We Limit How Often You Can Do Certain Things on Instagram" message, which basically means that the devs explicitly restricted their users from some activities that might lead to spam & toxic behaviors. The most important thing you can't do is browse the public profiles without having an account yourself.
Introducing StoriesIG
To address this issue, several web-based apps and services have been born in the latest years: Instagram Story Viewer (formerly StoriesIG) is one of them. By using the public account data, which is accessible from Instagram AP, the app allows anyone to view any Instagram public profile (and access its contents) without having to create an Instagram account.
To do that, we just need to insert the Instagram username of the (public) account we want to access: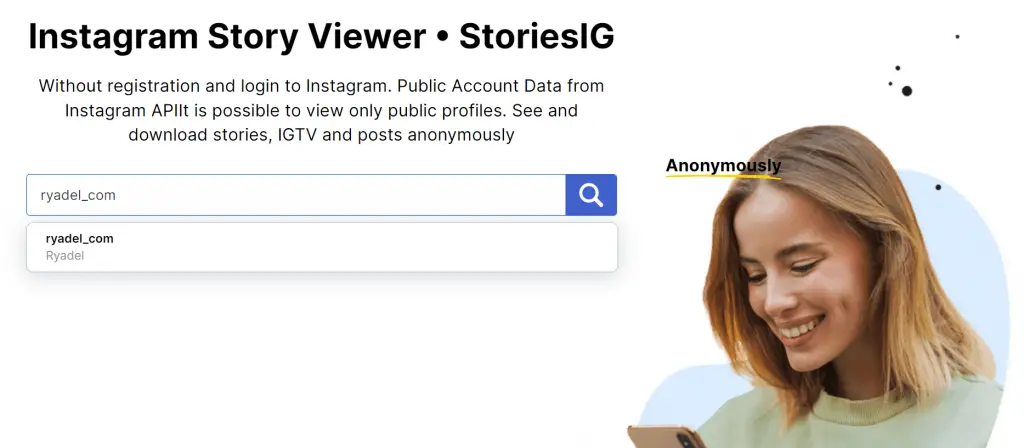 ... And then we'll be able to access its Stories, Publications, and IGTV content.
That's basically it. Needless to say, this can be done from our desktop computer, mobile phone, or any internet-enabled device packed with an HTTP browser (Safari, Mozilla, Google Chrome, Samsung Browser, and more).
Features
Here's a quick recap of StoriesIG's distinctive features:
anonymous viewing of stories and publications (posts), videos, and photos of any open Instagram account
download any Stories, Highlights, and Posts of the user to a computer or phone
watch and download any user's IGTV video
working and fast online Viewer of Instagram Highlights (stories archive) from the browser (Instagram Highlights Viewer)
you don't need to have an Instagram account or be logged in
100% anonymity - the user will never see that you have watched his story
If you want to download stories or a post, click on the item: a popup window will open up, featuring a Download button at the top; when you click on the button, it automatically downloads the story or post to your phone or PC.
Legal considerations
You might be tempted to ask if is it legal to use StoriesIG to browse Instagram anonymously: as a matter of fact, since it only works with public information made accessible through Instagram's official API, the service is 100% legal. That said, it's important to remember that all rights to photos and videos belong to their owners.
Conclusion
StoriesIG is an easy-to-use online application that allows you to view Instagram stories, videos, clips, and posts without an account right in your web browser. It can be very useful if you want to check out and/or download some content without being forced to create an Instagram account, thus overcoming one of the most annoying limitations of the service.