If you've stumbled upon this post, it most likely means you are looking for a way to sync your MS Teams calendar with your Google Calendar. In this post, we'll learn how to do that.
The process is fairly simple, and can be split into 2 main steps:
Find the calendar used by MS Teams and configure its sharing permissions, which must be done from Microsoft's website.
Add that calendar's unique URL to Google Calendar, which must be done from the Google Calendar's website.
Are we ready? Let's start!
#1: Find and configure the MS Teams calendar
As a matter of fact, MS Teams doesn't have its own calendar: it just uses one of the calendars present in the user's Office 365 Exchange mailbox. In other words, if we want to sync that calendar with Google Calendar, we must first locate it, and then configure its sharing permissions.
To do that, execute the following steps:
Login to outlook.office.com (using your MS Teams account)
Access the Outlook general settings by clicking on the gear icon located in the top-right part of the menu
Click on the View all Outlook settings link below the panel that will appear
Select the Calendar settings, then navigate to the Shared Calendars sub-section
From the Publish a calendar panel, select the calendar you want to sync in the first dropdown, select Can view all details in the second dropdown, and click Publish.
The following screenshot should help you to better understand the whole process:

Right after you click the Publish button, you will obtain two public links of your calendar, in HTML and ICS format.
The HTML link allows people to view your calendar in a browser.
The ICS link enables people to import your calendar into their calendar program - such as Google Calendar, which is what we want to do.
#2: Add the calendar's URL to Google Calendar
Now that we have the calendar's public URL in ICS format, we just have to add it to Google Calendar; we can do that because, luckily, both Microsoft and Google support the ICS (iCalendar) format, meaning that we can subscribe to it using the ICS link we have obtained from the Outlook website.
Here's how we can do that:
Access the Google Calendar website.
From the left menu panel, locate the PLUS ("+") sign near the Other Calendars, then click on it.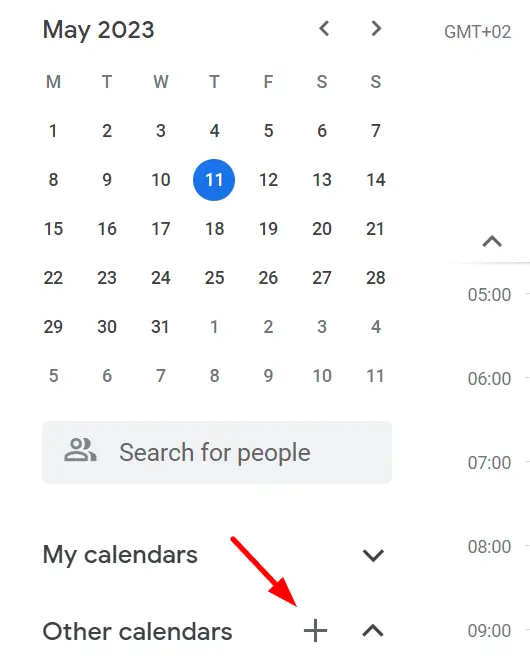 Select the From URL option
Paste the ICS URL obtained from the Outlook website in the URL of calendar textbox, then click the Add calendar button.

That's it: after a few seconds, the Outlook calendar (with all the MS Teams events) should be displayed in Google Calendars. Needless to say, you can change its display name (such as "MS Teams", for example) and/or change its color using the Google Calendars user interface, just like you can do with any existing calendar.
Conclusion
That's it, at least for now: we hope that this post will help other Microsoft 365 users looking for a simple and effective way to sync their Teams calendar with Google Calendar.
UPDATE
: If you experience refresh/update issues with your subscribed Teams calendar in Google Calendar (newly added MS Teams events are not visible), check out
this post
.