I've been using Vegas Pro since version 9.0, when it still was known as Sony Vegas Pro, hence way before its acquisition by Magix GmbH & Co. KGaA which happened around 2016. I've always considered this software the best video editing software package for non-linear editing (NLE) available, and I'm still using it these days.
One of the few problems I had during my countless video editing sessions was related to the MKV format, also known as Matroska: a free, open-standard multimedia container format that can hold an unlimited number of video, audio, picture, or subtitle tracks in one single file. Originally released in 2002, the Matroska container has quickly become the de-facto standard for storing common multimedia content, like movies or TV shows, vastly beating AVI, MP4, FLV, OGV, ASF and all the other viable alternatives in terms of adoption and popularity. Among the many reasons for its success there is the fact that Matroska is entirely open in specification, with implementations consisting mostly of open source software.
Too bad that Vegas Pro never officially supported it, thus forcing me - as well as many other videomakers - to adopt many tedious and uncomfortable workaround, such as:
Converting MKV to MP4 using video conversion software such as Handbrake and the likes.
Extracting the video track from the MKV file using video demuxer tools such as MKVToolNix and the likes.
Using MPEG-TS output filters (or other similar alternatives) to deal with source MKV files using Transport Streams.
... and so on.
Luckily enough, we can finally put away all of these workarounds, because Vegas Pro 17 added an experimental - yet mostly working - MKV reader feature that can be used to natively import MKV files directly into the timeline... as long as the video codec used is supported!
The new feature is disabled by default, but can be activated from the main menu by going to Options > Preferences > File I/O, just like shown in the screenshot below: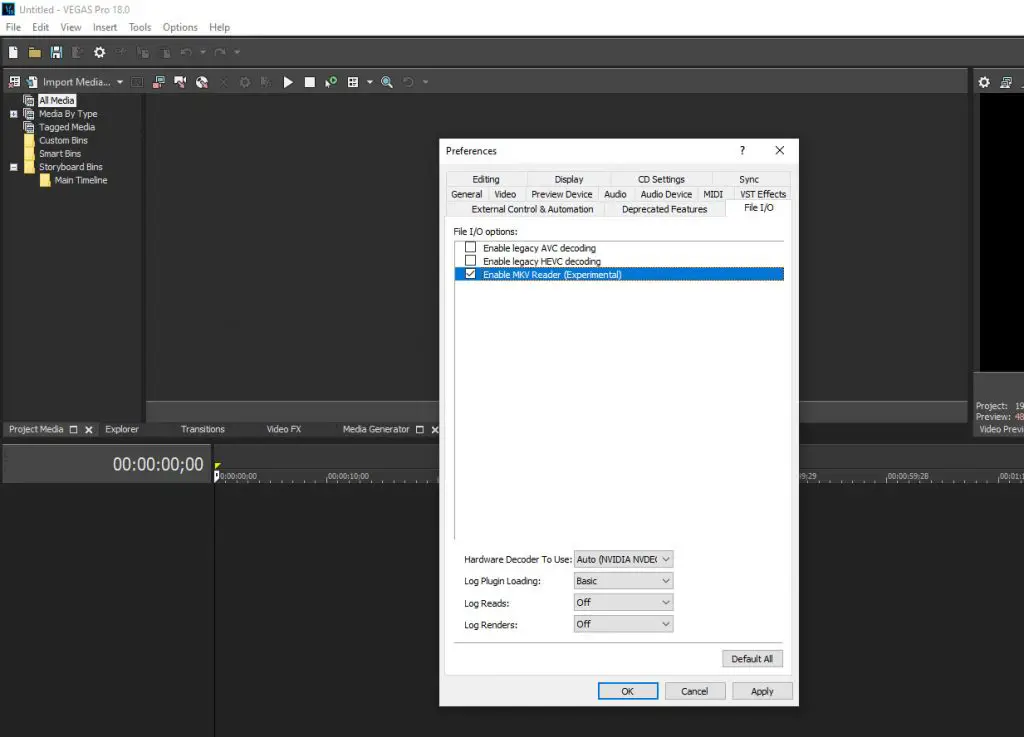 ... and that's it! After activating the above option you'll be asked to close and restart Vegas Pro: once done, you'll be able to import MKV container files just like you do with their AVI and MP4 counterparts. Problem solved!