If you installed WinCache on your web server (hopefully thanks to our previously posted guide) and you would like to know more about what's happening behind the curtains, you can install this neat script to show all the WinCache caching mechanics & features fetched through their APIs.
The script it's not made by us, in fact it's used to be included in the WinCache official package (you can check if you already have it by taking a quick look at this page) but it's existence is still unknown to most users: that's why its usage is usually restricted to a limited set of privileged, knowledgeable guys: well, now you're one of them!
Here's a screenshot to show what it's capable of: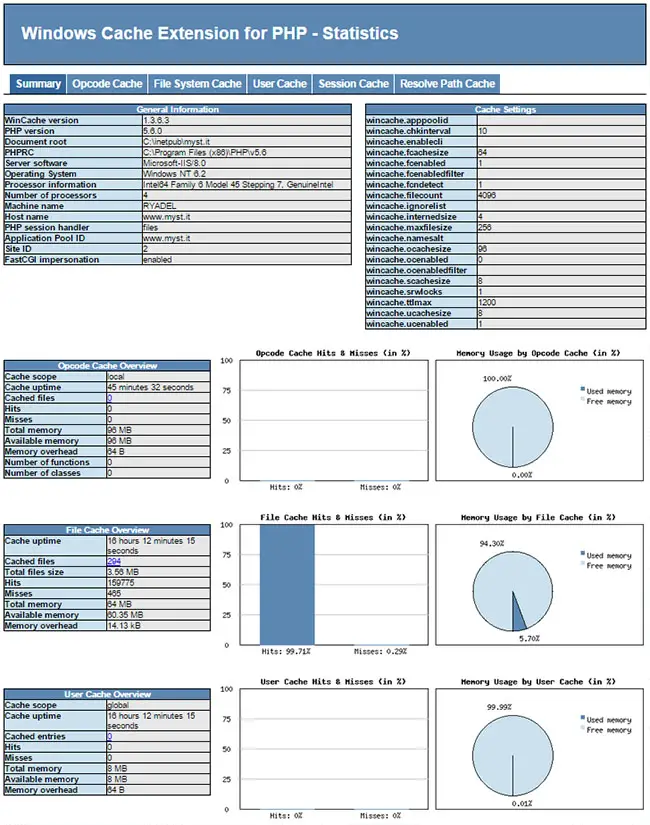 Not bad ad all, isn't it?
IMPORTANT NOTICE: If your web server has Basic Authentication enabled, the script will prompt you for an Username and a Password: these are wincache / wincache by default, but can be easily changed by editing the first few lines of the script's PHP code:
define

(

'USE_AUTHENTICATION'

,

1

)

;

define

(

'USERNAME'

,

'wincache'

)

;

define

(

'PASSWORD'

,

'wincache'

)

;
You can also disable the whole authentication part by setting USE_AUTHENTICATION to 0.