I recently had the opportunity to explore Movavi Video Editor, an intuitive video editing software for Windows and Mac, and I must say it exceeded my expectations. As someone who enjoys editing videos as a hobby, I was looking for software that was both feature-rich and easy to use: Movavi Video Editor proved to be just that.
In this post, I'll share my thoughts on this product, as well as perform a quick test drive to show you its capabilities.
User Experience
First and foremost, the user interface of Movavi Video Editor is clean, intuitive, and well-organized. Navigating through the various tools and options was a breeze, even for someone like me who is not a professional editor. The layout is straightforward, making it simple to find the desired features without feeling overwhelmed.
Feature List
One of the standout features of Movavi Video Editor is its extensive library of effects, transitions, filters, and titles. It offers a wide range of creative options to enhance and personalize videos. Whether you want to add a cinematic touch, adjust color grading, or incorporate eye-catching transitions, Movavi provides a diverse selection of tools to make your videos visually appealing.
The software also offers a robust set of editing tools that enable users to trim, merge, and crop videos effortlessly. The timeline interface allows for precise editing, and the drag-and-drop functionality simplifies the process. Additionally, the software supports a wide range of media formats, ensuring compatibility with various video files.
Performance
One aspect that impressed me was the performance of Movavi Video Editor. Even when working with larger video files or applying multiple effects, the software remained responsive and didn't lag: this efficiency is crucial, as it saves time and allows for a seamless editing experience.
Furthermore, Movavi Video Editor offers a variety of export options, allowing users to save their videos in different formats suitable for various platforms, including social media, mobile devices, and DVD. This versatility ensures that your edited videos can be easily shared and enjoyed on any desired platform.
Test Drive
To start my test drive of Movavi Video Editor, I downloaded and installed the software on my Windows 11 computer, which can be done from the official Movavi Video Editor download page.
Upon launching the application, I was immediately greeted by a neat step-by-step tutorial that taught me the basics - and even asked to insert my e-mail address to receive a free usage guide.
Right after browsing the tutorial, I was able to access the main dashboard, with its clean and user-friendly interface.
I began by importing a video clip into the editor. The import process was straightforward, as Movavi supports a wide range of popular video formats. I simply clicked on the "Add Files" button and selected the desired video from my local storage.
Once the video was imported, it appeared in the timeline at the bottom of the screen. I was pleasantly surprised by the smoothness of the timeline navigation and the responsiveness of the software.
Next, I explored the various editing features available in Movavi Video Editor. I wanted to trim the video and remove unwanted sections. I easily located the trim tool and set the desired start and end points of the clip. The trimming process was quick and precise.
To enhance the visual appeal of the video, I decided to apply some effects. Movavi offered a wide range of filters and visual effects to choose from. I experimented with a few options, such as adjusting the brightness and contrast, applying a vintage filter, and adding a subtle blur effect. The real-time preview allowed me to see the changes instantly and make adjustments accordingly.
Adding transitions between video clips was another feature I wanted to explore. I found a collection of transitions in the software's library and selected a three-level smooth slicing effect ("slice 3"). I placed it between two clips on the timeline, and it seamlessly blended the two videos together.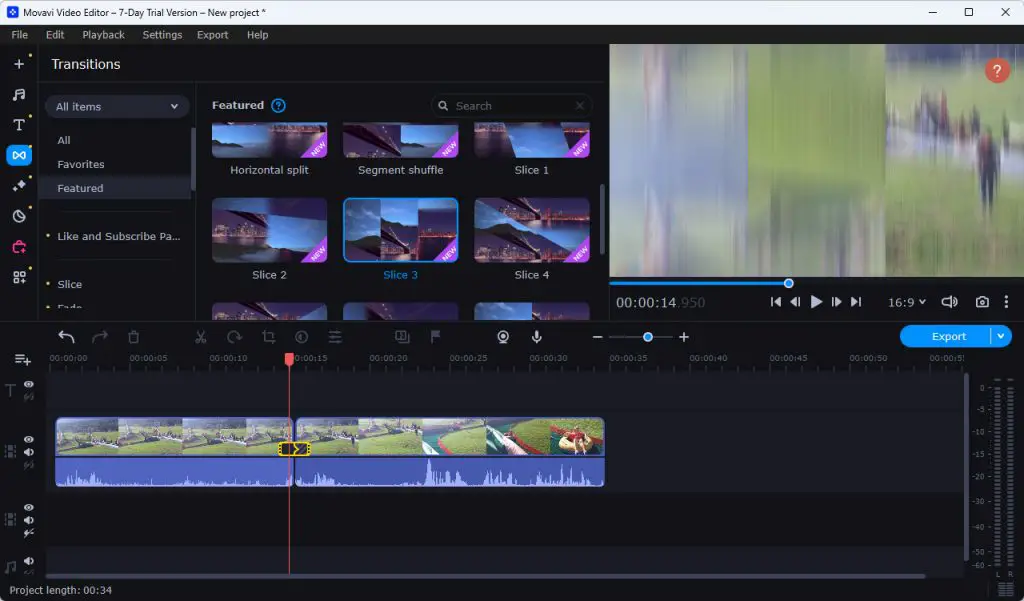 To give the video a professional touch, I wanted to include some text overlays. Movavi provided an extensive selection of customizable titles and captions. I chose a stylish title template, customized the text, font, and color, and placed it at the beginning of the video. The text integration was seamless, and I was pleased with the overall result.
As I continued my test drive, I discovered that Movavi Video Editor also offered audio editing capabilities. I imported a background music track and adjusted its volume to create a balanced audio mix. The software allowed me to easily sync the music with the video timeline.
Finally, I was ready to export the edited video. Movavi provided multiple options for exporting, including various video formats and presets for different devices and platforms. I selected the desired format and quality settings and initiated the export process. The rendering speed was impressive, and the final output was of excellent quality.
Overall, my test drive of Movavi Video Editor was a positive experience. The software's intuitive interface, smooth timeline navigation, extensive editing features, and efficient rendering made it a powerful tool for editing videos. Whether you're a beginner or an experienced editor, Movavi Video Editor offers a user-friendly and feature-rich environment to bring your video projects to life.
Video tutorials
To get a better look at Movavi Video Editor, check out the following video:
If you want to access other video content, including tutorials and guides to use the software, check out the official Movavi YouTube channel.
Pricing and Plans
The evaluation version of Movavi Video Editor that can be downloaded from the official site is free for 7 days: a perfect deal to test the product before purchasing it! However, if you want to keep using it, you will need to subscribe to one of the available plans: the price of each plan depends on the chosen subscription period and the bundle you would like to get.
Personal licenses
Video Editor: 38.95 EUR (1 year), or 48.95 EUR (lifetime)
Video Editor + Effect Packs: 48.95 EUR (1 year)
Video Suite + Effect Packs: 63.95 EUR (1 year)
Business licenses
Video Suite Business: 115.95 EUR (1 year)
Movavi Unlimited Business: 199.95 EUR (1 year)
The Effect Packs are a collection of effects that will allow you to apply enticing gradients, cinematic effects, dramatic LUTs, and vintage VHS effects to your videos.
The Video Suite has all the features of the Video Editor, plus the media files conversion capability.
The Movavi Unlimited Business is a "catch-all" license that allows access to all Movavi software for video, audio, and images.
To get updated pricing, limited-time offers/deals, or a personalized quote, visit the official Movavi Video Editor subscription page.
Conclusion
Movavi Video Editor is an excellent choice for users looking for versatile and user-friendly video editing software. With its intuitive interface, extensive effects library, efficient performance, and a range of export options, it offers a solid editing experience for both beginners and hobbyist editors. While it may not cater to the needs of professional editors requiring advanced features, Movavi Video Editor is a reliable and accessible choice for most video editing projects.