Adobe Photoshop is one of the most powerful image editing programs available today. This piece of software is used by millions worldwide and is widely regarded as the number one graphics editing programs available.
As a designer, you must have a wide range of tools at your disposal to help create interest, engaging and exciting products – Photoshop is undoubtedly one of the most important tools you will use. Whilst Photoshop is a superb standalone product with a huge array of features, it is also possible to extend the capabilities of this program by installing plugins. Plugins are essentially add-ons that provide extra features to the core coding of Photoshop.
To help in your design work, we have hand-picked a range of essential plugins that can greatly improve your work and take your Photoshop skills to the next level!
Managing Documents
Not only can you edit graphics and photos using Photoshop, you can also manage your documents, insert comments, create different layers and even add Metadata for example. Several companies have actually developed specialized plugins that improve document and content management for Photoshop and help with the admin side of design.
Renamy
Layering is an important aspect of Photoshop and graphic design work. Using Photoshop you can split your work into different layers and edit each layer separately – this gives you a huge degree of control and allows you to create complex images with many different components. It can often prove difficult however to manage your layers and this is where Renamy comes in. This plugin allows you to rename and order multiple layers in an instant which can help organization and image management no end.
Ink
As a designer, you may often have to transfer your work to other developers or even work in conjunction with other designers. Photoshop has limited functionality for joint usage and this is where the Ink plugin really helps. Using Ink you can add comments, specifications, and notes to your images to allow others to easily see what you have done and how you have edited an image for example.
PSD Cleaner
Another superb layer management tool - PSD Cleaner effectively takes away the work you usually do as a designer. When creating design work, you can often become cluttered with a myriad of different layers that you don't even need and you may forget what some layers are for. PSD Cleaner scans your Photoshop document and finds all the different layers - you can then re-arrange and edit the layers in a few simple clicks. This will surely help your design work no end!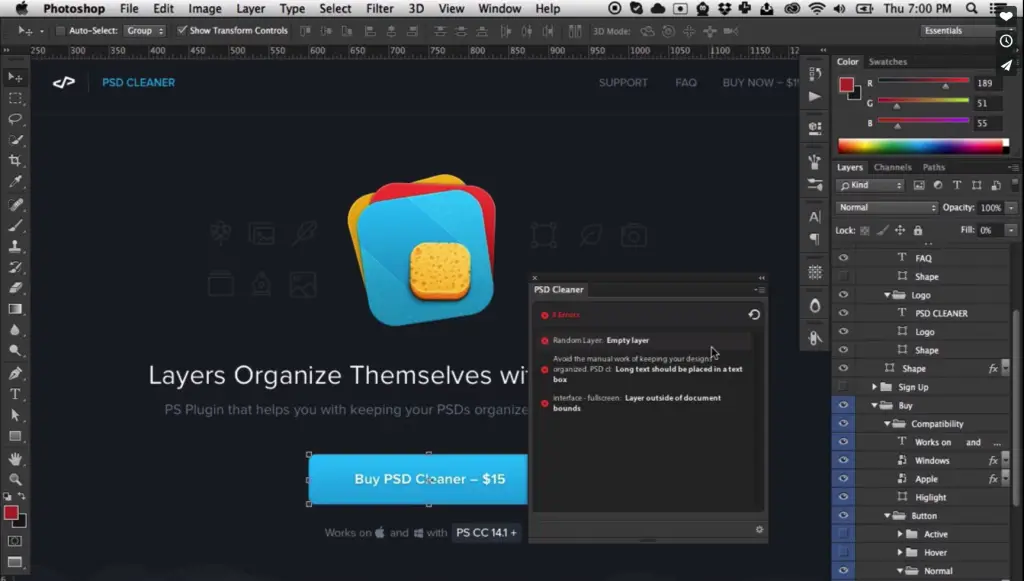 Composer
Composer allows you to update multi-layers components at once. If you want to change some element which is present on all the layers, with the help of this plugin you can update or move this component just once, without repeating the same action multiple times for every single layer. It comes with CC, CS6, and CS5.
SpecKing
SpecKing is a plugin that helps you to add specs to any kind of measurements, so when it comes to coding, you can be sure that the precision is perfect. There are five panels available in this plugin: 'Sizes Measurement' (width and height), 'Distance Measurement' (margins and paddings), 'Typography Specifications', 'Color Specifications' and 'Retina, Sizes & More Settings'. All the measurements are generated in editable overlays that are placed on top of layers and won't mess your document.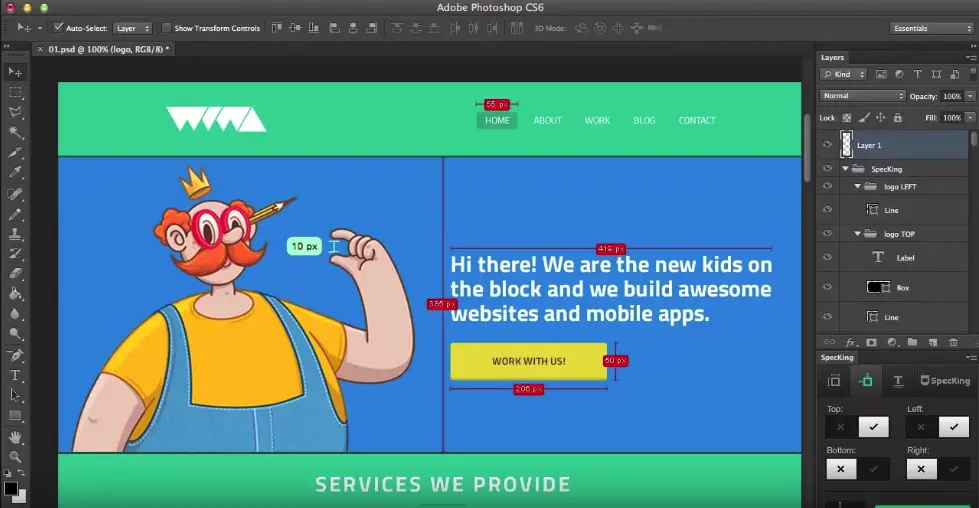 Fontself
As a designer, you will undoubtedly be bored of the myriad of fonts that you use on a daily basis - despite there being thousands of fonts available, we all turn to the same few and this can become repetitive and uninspiring. Fear not as Fontself is a magnificent plugin for Photoshop that allows you to develop your very own fonts! You can create fully fledged OTF fonts in a matter of minutes and put your own creative stamp onto your text.
Filters and effects
Photoshop has a range of filters that can apply a certain look or style to an image – typical filters include watercolor, monochrome and inverted for example. Aside from the pre-set Photoshop filters library, you can find a plethora of filter plugins that offer even more styles and variations – we have selected some of the best below.
Google Nik Collection
Not many people know that Google actually has its own collection of photo editing plugins for Photoshop! Google Nik is an amazing series of plugins for Photoshop that is perfect for photographers and designers. Plugins included in the Nik collection include Analog Efex Pro, Color Efex Pro, Silver Efex Pro, Viveza and HDR Efex Pro. Each plugin offers something different – for example, HDR Efex Pro allows you to create HDR composites, whilst Dfine helps reduce camera noise and distortion.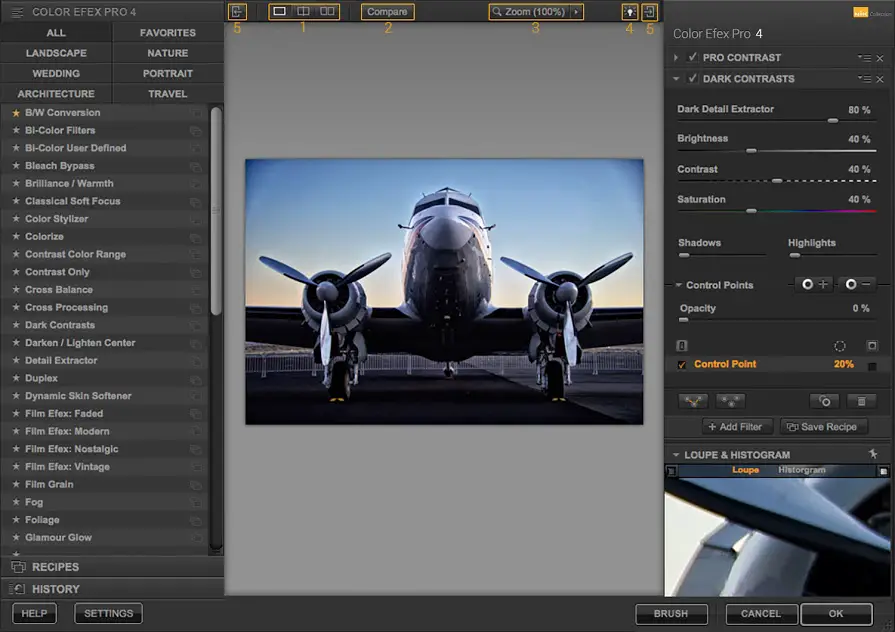 Skylum Creative Kit
Another series of useful photo editing apps is Skylum's Creative Kit. The suite includes 6 plugins for different purposes - from noise reduction and object removing to creative effects and working with black and white photos, each can be purchased separately. Unlike Google Nik, this collection is not free and compatible with Mac only.
B&W Effects by TopazLabs
TopazLabs are well-known for their awesome library of Photoshop plugins and their B&W effects add-on is simply fantastic. This plugin uses a unique black and white conversion engine that puts an emphasis on texture, tone, and contrast to provide some absolutely stunning effects. The plugin is split into 8 different collections with over 200 different filters presets – you can fine tune each filter too and adjust various aspects such as clarity, contrast, and tone.
Eye Candy by Alien Skin
Alien Skin is another highly regarded Photoshop plugin developer and their Eye Candy filter plugins are one of the best-known on the market today. This plugin has had numerous iterations and the current release is version 7 which includes many improvements on previous versions. Eye Candy essentially adds a whole host of new filters and effects to your Photoshop library. Some of the effects are undoubtedly cheesy, but there are some subtle and interesting filters that can really transform your digital artwork and marketing pieces.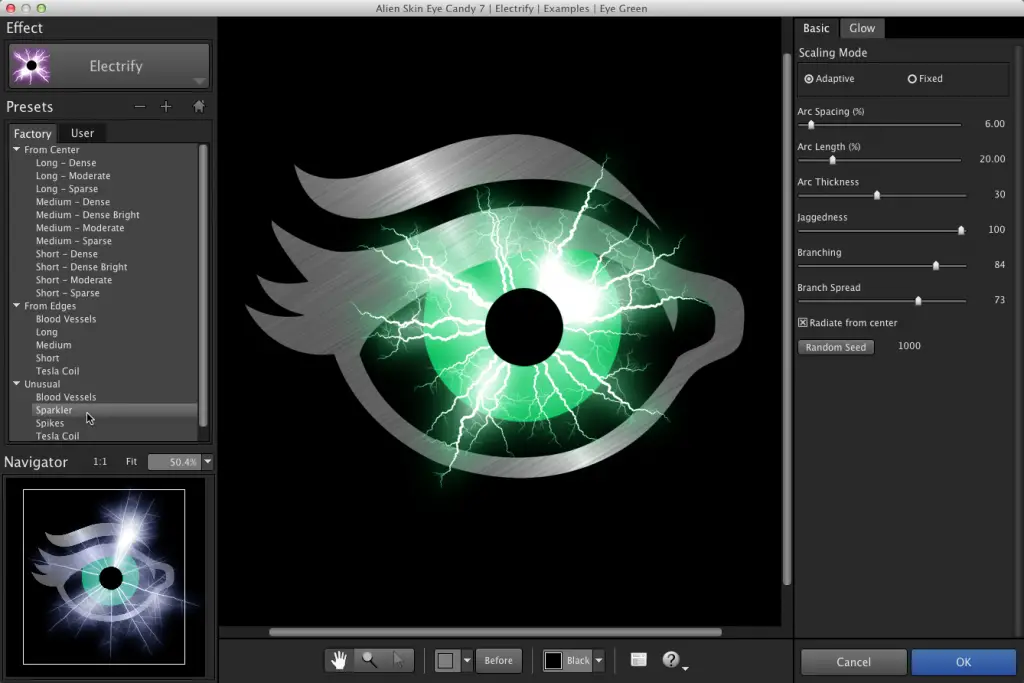 We hope you have found these plugins useful – we certainly feel that as a designer, you will wholeheartedly benefit from each of the plugins listed. As you will be using Photoshop a great deal, it is important to be comfortable with the program and to fill it with plugins that will make your working life easier and more efficient. If you have used any of the above plugins, or have used any others that you feel could make a difference then feel free to share your experiences with us!