Among the first questions an average user asks right after installing or upgrading to Windows 10 is: what's happened to the Control Panel shortcut? This is not a new question, after all: as a matter of fact, Microsoft engineers seems to love to make their users wondering about the issue, since the Control Panel shortcuts changed a number of times in the past 10 years. In Windows XP, Vista, 7 and Windows Server 2003/2008 it was more or less always located inside the Start menu. In Windows 8, 8.1 and Windows Server 2012 it was gone togheter with the Start menu itself: the only way to have it was to perform the dreadful lower-right corner gesture (i.e. going to the lower-right corner with the mouse) while also being in desktop mode.
In Windows 10 we're back to the easy mode, assuming you know how the Start button actually works. All you need to do is to right-click on it and choose the Control Panel from a wide number of available useful shortcuts.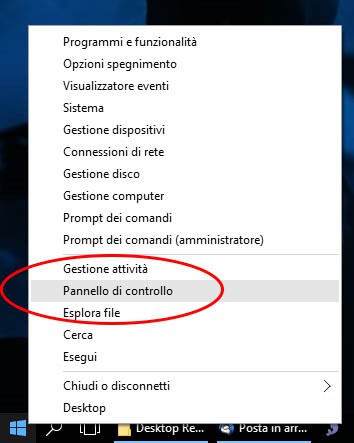 Neat stuff, isn't it? Well, actually there's nothing new: the same exact contextual menu was already available since Windows 8.1: if you didn't know that, it was because you got used to the nasty and unconfortable gesture method introduced with Windows 8, which was still valid for 8.1. Now it's time to finally get rid of it for good, since Windows 10 desktop-based installation has the gesture disabled by default. Of course you can also directly access the Control Panel shortcut in a number of ways, including:
using the filesystem and/or System Explorer.
the Run command.
the Search feature, i.e. the new lens icon near the Start button.
All of these methods actually works, just like they always did: they're just much slower than the above suggested one.