Telephone-based marketing has never been as intrusive as in these years, at least in Italy. The ineffectiveness of the controls of the Data Protection Authorities and the evident inability of the Ministry of Economic Development to regulate a market that moves through schemes and mechanisms totally unknown to the political class have favored the proliferation of a network of intermediaries - and related calls- center - driven by a single, great purpose: to move you into buying the product, or more often the service, at any cost.
Among the many companies relying to these close-to-illicit sales methods are some of the biggest players within the Italian and international IT, media and services scenes:
ENI, which in order to sell you the latest Gas & Light offer that has been developed in recent months, gets to put its own skeptic fake-news company in the mouth. Among the funniest stories I've heard, I quote the following: "we are reviewing the contracts too expensive and we have noticed that his ...", "we are abolishing the two-hour rate and we understand that you ...", "we have just abolished the fixed costs that you are paying to your current operator, for a saving of at least ...": needless to say, these are nothing less than baits to suck you into signing a regular contract with them.
TIM and Telecom, which after two years terrifying and full of disservices on both the mobile and data lines is rebuilding its network of commercial and subsidiary companies at the expense - as always - the patience of the poor taxpayer, forced to suffer dozens of calls a week if he has the misfortune of having a VAT number and / or being mentioned in a Chamber of Commerce certificate. The favorite phrase: "I am the TIM consultant assigned to his area: I would like to meet with you to review the services we have or have had in the past with us ...". In the unlikely event that you accept such a kind offer, you'll be harassed by these accounting specialists until the end of your days.
Vodafone, the queen of sub-contracts and local partnerships, whose calls are particularly funny: "there is a consultant who is CASUALLY in his area in these days, is it okay if I send it to him?". Without any obligation, of course, save an hour to explain to the fearless consultant that the "solution" that he proposes is unsuitable for our needs, more expensive than the offer already signed with another operator or even, in the most striking cases, that we have already a Vodafone subscription (!)
SKY and Fastweb, both of them recently slacking off with the telephone - probably due to the great economic losses they suffered lately - yet still very active locally with their salesmen network army: we sincerely hope that the number of flyers, the more or less abusive billboards used by their partners to submerge the residential buildings of all the cities covered by the service will decrease as these obnoxious calls did...
Google, whose Italian division - which is basically just a marketing and sales office - has committed the tragic and naive mistake of "entrusting" a series of Italian SEO-related companies with a "partnership" for some of their products, especially Google Maps. These "grants" had the unfortunate side effect of making these gentlemen feel authorized to propose their services by presenting themselves as Google ... Yes, you got it right! Not like Google Partner, but just like Google in person! "Good evening, it's Google speaking! we're putting your company on Google Maps and we would need to meet it for ..."
This technique of self-disguise into their cool cousin is particularly effective in a country like Italy, where the average manager is not culturally equipped to distinguish the sheperd from the sheep: we can easily picture out the face of the average Italian CEO the second he's fooled into thinking that he's actually talking with the big G: his mind will immediately go to the cover of the last cover page of magazines such as Forbes, or People, or the Sole 24 Ore wedsneday special. Too bad that there is no Sergey Brin nor Larry Page on the other end of the cable, just a poor salesman (or woman) who desperately tries to close the deal by selling one of the useless "Google Map SEO packages" with bombastic names: "Do you prefer the Top Business, Top Business Pro or Top Business Social Plus service?" No thanks, just leave me alone.
Sadly, all of these infamous techniques are still in excellent shape despite the imminent new European General Data Protection Regulation, better known as GDPR... which seems much more oriented to force small-to-medium companies to deal with a complex structure of personal data management than to seriously address the actual privacy issues suffered by the local consumers (or, if you prefer, the citizens) mostly due to the misused use of these aggressive message delivery methods.
Luckily enough, there is something we can do to defend ourselves from all this. In this article I will talk about HIYA, a neat tool that can be used to shield our mobile device(s) against these unwanted approaches. It is an application available for Android, iOS and Windows Phone that provides a series of services to customize our telephone experience, with particular regard to incoming calls.
In detail, these are the main features:
Identification of incoming calls, with indication of possible / probable SPAM.
Automatic blocking of unwanted calls through predefined and / or customizable blacklists and spam lists.
Signaling and feedback tools / network in real time.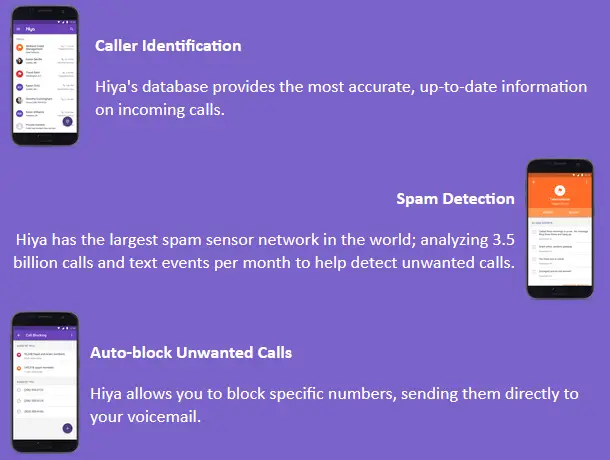 It is a rather young product, born in 2016 as a successor of a similar service - mostly used in the United States - known as Whitepages Caller ID. After an initial period of partnership with Samsung, the app is now available for all major mobile devices. Compared to its predecessor, Hiya is characterized by a community-driven approach, which exploits the experiences and signals of the user network through a series of dedicated algorithms - such as the Robocall Radar, which identifies automatic & bot-based calls - in order to divide the various callers in different levels and categories of "spamming".
In a nutshell, we're talking about a spam-filter for smartphones equipped with some advanced machine-learning features. The added value is constituted by the reporting mechanism, which allows a punctual and personalized report of the calling number: for the moment the benefits are limited to the other users, but in the future it is desirable that these reports can be forwarded to dedicated bodies that could even - if the defense of consumer privacy was really a priority - take the appropriate countermeasures or take legal action.
Moreover, what better opportunity for the Privacy Authority to use such a service - however absolutely free and without advertising - to carry out its monitoring function?
In any case, I invite you to download Hiya for your mobile phone and use it at every useful occasion: if like me you are bombarded by this type of calls, there are good chances that it will soon become one of your favorite applications!
IMPORTANT DISCLAIMER: This article has not been sponsored in any way and none of the authors who write on this blog works for Hiya: the opinions expressed are the result of the free thought of the author.