Any non-newbie Internet user - and developer - is most likely aware of the Ookla's Speedtest.net website, the free broadband speed measurement service founded in 2006 and leading the market ever since: we talked about it in this post, when they switched from Flash to HTML5 and released a Chrome extension.
Few people actually know that there are other speed measurement services out there: in this article we'll talk about Comparitech's Speed Test, an interesting alternative to Speedtest.net that basically does the same job, while also raising money for charity. Have we got your attention? Keep reading to know more!
DISCLAIMER: This is a honest, unbiased review which only reflects the thoughts of the author: we are not affiliate with Comparitech in any way and none of us got a penny for writing that.
About Comparitech
Comparitech ltd is a UK company born with the mission to help consumers make more savvy decisions when they subscribe to tech services such as VPNs, antivirus and security products, cloud backup, password managers and more. They are a consumer-oriented website providing information, tools and comparison to help consumers in the US, UK and further afield to research and compare tech services. If you need additional info about them, we suggest to directly visit their official website.
About The Speed Test
Comparitech's Speed Test is a free broadband internet speed measurement service that can be used from any browser. The test measures download speed, upload speed, and latency (ping) on any type of broadband: ADSL, cable, fiber, and even mobile connections like 3G and 4G LTE.
How does it work
The test works just like other speed test services: every time you give it a run, you're connected to the nearest available test server to help ensure accurate results with minimal congestion. Small, temporary files called packets are uploaded from and downloaded to your device from that server to analyse the connection speed. Comparitech does not store your IP address or any identifying information, but the service uses cookies and analytics to check whether a user has run a test in the past and prevent abuse. The test is performed using HTML5 and does not use Flash.
The results of this test reflect the speed of your internet connection at time of testing, but may not give a clear indication of your overall internet speeds or bandwidth. To ensure more accurate results, turn off applications and services that consume internet bandwidth, and disconnect other devices in your home or office that might also be consuming bandwidth.
The Back-End Network
Comparitech's Speed Test runs through Amazon's cloud servers. Tests are secure and conducted from the nearest cloud node based on users' location, fastest TTL, and country  (IP location lookup). Comparitech says that they do not allow 3rd party network providers to act as a test host, ruling out biased or tweaked results.
Speed Testing for Charity
The distinctive feature of Comparitech's speed test service is the fact that it comes with an added value: users can earn money for charity while using it. For each user that runs the broadband speed test, Comparitech donates one cent (US$0.01) to either the Electronic Frontier Foundation (EFF), a non-profit digital rights advocacy group, or Computers 4 Africa, a non-profit organization in Aylesford, England, which funds access to computers in developing nations on said continent.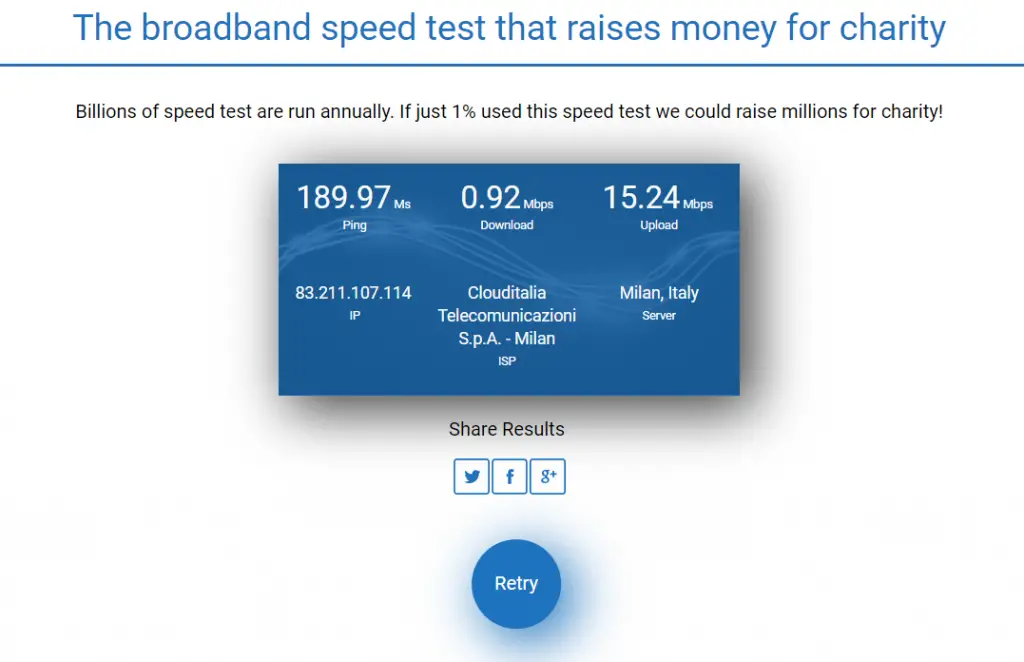 The leading online speed test (guess who is it?) is known to run 3 billion times per year. As Comparitech says, if just one percent of those people will use their broadband speed test we could definitely raise a decent amount of money for charity.