Long wait times and poor personalization are some of the typical issues customers experience in communication with brands. One of the solutions businesses use to solve them is a chatbot. In addition to improved customer experience, this never-sleeping assistant automates your routine, boosts sales & customer satisfaction, and saves resources.
How?
This is the question we're going to dive into in this article. Find out seven use cases on how businesses skyrocket user experience with chatbots.
What is a chatbot?
By saying "chatbot" in this article, we mean an app or web interface on a website or messenger that mimics human conversation through text, graphics, or speech to serve your customers in real-time.
Depending on the goal here is what a chatbot software interface can look like:
| | |
| --- | --- |
| In messengers | On websites |
| | |
You can create it in a visual chatbot platform, in-house with the help of your developers, or hire a web-development agency to build and maintain it for you.
How companies benefit from chatbots
Provide self-service options that 81% of consumers want to see in business communication.
Increase team productivity. Chatbots handle 80% of questions, so your human agents can focus on more complex queries.
Reduce operational costs by up to 30%.
Improve customer wait time. 59% of people expect a response within 5 seconds or less, which is difficult for a human but not for a chatbot.
Intrigued? Let's dive into the best use cases of how businesses achieve these impressive results with a chatbot.
1. 24/7 instant customer support
What is the most important thing you can do to provide clients with a good service?
Value their time. People don't like to wait. When it comes to any interaction with a brand, they want answers immediately.
But it isn't feasible to expect support agents to be available 24/7. Humans need time to rest.
That can't be said about a chatbot.
It is a tireless support manager who quickly replies to repeating questions like:
"What does happen to my account after a trial period ends?"
"What is the return policy?"
"Do you have a loyalty program?"
No vacation or coffee breaks are needed. Launch it to provide visitors with instant self-service at any time.
Example👇
This is a website chatbot of the VanMoof bike store. In addition to FAQs, it assists visitors who want to know more about e-bike models.

Sure thing, there are questions chatbots can't answer. In such a case, they call a human agent. If it is a weekend time, directly in a chat customers can share their contacts to receive an answer on Monday.
2. Communication on channels customers prefer
Website chat, phone calls, and emails are classic channels brands use to communicate with customers. But many ignore that customers spend most of their time on Facebook, Instagram, TikTok, and messengers like Viber, WhatsApp, etc.
71% of consumers expect businesses to provide customer support over messaging channels.
The same case is with marketing and sales messages. For instance, compared to the 25% Open Rate of email, Facebook has an impressive 80%.
Processing customer queries from those channels requires additional agents or a chatbot 😉
It's an excellent solution to increase engagement on social networks and provide company service through WhatsApp, Facebook Messenger, Viber, etc.
Example👇
Burberry introduced their latest collection of bags to Facebook Messenger users.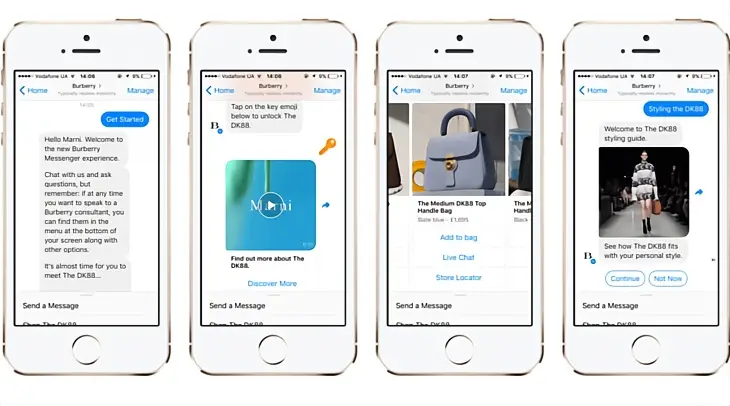 There is a different combination of customer communication channels when companies highlight an offer in the website popup that leads to a messenger chatbot.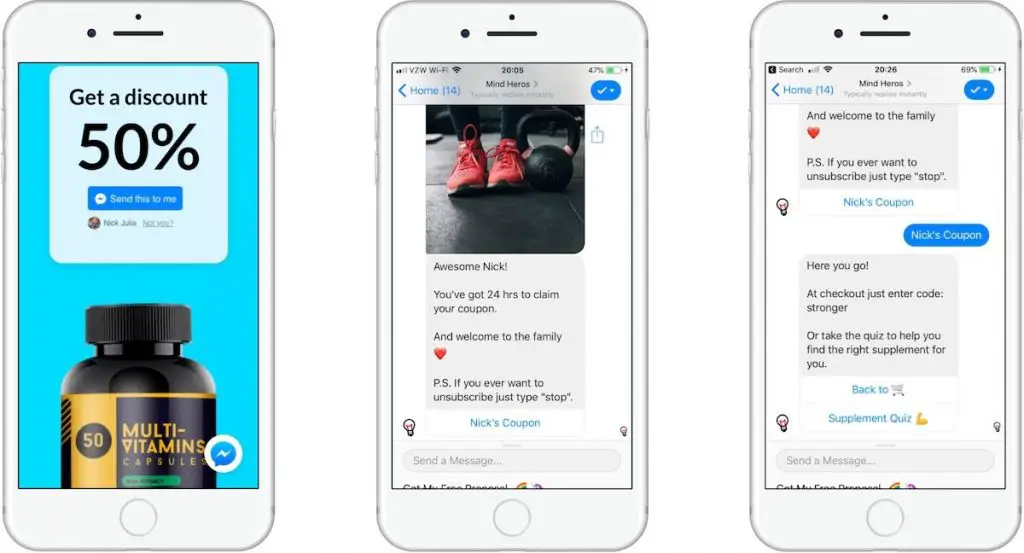 3. Personalize customer communications
Personalization is a great power that turns 60% of consumers into repeat buyers. It's not about mentioning the customer's name in the message. It is about crafting an offer based on their interests and behavior.
Here is how a chatbot can help you. By integrating a chatbot platform with your CRM, you can personalize the bot's flow and offers based on the:
customers' interests they share in a chat
website page they visit
customer status like new or returned, etc.
source of the customer visit like YouTube, partner's site, etc.
How does it look in practice? Let's look at some use cases.
Examples 👇
Use a chatbot to personalize:
Product recommendations. Lego launched Ralph the Gift messenger bot to assist its customers in choosing the perfect present. In a short conversation, the chatbot defines the client's location, budget, and present receiver age and offers a personalized list of suggestions.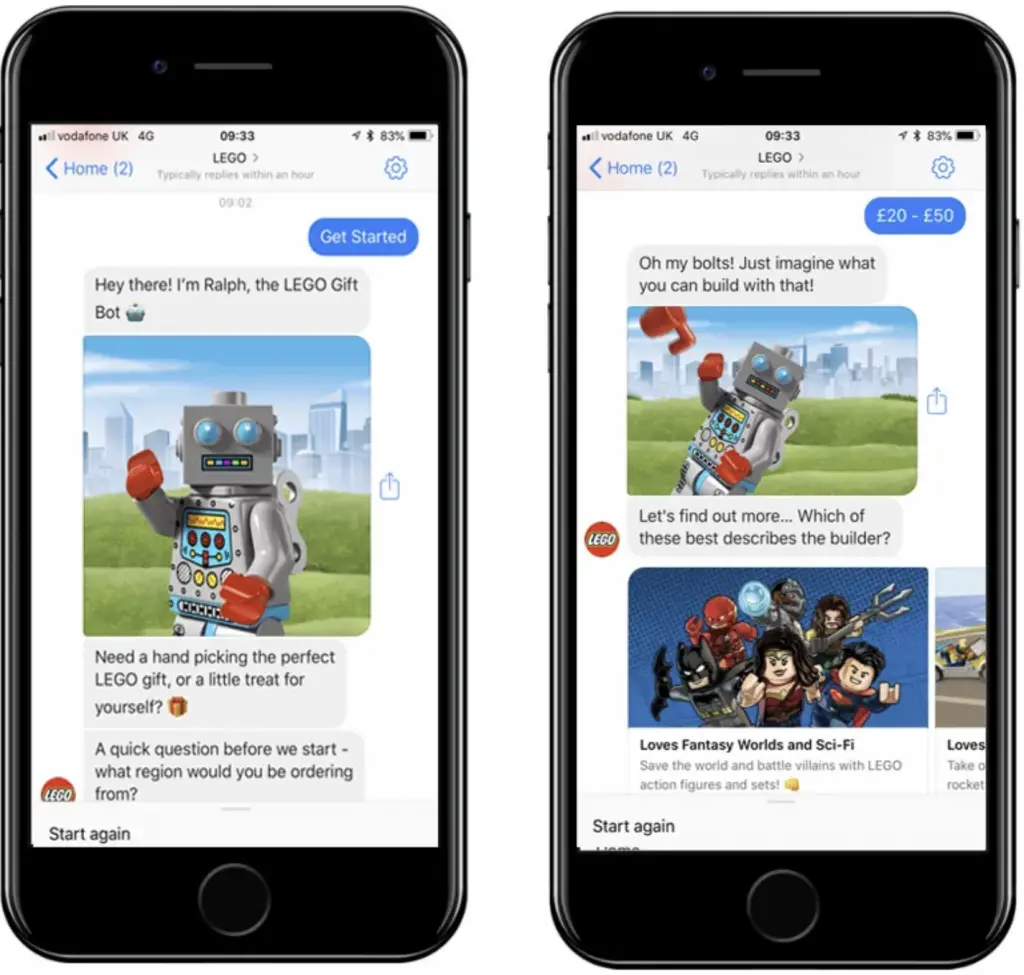 Lead generation works the same. The difference is that after defining customer preferences, a chatbot shares a relevant lead magnet and asks for contact data to send it.
Upsell and cross-sell campaigns. eCommerce brands use a chatbot to highlight complimentary items in a chatbot. Depending on the product page customers visit, a chatbot message engages them to discover matching items.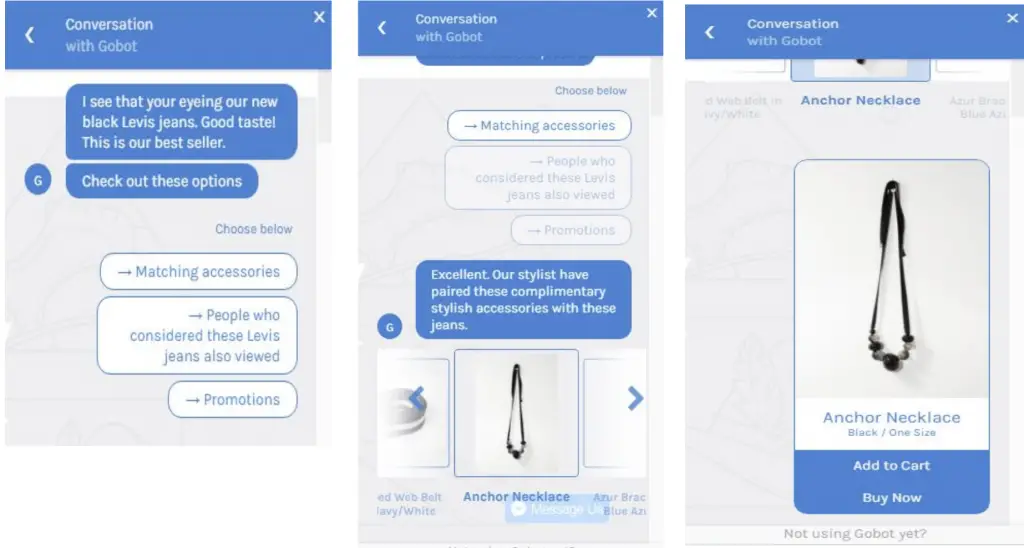 Support. Instead of the generic "Hi there! How can I help you today?", send a welcome message based on the content of the page it appears. Here is an engaging example of the chatbot message for the returning visitors of the Pricing page: "Hey👋 Looks like you've checked this page before. How about we tell you more about subscription plans?".
Customer calls and online meetings. During a conversation, the chatbot collects data about potential customers and stores it in the lead card. Before picking up the call, the manager can see a detailed record of the customer's company size, role, budget, visited pages, purchases, and conversation history. It is an excellent context for a successful deal of quick issue resolution.
4. Scheduling appointments
Chatbot is a brilliant solution for appointment-based services like beauty salons, law firms, medical clinics, real estate businesses, etc. Usually, companies use online forms or human assistants for this task. But both aren't perfect:
Human agents can't work 24/7 and process multiple requests at a time.
Forms with numerous fields are tedious.
Good to know the chatbot doesn't have these issues. With proper integration, it can conduct a short pre-qualification, create an event in a calendar, and send reminders.
Impressive, heh?
Example 👇
This is a website chatbot for booking an appointment at a wellness center.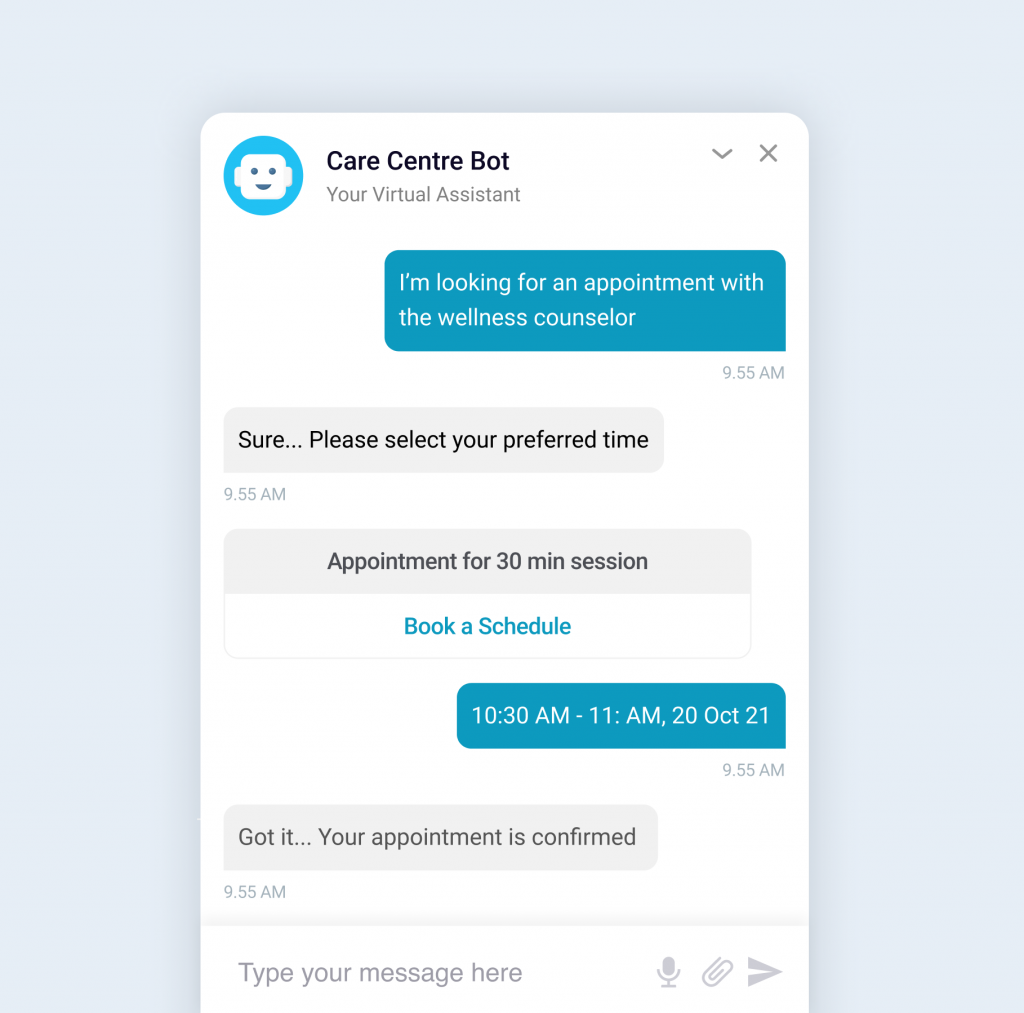 Here is how it works:
Chatbot acquires visitors' contact information and provides a link to your Calendly or Google Calendar to select a time that suits them best.
Then, it facilitates the appointment for both the client and specialist calendars.
The wellness counselor sees the planned event in a calendar along with all the lead's details.
When the time comes, a client gets an event reminder via email or text.
Depending on your business, you can ask leads about their company, position, budget, issues, etc.
5. Orders tracking
Customer queries like "What is the status of my payment?" or "Where is my order?" are simple to answer. You only need to take the client's tracking number and check it in the system. Even your granny could do that. Good to know she doesn't have to because there is a chatbot that saves you from this task.
Integrate your chatbot platform with a logistics system and enjoy a chatbot asking customers about an issue, capturing order number, and sharing its status instantly.
Example👇
This is a website chatbot of MR.DIY, a Malaysia-based home improvement retailer. With its help, the company website visitors can get instant replies on the order: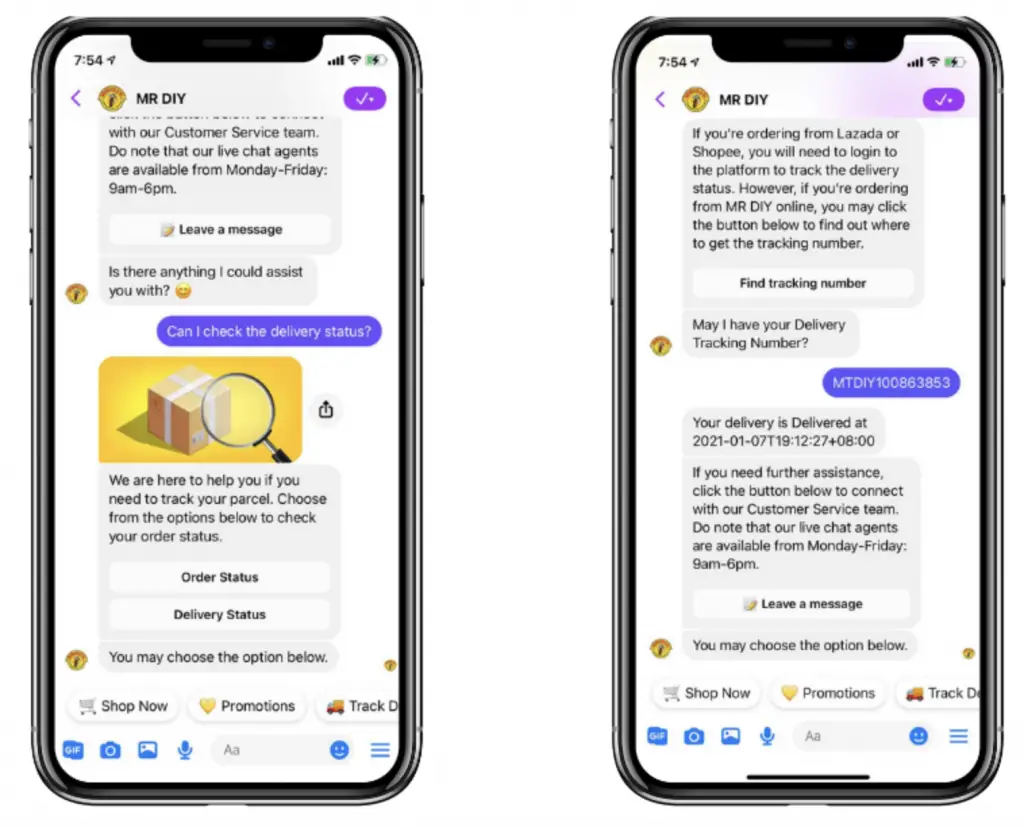 Thus, MR D.I.Y achieved an 80% growth in its containment rate.
6. Recover shopping carts
70% of customers leave products in carts instead of buying. That's bad for both sides: a store loses potential income and unregistered customers - a perfect collection of collected items.
The fix?
Launch an exit-intent chatbot to prevent cart abandonment or a chatbot to re-engage registered customers who left your website.
Here is how the process can look: a chatbot nudges them about the products that were left abandoned in the cart when consumers try to exit or after a certain period on a website or messengers.
To achieve the best possible effect, add a discount to your chatbot text.
Example👇
This is a Facebook Messenger chatbot. It follow-ups registered customers who left the Perfuel Pet Suppliers store without a purchase.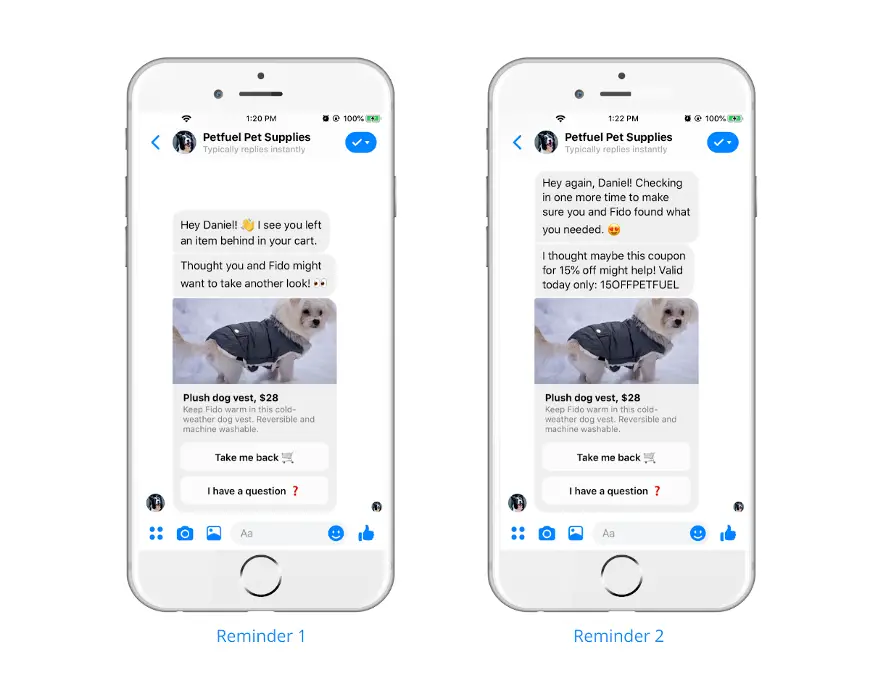 There are two steps in this conversation:
The first message includes a reminder about an item in the cart.
If a consumer ignores it, a chatbot sends a second message with a 15% OFF code.
7. Collect customers' feedback
Consumer reviews are a powerful method of business growth today. 71% of consumers will share a review, but on request only.
A chatbot can automate this process.
Here is how it works. Use a website chatbot to engage customers to share their feedback after a chat with a manager or after the payment.
Example 👇
There are several options of how it can look like:
| | |
| --- | --- |
| It can be a brief survey with a star rating and comment field. | Or a step-by-step conversation with pre-written response buttons, number rating answers, etc. |
| | |
Key takeaways
Answering FAQs, recommending products, and capturing leads are only a few examples of how businesses use a chatbot. There are cases of payment processing, loyalty program engagement, and sales promotion via this tool. Combine it with other channels, such as triggered emails or SMS, to achieve better results.
With an efficient chatbot platform, it is easy. So, define your goals and features you need and choose wisely.