If you are a Tesla owner, you most likely know that there are a lot of accessories online shops dedicated to all known Tesla models - Model 3, Model Y, Model X, and Model S. Unfortunately, not all of them are legit: some of them are definitely to be avoided, not only because of the terrible quality of their products but also because of their highly disrespectful policies towards the customer, and the terrible level of help-desk and customer service.
In this article, I'll share my personal experience with one of them, known as TESERY (I won't share the URL for obvious reasons),  hoping to prevent other would-be buyers from making the same mistake as me.
Disclaimer (and quick summary)
This article tells a shopping experience that actually happened (with the names of those involved obscured for privacy reasons), the events of which unfolded over 2 months. To make the story more understandable, I thought it useful to divide it into 7 acts.
For those who don't have the patience to read everything, here is a brief summary of what happens in each act:
Act #1. The Order. I order some stuff at the Tesery website.
Act #2. The Delay. The package took over 20 days to arrive.
Act #3. The (garbage) Products. 90% of the ordered products turned out to be unusable rubbish of very poor quality.
Act #4. The (false) Refund Policy. Tesery Refund Policy is basically a scam: you have to pay the shipping costs, and they won't collect the package (which will be returned to you), asking you to send it again - at your expense, of course - and start over the process. Quite convenient, huh?
Act #5. The (messy) Customer Service. Tesery Customer Service is terrible: they don't understand English, they are unable to give you precise directions, and - most importantly - they pretend nothing happens when you point out to them that they aren't behaving correctly.
Act #6. The (never happened) Clearance. Additional details to explain, document, and prove the scam techniques adopted by Tesery (see Act #4).
Act #7. The (tragic) Epilogue. Additional details to explain, document, and prove the scam techniques adopted by Tesery (see Act #4).
Act #8. The (alleged) Fraud scheme. A quick explanation of how Tesery's return & refund policy fraud scheme likely works, based upon the data collected from my personal experience.
If you are curious enough to know the full story, read ahead!
Act #1. The Order
Let's start by detailing the order I placed with them. Here's a quick list of what I asked for:
10.25" Android 4G Tesla Model 3 / Y Display LCD Instrument Dashboard Screen
Tesla Model 3 / Y Spoiler High Performance OEM Style - Dry Carbon Fiber Exterior Mods
Center Console Organizer Armrest Hidden Storage Box for Tesla Model 3
Center Console Organizer Storage Box for Tesla Model 3 / Model Y
Wireless Charging Phone Holder & Storage Organizer for Tesla Model 3 / Y - Automatic
Trunk Storage Bag Mesh Cargo Net for Tesla - 40x25cm
Aluminum Bike rack
Roof Rack Aluminum Cargo Cross Bars (Set of 2) for Tesla Model 3 2017-2023 & Model Y 2020-2023 - Model 3 2017-2023
As you can see, we are talking about A LOT of items - more than 1000$ worth of stuff. Definitely not an "average" order, but these things looked interesting at first glance while being (individually) relatively cheap. For this reason, I decided to confirm the order, which (pay attention to the date!) I paid on 12 June 2023, thus completing the order.

YAY! Now I just had to wait to receive the order. And this is when our (very) bad story begins.
Act #2. The Delay
I had to wait 8 days to have the order fulfilled, and 20 whole days (!!!) for the order to arrive in UE, which is where I live. That's not a surprise when you order from China, I guess... still, it took a lot of time, at least from my point of view. However, you know what they say in these cases: better late than never. Eventually, the items arrived (on July 2, 2023)... And perhaps, in hindsight, it would have been better if they had never arrived.
Act #3. The (garbage) Products
It's quite hard to put into words how bad those products were. However, I will still try to do it, commenting on them one by one:
10.25" dashboard. Horrible building quality, cheap cables, hard-to-fit hinges - and trust me, I'm quite an expert in modding stuff, DIY, and wiring (check here to see what I can do): if I do say that this thing sucks, it does suck, period.

 

Dry Carbon Fiber Spoiler. Let's just LOL at that: a cheap, plastic-made spoiler with a completely useless scotch tape that would

never in the world

be enough to safely & securely stick it into a car. If you don't want to risk losing it on the first turn (thus potentially hurting, or even killing, someone), forget it.

 

Center Console Organizer. That's quite fine (for an 18 USD plastic container): it wasn't as cute as it looked in their photos, yet nothing really bad with it.

 

Wireless Charging Phone Holder. Completely unusable, as it bangs with the right-side paddle on the steering wheel of the Tesla Model 3. And thank goodness it was tailor-made for this model! Pure rubbish.

 

Trunk Storage Bag Mesh Cargo Net. Here they surpassed themselves by sending me a completely different product, which was also unusable (not compatible with a Model 3).

 

Aluminum Bike rack & Roof Rack Cross Bars. A cheaper version of the roof rack sold on the official Tesla website. Not terrible, yet still not worth the price.

 
Long story short, I found myself with a $1200 order containing at least $1000 worth of junk. Even the few things that could be saved - or rather that could be realistically used on my Tesla Model 3 - were not worth the price. Luckily, there was that wonderful refund policy advertised on the Tesery site - or so I thought!
Act #4. The (false) Refund Policy
Let's start by taking a look at that Refund Policy: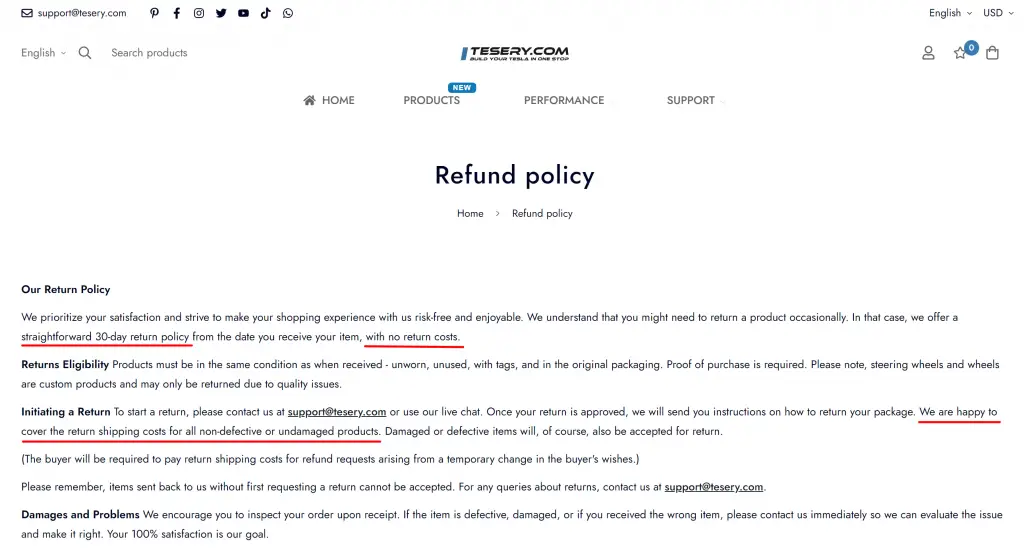 IMPORTANT
: The above screenshot was made by me today (September 18, 2023), and it's still visible on their website
on this page
. However, I wouldn't be surprised if Tesery chooses to turn it off (or modify it) after this post... And that's precisely the reason why I put the above screenshot up :)
As we can see by looking at the policy, Tesery offers "a straightforward 30-day return policy with no return costs". Furthermore, they are also "happy to cover the return shipping costs for all non-defective or undamaged products". That's precisely the reason I purchased that stuff: if I didn't like something, I knew I would be able to re-send it back to Tesery and have them refund me the full price (including shipping costs).
I just had to contact Tesery's customer service at the given e-mail... And this was where the shit hit the fan.
Act #5. The (messy) Customer Service
This act consists of about 20 email messages in which I try to communicate with Tesery customer support to explain the problems encountered with the various products (see act #3) in an understandable fashion. Doing that was so difficult and frustrating that I eventually ended up telling them that I just wanted to return the products, as stated by the Refund Policy (see act #4), and that was it.
Unsurprisingly, they told me that I had to pay the return shipping costs in advance, despite the "no return costs" claim that stands out at the end of the first sentence of their Refund Policy (see act #4). But hey, that sounded too good to be true, and I still believed they were in good faith (my bad): they aren't Amazon, after all, right? OK then, I told to myself, let's spend some money IN ADVANCE (they will still refund me in due time, right) and perform this shipping.
And I did that, following their instructions very precisely and meticulously: how to prepare the package, what to write on the label, which shipping service not to use, and everything they wrote to me.
Here's a brief screenshot with their instructions: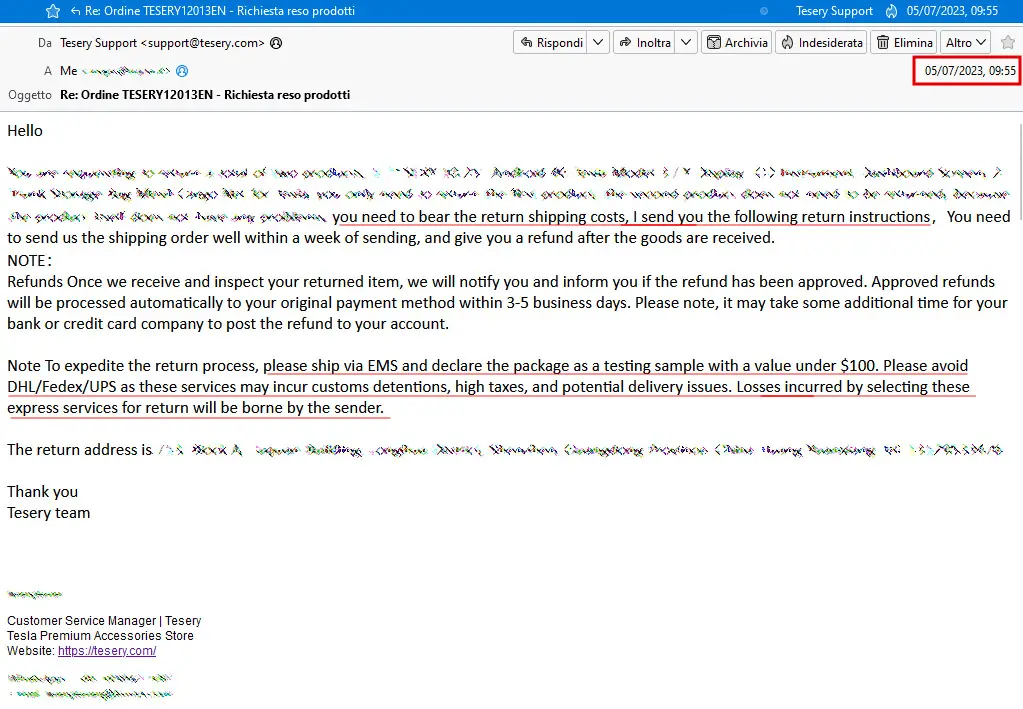 Needless to say, I did everything they said: the package, prepared and handled just like they asked me to do, was eventually shipped to China on July 17th, 2023. What could go wrong? (Major Spoiler: EVERYTHING)
Act #6. The (never happened) Clearance
Maybe you don't know that, but when you ship something to China using EMS, 9 times out of 10 the package gets blocked by the Shenzen Customer Office, which then contacts the recipient and arranges the clearance. That's a pretty normal process and it happens all the time, everyone knows it - especially Chinese shops that sell products outside their country.
Unsurprisingly, this is what happened in my case too: the package was blocked upon touching Chinese soil (on July 27, 2003) by the customer office, which then sent two notices - one on August 15th and another on August 31st - to the recipient, asking him to carry out the customs clearance procedures so that he could collect it.
I happened to know these events (and their dates) for two reasons:
Because they are registered in the package tracking history.
Because the shipping service that I have used to deliver the package told me the whole story - in an official statement - when I contacted them asking why my package was blocked since July 27, 2023.
Here's the (translated) official statement that my shipping service sent to me on September 1st, 2023:
Investigations carried out revealed that shipment <SHIPPING_ID_REMOVED> is still stationary at the foreign Customs pending the recipient's cooperation in customs clearance.

 

The package is stopped at the Shenzen customs. The recipient was notified by text message on 08/15/2023 and was contacted by telephone on 08/31/2023. Address: <REMOVED>, Shenzen. Telephone number for information: <REMOVED>. In the event that the package is not cleared through customs, it will be returned to the sender.

 

Greetings
Business Customer Support
As you can see by reading the above statement, the recipient (Tesery) was contacted two times, in a 15 days time span and by 2 different channels, yet it still "failed" to get these advices and/or to retrieve the package.
But there was good news: now that I had discovered the issue, I could also notify the Tesery customer service, hopefully pushing them to collect the package before it was returned to the sender. Right? (MAJOR SPOILER: No).
Act #7. The (tragic) Epilogue
If you have had the patience to read up to this point, you will probably have already understood how this story ends: despite a lot of attempts by the customer office and fruitless email messages sent by me, Tesery was unable to clear the package through customs, which was then flagged as "delivery failed - returning to the sender" on September 12, 2023.
Here's the first e-mail I have sent to them: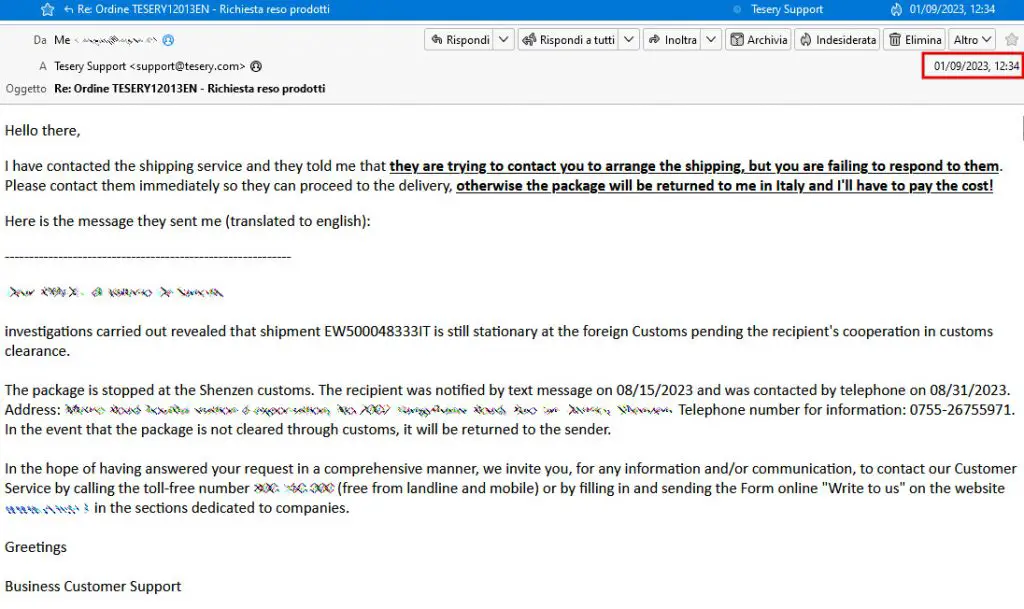 Watch out for the date: it was sent on September 1, 2023, meaning that they still had plenty of time (12 days) to get the package.
They didn't answer to that e-mail, hence I sent them a couple more in the next 1-2 days: they eventually answered the last one on September 05, 2023, with the following false declaration: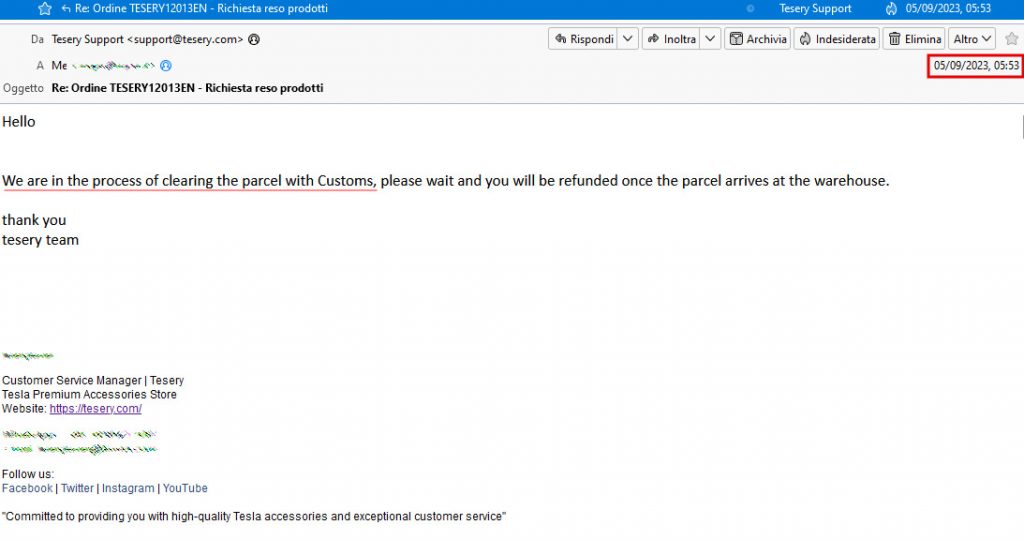 Sadly, they were not "in the process of clearing the parcel with Customs", because on September 12, 2023 (7 days later) the package was flagged as "delivery failed - returning to the sender".
Act #8. The (alleged) Fraud scheme
Based on the information collected during my personal experience, there are good reasons to hypothesize that what happened to me was not an isolated incident but the intended outcome of an actual fraud scheme that works in the following way:
They sell garbage items, showing them much better than they are.
They publish an excellent return & refund policy, hoping to easily build users' trust: "just like Amazon" (except it's not).
If you try to return the items, they intentionally avoid taking them back, asking you to send them again, and again, and again... until you lose interest (together with your money, since you have to pay the shipping costs).
That's basically how this fraudulent schema should work.
Conclusions
In this long article, I believe I have documented in an exhaustive and objective way the many reasons why no one should buy from Tesery online store. I sincerely hope that my unfortunate experience can be of help to those who are looking for information on this site, with the hope that they can stay away from it as much as possible. It will only be by avoiding these fraudulent websites that abuse the credulity of internet users (and Tesla owners) that we will be able to have a better web.