The ever-growing adoption of websites, applications, and services among organizations, as well as the shift from on-premise architectures to cloud-based platforms across the globe, has fuelled the demand for virtualized systems and solutions. For that very reason, the global Virtual Machine market experienced exponential growth in the last decade, and it's still growing steadily: according to a recent research by Future Market Insights (March 2021), the market CAP is expected to reach US$ 120 Billions by 2031.
Switching from physical machines to VMs allows businesses and workloads to be flexible, not only in terms of mere computational capability but also for the governance, organization, and processes handled by the workforce: virtualized work environments make employees able to work from any remote location - including their home. Such capability can be a major advantage in terms of business continuity, as demonstrated by the recent COVID-19 pandemic outbreak that forced a lot of companies and organizations to switch from office work to remote working in several parts of the world.
However, a VM - just like its physical counterpart - still needs to be protected against data loss: although being virtualized, it's still susceptible to risks such as hardware failure (of the physical host that runs it), natural disasters, human errors, and data breaches. For that reason, in order to minimize such risks, whenever we want to build our architecture relying on Virtual Machines we also need to provide ourselves with an effective, capable, and secure VM backup solution. In this post, we'll review one of them, which comes as a dedicated tool: its name is Vinchin VM Backup and Recovery and it's an affordable, easy-to-use, and powerful Virtual Machine software compatible with most of the most used Virtual Platforms available on the market - including VMware, Hyper-V, Citrix, RedHat RHV, Oracle Virtualization Manager, and more.
Basic backup concepts
Before reviewing the software, it can be wise to spend a couple of minutes to better understand some basic concepts behind the most common backup procedures - and the distinctive names they are best known with.
Differential backup. Backs up only those files that have changed since the last full backup.
File‐level backup. Backs up all (or selected) files and folders, but not the system data (such as the disk's boot sectors, partition tables, etc).
Bare-metal backup.  Backs up all files and folders, including system data, partition tables, etc.
Image‐level (volume‐level) backup. Backs up an entire storage volume, including partition tables.
VM backup. Backs up all files that comprise the entire virtual machine, including disk images, .vmx files, and so on: it can be used to "export" the VM from a vCenter to another.
Full backup. Backs up all (or selected) files, without relying on previous backup tasks.
Incremental backup. Backs up only those files that have changed since the last backup, whether it is a full or incremental backup.
Quiescing

. A process of bringing the on‐disk data of a physical or virtual

computer into a state suitable for backups. It's a collection of

higher‐level application‐specific tasks, such as:

flushing dirty buffers from the operating system in‐memory

cache to disk, closing the SQL Server handles, and so on.
Now that we know the basics, let's see how Vinchin VM Backup and Recovery can help us to perform these much-needed tasks.
Software components
Vinchin VM Backup & Recovery consists of the following components:
Backup Server, which performs the main backup & recovery tasks: this is the primary infrastructure component and the only required one.
Backup Node, an optional component that can be used together with the Backup Server to decentralize its workload when dealing with large virtual infrastructures.
Backup Proxy, another optional component that can be used to emulate the behavior of a Storage Area Network (SAN) for virtual infrastructures that don't have one.
In most scenarios, you'll only need the Backup Server, which can be downloaded from Vinchin's official website (see Download and Install section for further info). If you need the optional components, you can get them from the following links:
Hardware components
The Backup Server and the Backup Node are meant to be installed on a physical, non-virtualized machine with the following minimum hardware requirements:
CPU. 2*Intel Xeon E5 (2.5GHz, 4 cores, 8 threads or higher)
RAM. 32GB or more
NIC. 2*10Gbps Base-T RJ45 ports or more
HDD/SSD. OS Disk 2*100GB SSD
The Backup Proxy component must be installed as a Virtual Machine belonging to the VMware vSphere ESX/ESXi server we want to backup, with the following minimum requirements:
CPU. 4*vCPUs or more
RAM. 8GB or more
OS. CentOS 7 Linux (64-bit)
DISK. 50GB or more (for system volume only)
As for the backup space, you'll need to have at least 150% of the capacity size of the production data size, either on the Backup Server physical machine or using an exernal or network storage device (such as NAS/SAN).
Download and Install
As we already said, the Backup Server ISO image can be downloaded from Vinchin's official website.  However, before being able to start the download you'll need to fill out a small form typing your Company Name, E-Mail address, Phone Number, and the Workloads you need: for our test drive, we've chosen VMware vSphere/ESXi, since it's the one we use to power our company's Virtual Machines.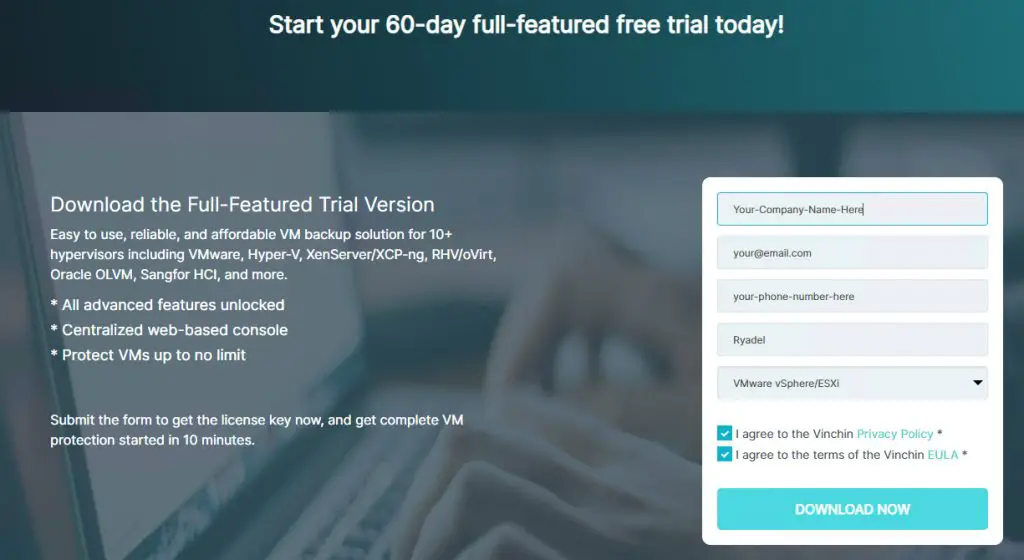 By clicking the Download Now button, the download will start: meanwhile, a 60-day trial license will be sent to the email address you've sent using the form. This license is the real deal of this software since it allows you to freely use Vinchin's VM Backup & Recovery without limitations for 60 whole days. That's an awesome feature because it will allow you to properly test the product before choosing to buy it or not.
Once the download is completed, you'll need to create a bootable installer from the ISO file using either a USB drive or a DVD/BD disk, which will be then used to install the product on the physical machine. This can be done using one of the following free tools:
Once the USB drive or DVD/BD disk is ready, you can plug it into the physical machine where you want to install the Backup Server, reboot it, and follow the on-screen instructions to get the job done.
IMPORTANT: be sure to use an empty machine to install the server, since the installation process will permanently erase all the existing data!
Features
Here are the product's most notable features:
Agentless Backup. Most VM backup software requires an agent to be installed (and executed) to all the VM we want to backup. Vinchin Backup & Recovery doesn't need to, since it can directly access (and backup) the Virtual Machine through the hypervisor. This is a great feature in terms of performance for all the affected VMs, since they don't need to have any additional processes in memory.
Incremental Backup with CBT/SpeedKit Support. Vinchin Backup & Recovery offers both Changed Block Tracking and its alternative feature, SpeedKit for faster incremental VM backups.
Data Compression. Backup data are automatically deduplicated and compressed to reduce the overall backup size: furthermore, an advanced optimization proprietary technology (BitDetectorTM) is used to automatically exclude swap les, partition gap, and unpartitioned space to further reduce the size.
Backup Storage Protection. A practical technology that protects backup data in the backup storage against ransomware attacks. It works to identify and deny modification requests from unauthorized applications.
Instant Restore. Vinchin Backup & Recovery is able to reduce RTO to 15 seconds by instantly recovering the interrupted business on the original/new host using backup data.
File-level Granular Restore. Certain files or folders in the virtual machine can also be restored using Vinchin Backup & Recovery, which helps to greatly save restore time when needed.
Cross-Platform Recovery (V2V). Vinchin Backup & Recovery supports seamless V2V migration across 10+ mainstream virtual platforms including VMware, XenServer/XCP-ng, oVirt/Red Hat Virtualization, and OpenStack. It works by restoring backup data of the original VM to another new platform, without extra plugin needed.
Video review
If you prefer to learn how to use these kind of software tools using a video, here's a quick overview of Vinchin backup & Recovery that can help you to fully grasp its main features and characteristics:
For further usage guides, tutorials, and informative videos, be sure to check out the Vinchin's official YouTube channel.
Available Editions
Last but not least, let's briefly discuss the available editions and licensing types. The product is available in three editions: Essential, Standard, and Enterprise.
Essential. A good solution for small business that wants good protection while being low on budget. It only supports VMware and/or Hyper-V and provides a limited set of features.
Standard. The perfect choice for small-to-medium companies, which provides all the advanced features.
Enterprise. The viable route for enterprise-level organizations that want to protect their data without compromises.
An in-depth comparison of the various features available in each edition is available here.
Licensing options
Regardless of the edition, the product can be purchased with one of the following licensing options:
Perpetual License. As its name implies, such a license allows to use Vinchin Backup & Recovery for unlimited time: it is sold by the number of physical CPU sockets on target hosts.
Subscription License. This convenient plan allows you to subscribe to the product for 1, 2, or 3 years only - and then choose to renew or deactivate it, without additional costs. The subscription price depends on the number of VMs that you need to protect.
Conclusions
In our opinion, Vinchin Backup & Recovery is an excellent software that keeps what it promises: anyone looking for an effective solution to set up the backup of their Virtual Machines will surely find this product up to expectations, especially in terms of reliability and cost/benefit ratio. The only significative flaw we encountered is the lack of an automatic data-encryption system for backups, which would have definitely been an interesting feature from a data security perspective: however, this can be unnecessary for most organizations, not to mention the fact that it could be easily filled in the upcoming versions.