Today we'll talk about TuneFab Spotify Music Converter, an interesting conversion tool that can be used to download music files from Spotify without the need to subscribe to Spotify Premium.
If you know how Spotify works you're probably already aware that  the service doesn't allow their users to download the music they're listening to. More specifically, in case you have a free/trial account you can only listen to the track while being online; conversely, if you have a premium account (Spotify Premium), you can set your music to be available "offline", but you'll still be forced to "play" it using the Spotify app: this means that you won't still be able to copy those tracks to other devices, burn them to an Audio CD, share them as MP3 files, and so on. If you want to be able to do all that, you're going to need a third-party software just like the one we're going to review here.
Throughout this article we'll see how we can download, install and use TuneFab to download our favourite songs to MP3 files that we can save to our hard-disk and/or move everywhere: we'll also briefly enumerate the various features of TuneFab and, last but not least, its available free and paid plans.
Are we ready? Let's start!
Downloading TuneFab
TuneFab Spotify Music Converter is available for the following platforms:
For the sake of simplicity, in this review we're going to use the Windows version on a typical Windows 10 machine.
Downloading the software is just as easy as clicking to one of the above links: if you want to be sure to always get the latest version, we recommend to do that from the TuneFab official site.
Installing TuneFab
To install TuneFab we just need to double-click to the downloaded file and follow the instructions: a wizard-like installer will guide us through the installation process where we'll be able to select the language, the installation path, and to create or not the desktop shortcut. At the end of the installation phase we'll be asked to run the software, which is precisely what we're going to do.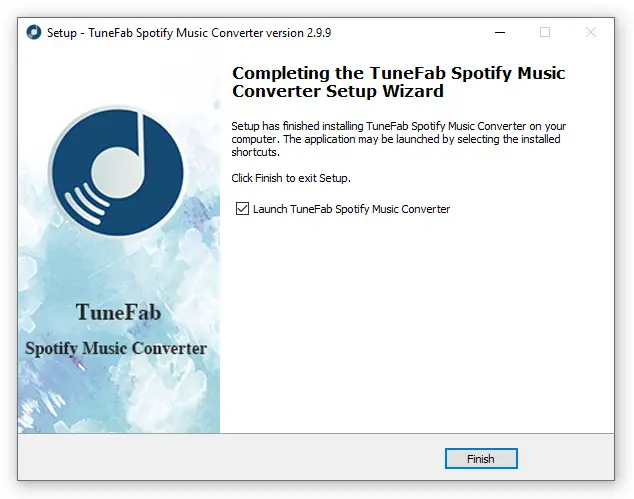 To do that, keep the Launch TuneFab Spotify Music Converter checkbox checked and click to the Finish button: the software will be launched and, in a matter of seconds, you'll be welcomed by the main program's dashboard screen.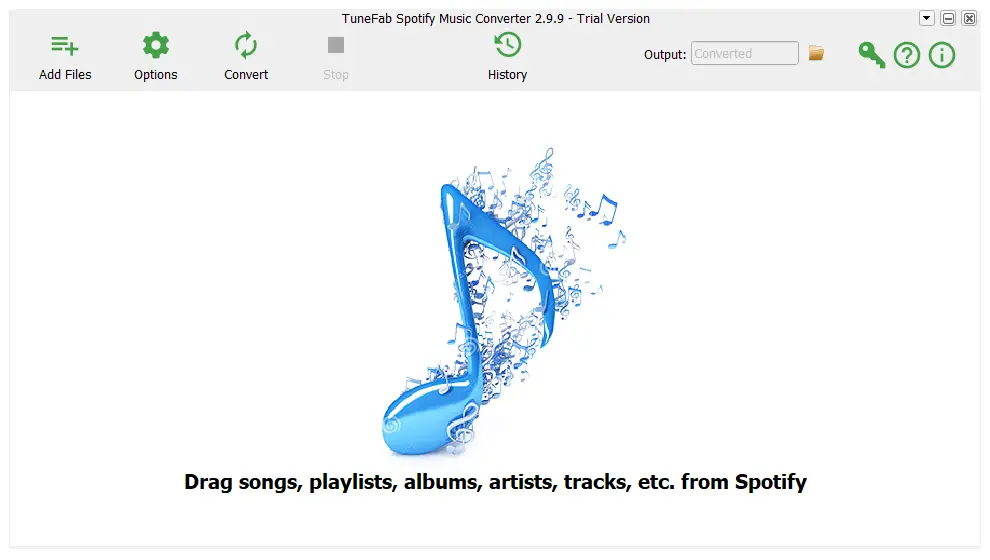 Using the software
Once we get to the Dashboard, we do have the following available options:
the Add Files button, which we can use to add Spotify songs/playlists/albums;
the Options button, where we can setup some useful program settings and parameters - such as the MP3 quality settings and the destination folder;
the Convert button, that we can use to start the process that will convert the Spotify songs to MP3 files;
the History button, that we can use to review our latest conversions.
On the right part of the topmost menu there are three additional self-explanatory buttons that we can use to register our app, display the guide and read the app's usage guide (which includes the app version, the publisher info, and so on).
Now that we know the basics, let's see how we can use the software to perform a simple conversion task. First of all, let's click to the Options tab to take a look at the overall settings and configure them to our needs.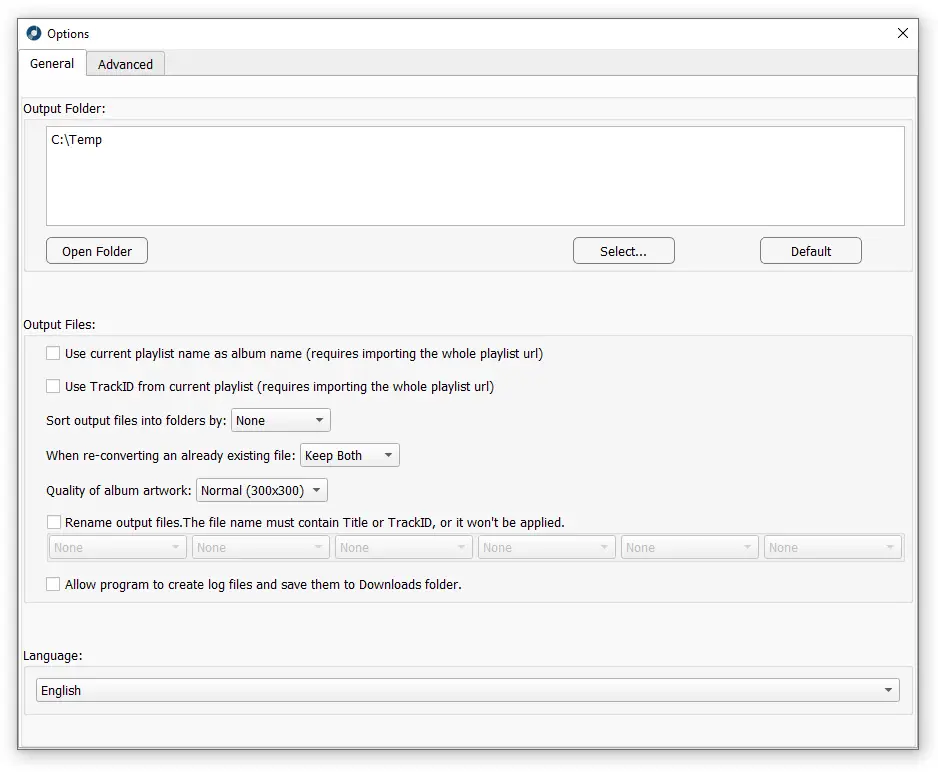 As we can see from the above screenshot, the Options panel is split into two tabs: General and Advanced.
Setting the options
The General settings allow us to change the software language and, most importantly, to configure a number of interesting options related to where and how we want to store our resulting MP3 files: it's worth noting that the software gives us the chance to rename the output files to what we like, choosing from a number of different formats - Title, Album, Artist, TrackID, as well as "decorative" characters such as space and dahses.
The Advanced settings allows us to set an optional audio gain - which could be very useful for some low-recording volume sources - and a number of conversion options, such as:
Conversion speed (1x or 5x)
Format (MP3, M4A, WAV, FLAC, OGG, AIFF)
Sample Rate in hz (48000, 44100, 22050)
Bitrate (320, 256, 128)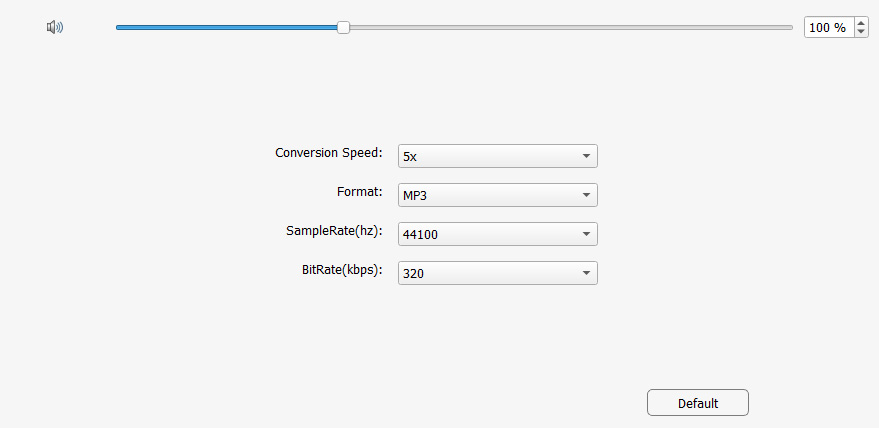 There is also the option to reset everything to the default (suggested) settings (5x speed, MP3 format, 44100hz sample rate, 320bps), which are OK for most songs: for our test we'll definitely stick to them.
Choosing a Spotify source
Now that we've configured the output, let's pick the input: return to the dashboard and, once there, click to the Add Files button. We'll access to a new window where we can drag and drop our songs or playlist from Spotify, or manually input them using their unique URL.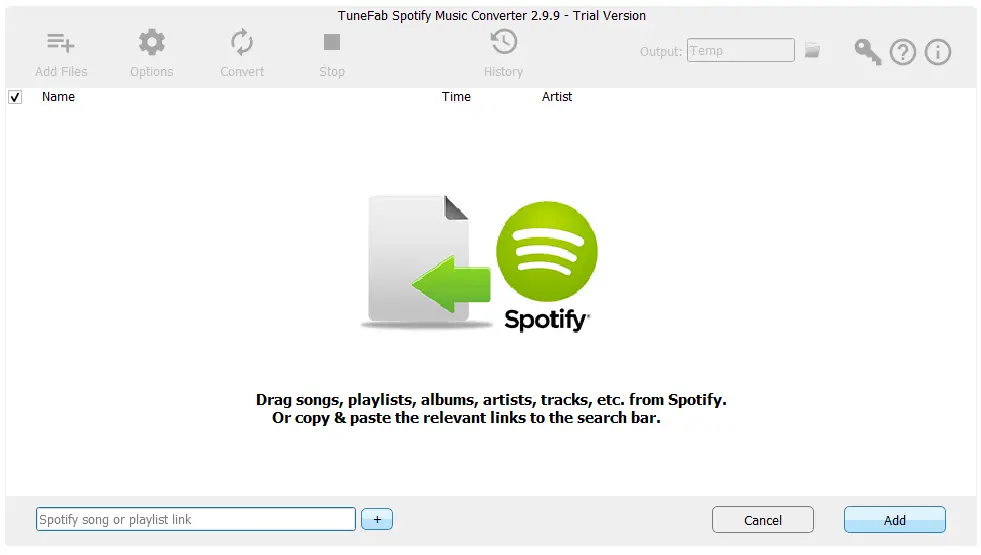 For our test we're going to convert Lateralus, an album published by Tool on 2001.
We can use the Spotify search engine to locate it and then drag & drop its unique URL directly from the Spotify Windows app to the TuneFab window, just like shown in the following screenshot: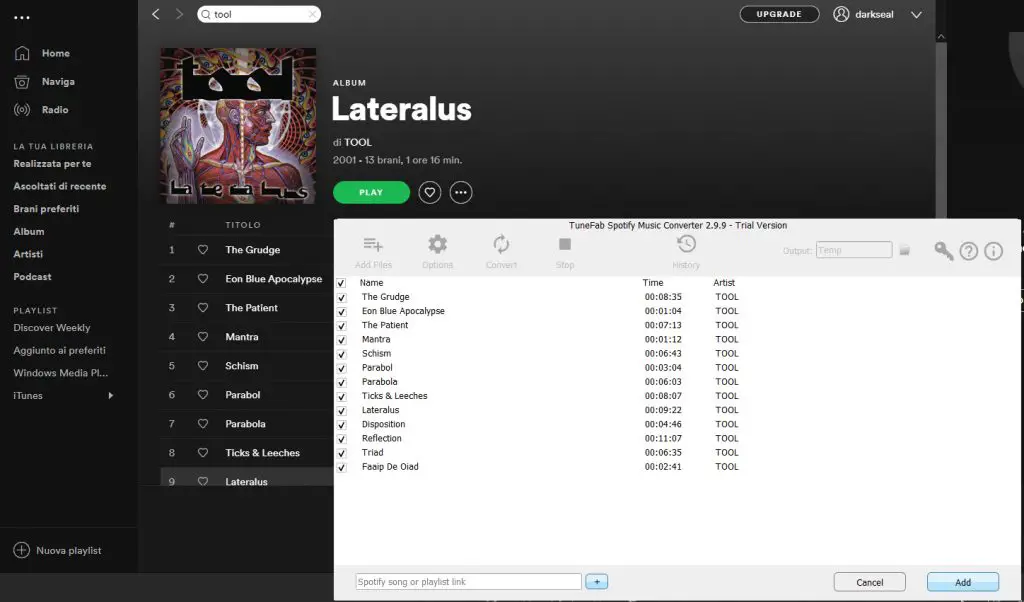 Now we're ready to click the Add button and confirm our selection: TuneFab will then show us a list of the individual MP3 files that will be converted, each one with its own duration and ID3 tag: from there, we'll be able to manually change the Title ID3 to better suit our needs before starting the conversion.
Convert
Now that we've loaded our weapon, we just need to fire it: in order to do that, hit the Convert button and let the conversion start. If we're using the free trial edition, which is mostly meant for evaluational purposes, the software will show us a popup window saying that it will only convert the first 3 minutes of each song.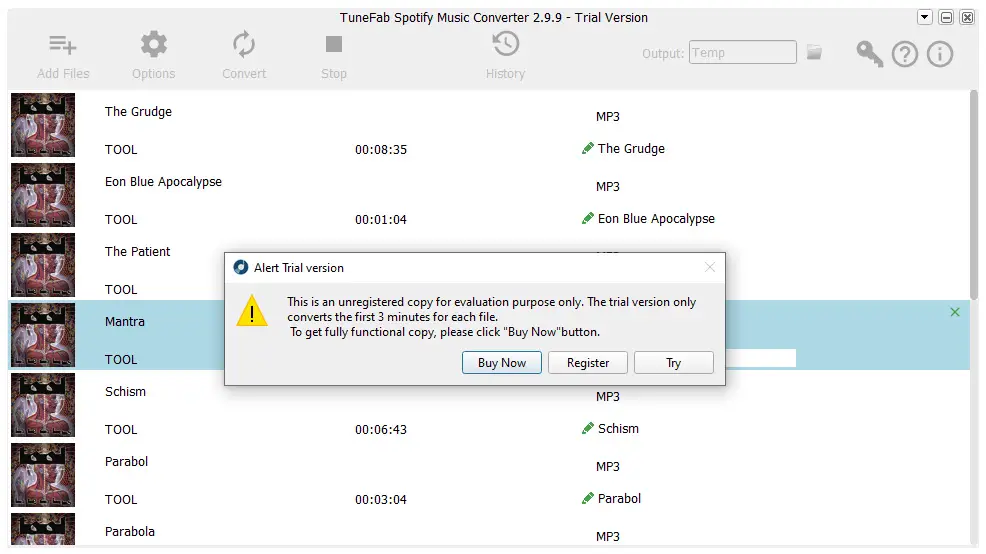 While the task is in progress, we'll be able to monitor the conversion of each individual files thanks to a small progress indicator that will appear to the right part of the window.


After a bunch of minutes, the conversion task will be done: we'll be able to find our MP3 files in the destination folder that we've defined early on within the Options section.
Versions & pricing model
TuneFab Spotify Music Converter is available for Microsoft Windows and MAC OS systems in two versions:
Free Trial, which allows to convert only the first 3 minutes of each Spotify song: in order to convert the whole song the software needs to be registered (see registered version below).
Registered version, which allows unlimited conversions for 39.95$.
For additional info and time-limited offers & discounts, check out the TuneFab Spotify Music Converter official page.
Conclusion
TuneFab Spotify Music Converter is definitely a good tool and does what it says: if you want a quick and effective way to download your favourite songs from Spotify and store them into MP3 files on your hard drive, it will get the job done. However, we think that the time duration limitation of the free version could cripple the software popularity and adoption, as most songs are longer than three minutes and most users won't want to upgrade so fast: for this very reason, we strongly suggest to change the free tier by limiting the number of songs that(or uses) instead of their duration time.