Optimizing your website/portfolio/blog's photos is very important if you want your clients to see all your content without problems. With this in mind, we have gathered Top 8 best image compressors online, which allow you to optimize JPG, PNG and GIF files in the web browser.
1. JPEG Optimizer
Supports: JPEG
Price:

Free
JPEG Optimizer is a popular free online photo compressor that allows you to resize and compress your images. It is a user-friendly and reliable image compressor.
The process of file optimization is very easy. JPEG Optimizer is capable of compressing any photo but the quality will be lost up to 35%.
I like the level bar feature which is used to adjust the level of compression you are satisfied with. This online image compressor also features an EXIF reader. Moreover, apart from compressing images, you can resize them.
The only drawback is slow performance since JPEG Optimizer can work with one file at a time.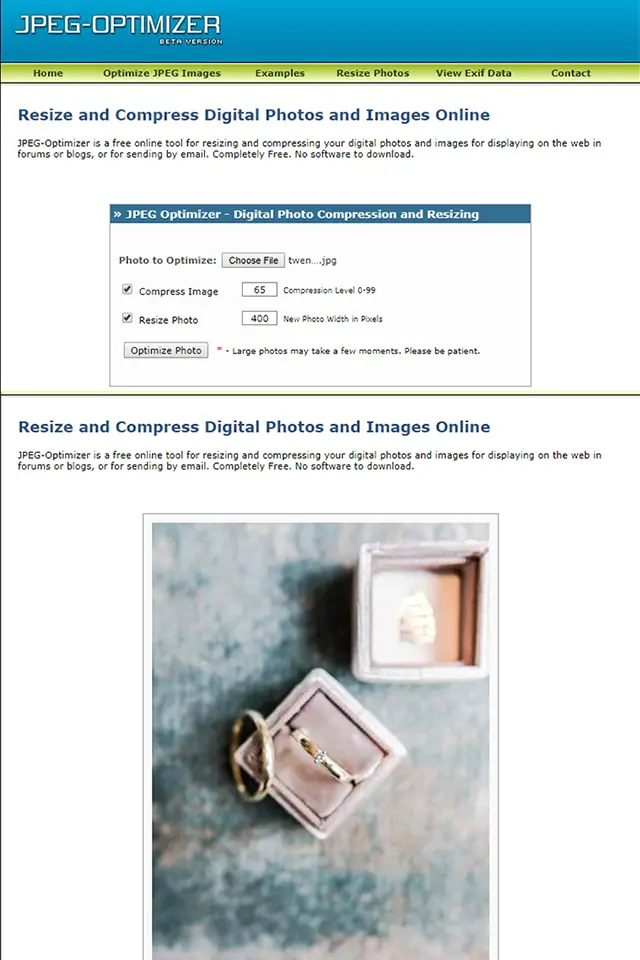 2. Optimizilla
Supports: JPEG, PNG
Price:

Free
Optimizilla is a web service for compressing images to a minimum file size possible. You can upload and compress PNG and JPEG without any efforts. With the help of a slider, you can adjust the compression level.
It is possible to upload up to 20 files simultaneously. Moreover, Optimizilla allows you to preview the images and compare the optimized file with the original one.
The only shortcoming is that it doesn't support PDF files unlike other image compressors online on this list.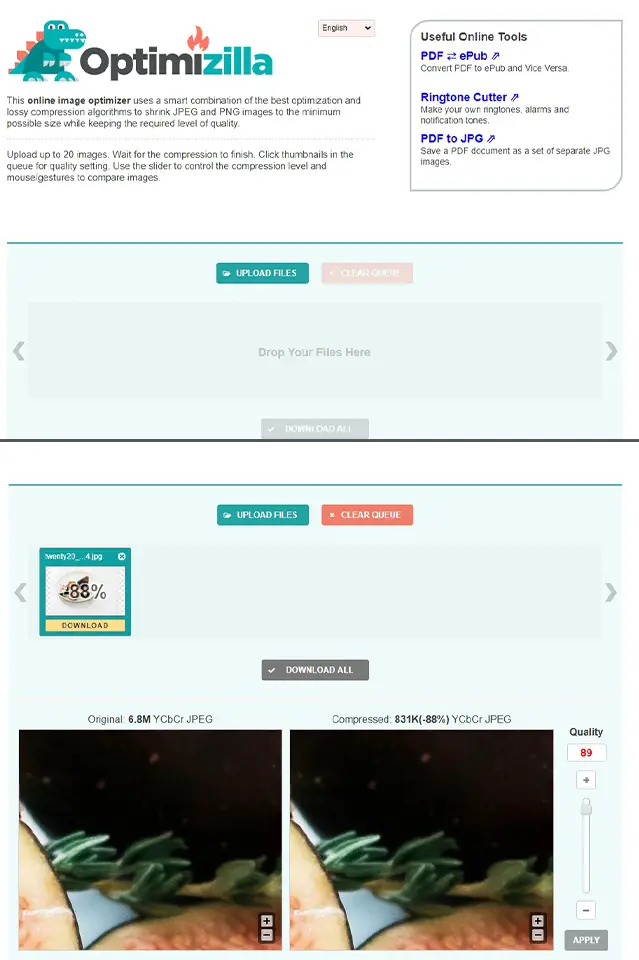 3. Kraken
Supports: GIF, JPEG, PNG
Price:

Free or $5 per month
Kraken allows you to optimize not only JPEG but also PNG and GIF pictures. Files up to 32MB are optimized for free.
If you want to work with large photos, you will need to buy the Pro package for $5.
There are two compressing modes to choose from:
Lossless – without losing quality
Lossy – image quality gets worse and the file size is reduced by almost 90%.
Like Optimizilla, Kraken allows you to work with a large number of photos, but the total file size mustn't exceed 100MB, which is approximately 50 photos (depending on the size of your files).
There are two export options. You can download a zip containing your images or use a selective individual download if necessary.
In addition, it is possible to import images from Dropbox, Google Drive or Box.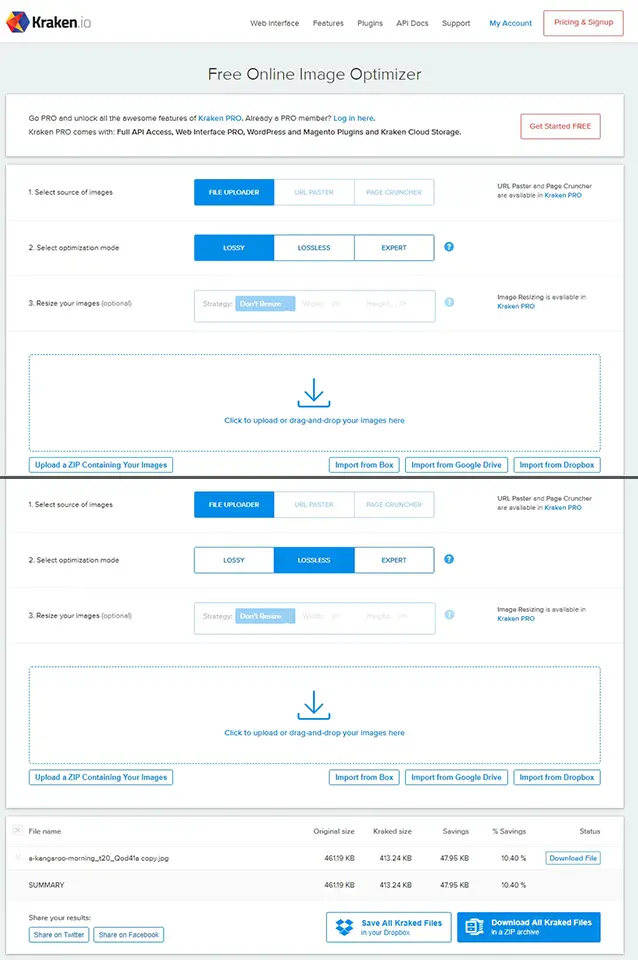 4. Compressor.io
Supports: JPEG, PNG, GIF, SVG
Price:

Free
Compressorio is an excellent option for optimizing either JPEG, PNG or GIF, SVG file formats. You can choose one of the available techniques for image compression – Lossless or Lossy.
The export is available from Dropbox or Google Drive.
This image compressor has some downsides. There is no multi-upload, so you have to import each image separately.
The maximum file size is 10MB. In addition, there is no manual mode which can be a bit confusing for the users.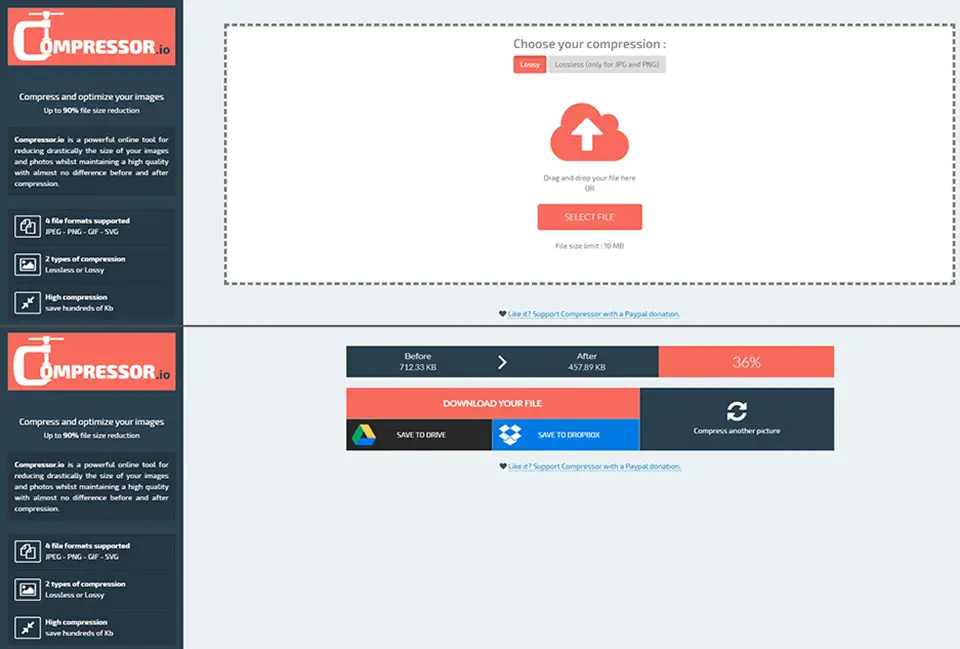 5. ImageRecycle
Supports: JPEG, PNG, GIF, PSD
Price:

Free or $10 per month
ImageRecycle can shrink the size of your image files without compromising on their quality. It is compatible with JPEG, PNG, GIF and PDF file formats.
This online photo compressor supports efficient drag and drop features and optimizing capabilities.
Among the useful features is the possibility to get a free report on your site with detailed information about images that require optimization. Just enter your website URL to get this report.
Also, this image optimizer has the WordPress plug-in, Shopify app, Joomla and Magento extensions for more convenient use.
However, some above-mentioned functions are available only by getting a paid subscription, which costs $10. Anyway, there is a 15-day trial version, so you can test all useful features for free.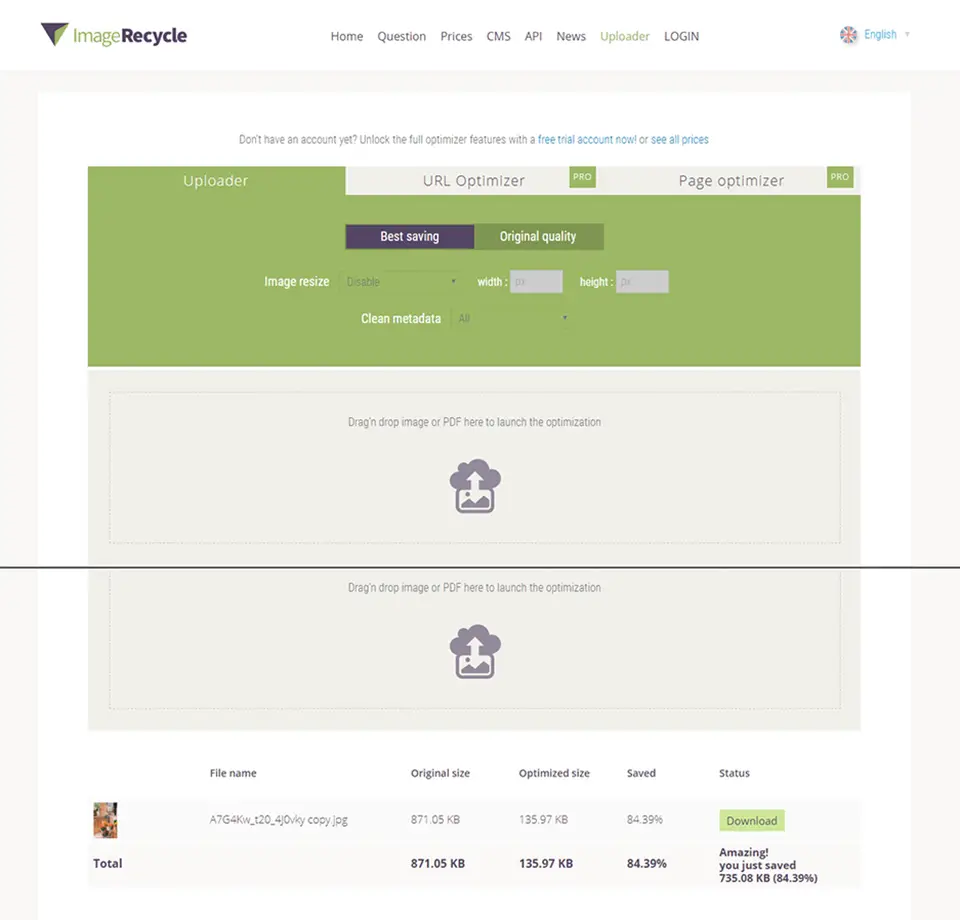 6. Tiny PNG
Supports: JPEG, PNG
Price:

Free or $2 per month
Tiny PNG is one of the most popular free image optimization tools with lots of n features for your website. This tool works with JPEG and PNG file formats.
It has a simple, user-oriented interface and can compress up to 20 photos with a maximum size of 5MB for each file. If you work with large photos, you need to buy a Premium version.
For those, who don't want to constantly visit a photo compression website, Tiny PNG offers a WordPress plug-in and Magento extension.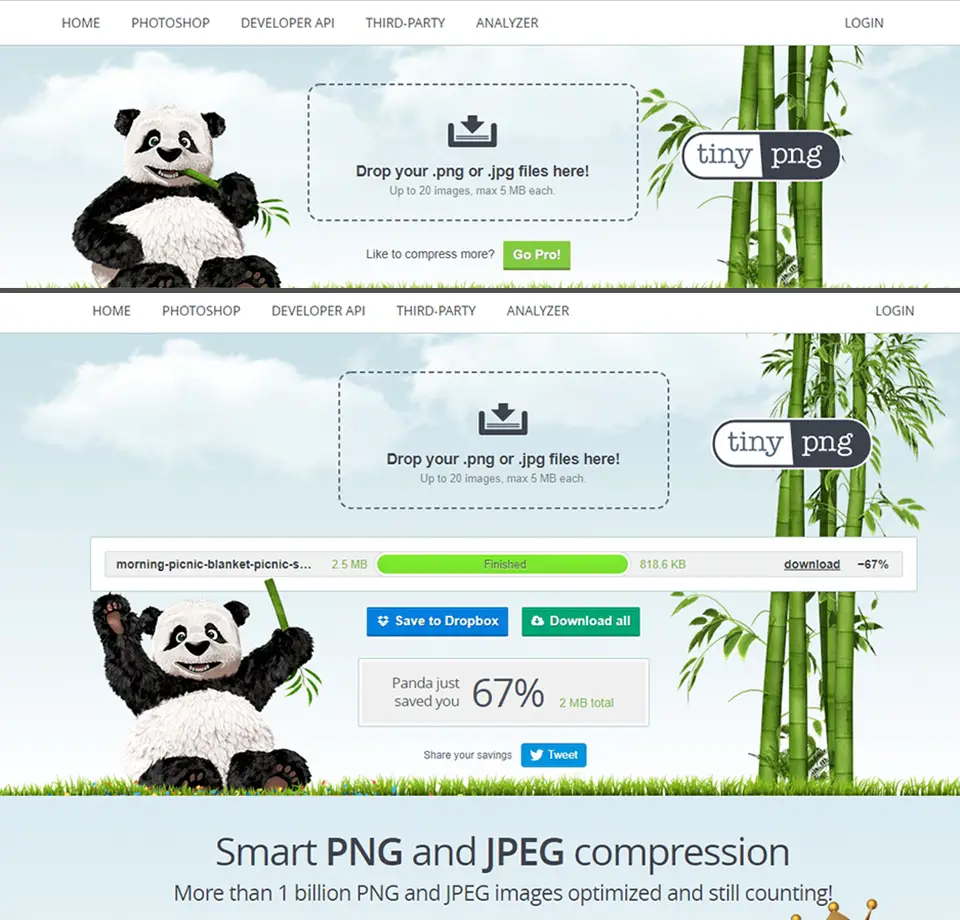 7. CompressNow
Supports: JPEG, PNG, GIF
Price:

Free
This is one of the best image compressors online with a batch photo uploading. It supports JPEG, PNG and GIF formats.
It is completely free but contains many ads.
It is possible to adjust the necessary compression level and then import the optimized file on your computer for later use. Also, you can upload a 10-pack of images for simultaneous optimization.
A serious disadvantage of CompressNow is the way it works with the PNG file format. I tested the image which I have previously edited in Adobe Photoshop and the background transparency was spoilt.
Moreover, the image was converted from PNG to JPG, which was an unpleasant surprise.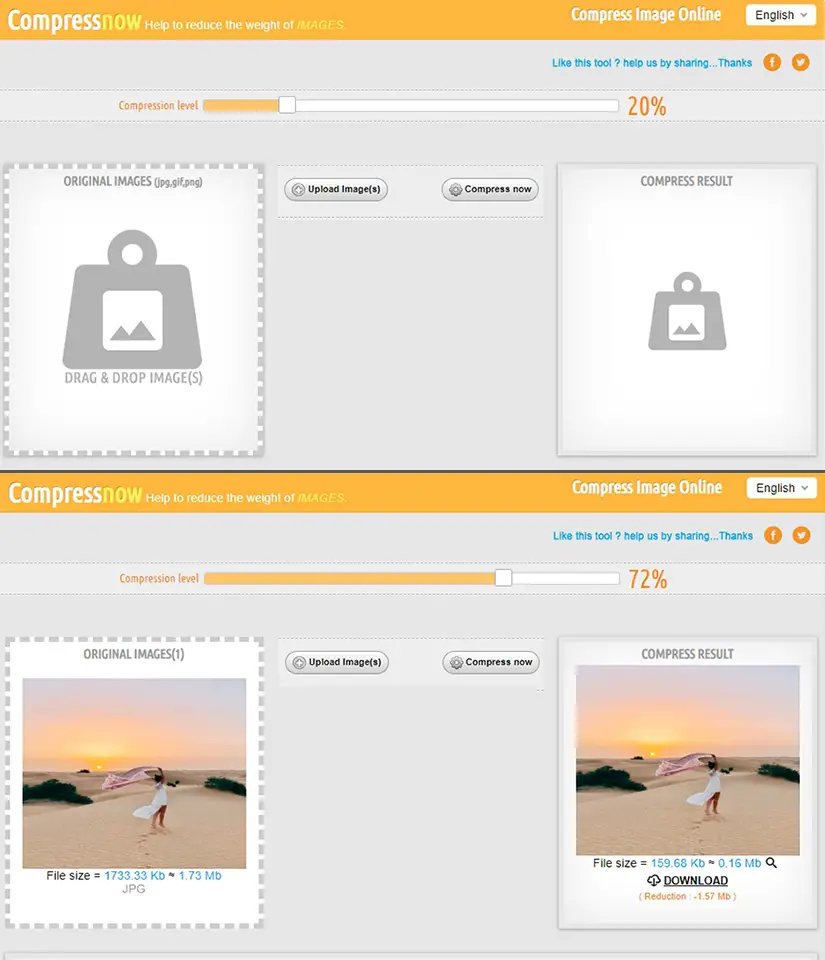 8. Resize Photos
Supports: JPG, BMP, PNG, PSD, GIF
Price:

Free
Resize Photos is the last free online image compressor on this list, which can help you resize and optimize JPG, PNG, GIF, BMP and PSD files.
It is easy to use and allows you to add some special effects to the optimized image such as rounded corners, shadows and reflections. You can also resize photos for your website, email, or forums.
Simply upload your files and set the compression level from 1 to 100 to optimize images the way you need.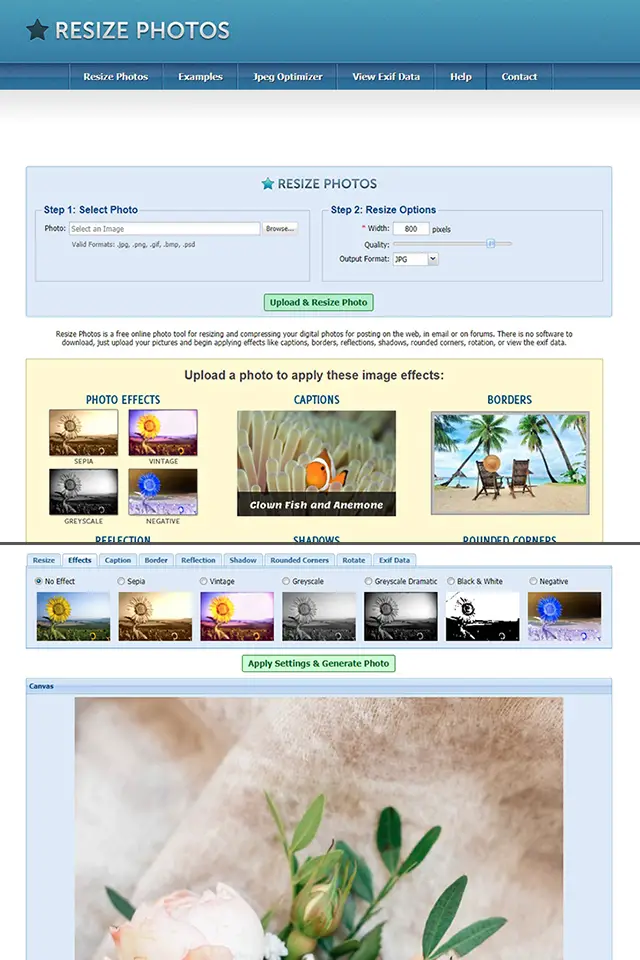 Why Should I Use Compressed Images for My Site?
Using one of the above mentioned image compressors online, you can greatly improve the performance of your website. Here are two big reasons to do that:
Your Website Will Work Faster. Uploading full-size images can significantly increase the loading time of your web pages, which may be annoying to many users. Images optimization will help speed up your website and consequently increase traffic.
It Will Improve Your Site SEO Score. A high SEO score is a substantial reason for optimizing your visual content. Since Google gives preference to fast loading websites, pages that contain large images are inferior to those with well-optimized files.
Lossy vs Lossless Image Compression
If high-quality photos are essential for your business and customers, you should consider lossless file compression. However, if you want your website to be incredibly fast, it is better to use Lossy picture compression.
Depending on the CMS platform you use, you will have certain optimization settings to ensure you control the level of file compression.