In this post we'll take an extensive look at Stellar Converter for OST, a powerful OST to PST converter software that can be used to convert inaccessible OST files into accessible Outlook PST files.
Truth to be told, it's not the first time we're talking about it: we already mentioned Stellar Utilities, and more precisely their MS Exchange EDB Recovery Tool, in this post. In this article we're going to talk about MS Outlook, which is currently the #4 most used e-mail client: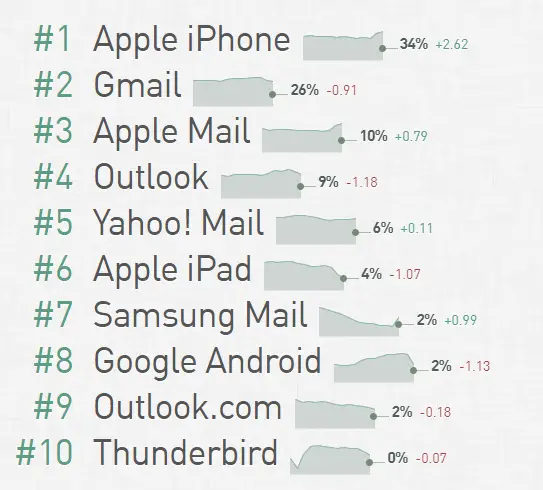 OST and PST, aka MS Outlook data files
When you add an e-mail account to Outlook, a local copy of all the e-mail message you download is stored on your computer: this feature allows you to access your previously downloaded or synchronized email messages, calendar information, contacts, and tasks without an internet connection.
Now, certain types of accounts, such as POP accounts, store their information in Outlook Data Files, which are stored on the filesystem with the .pst extension: those are the PST files. Other types of accounts, such as Outlook 365 accounts, Exchange accounts, IMAP accounts, and Outlook.com accounts store their information in Offline Outlook Data Files, which are stored with the .ost file extension: those are the OST files.
Let's now briefly review the most relevant differences between these two formats.
Outlook Data File (PST)
An Outlook Data File (PST) contains your messages and other Outlook items and is saved on your computer.
NOTE: In Outlook 2013 and earlier versions, IMAP accounts also used an Outlook Data File (.pst); since Outlook 2016 and Outlook for Office 365, IMAP accounts have been switched to use Offline Outlook Data Files (.ost) format instead.
Outlook Data Files can also be used to backup or export items from any type of email account, or to import email messages, calendar, contact, and task data from another Outlook Data File. Because these files are saved on our computer, they aren't subject to mailbox size limits on a mail server; this means that, by moving items to an Outlook Data File (.pst) on our computer, we can free up storage space in the mailbox on our mail server. However, this also means that those items will only be available on the computer where the file is saved.
Offline Outlook Data File (OST)
Most other account types, such as IMAP accounts, Office 365 accounts, Exchange accounts, and Outlook.com accounts use an Offline Outlook Data File (OST) file to store a synchronized copy of our mailbox information on our local computer. When our connection to the mail server is interrupted, for example, when we're on an airplane without WiFi or if your internet connection disconnects, we can still access all emails, calendar data, contacts, and tasks that have been previously downloaded.
This means that we can read and compose messages, create appointments, and add contacts: however, if we're offline, our email messages won't be sent and no new messages will be downloaded until our internet connection is restored. When the connection is restored, changes are automatically synchronized, and the folders and items on the server and on our computer will be identical again in a matter of seconds (or so, depending on our connection speed).
Stellar Converter for OST
Stellar Converter for OST is a conversion tool able to convert all OST mailbox items – emails, attachments, contacts, calendars & deleted items - and extracts them as PST while retaining their overall structure. The resulting PST file will be an exact replica of the mailbox data that user would have access to in normal conditions when her OST could be synchronized with Exchange.
The conversion speed is also relatively fast: from our tests with an average i3 desktop machine, the software took approximately 60 minutes to perform the overall conversion process (scan + export) of a 5GB OST into a PST (10-12 minutes per GB). Such performances arguably make this tool the fastest converter available on the market nowadays, at least according to these official benchmarks.
Its main features include:
Converts OST to PST in all Outlook versions
Converts encrypted Outlook OST files into PST files.
Converts IMAP OST files to PST
Converts large Outlook OST files to PST
Exports Outlook OST file to Office 365 & Live Exchange (Tech version only)
Supports Batch file Conversion (Tech version only)
Test Drive
Here are the screenshots and relevant info from our test drive, from the installation phase to the conversion phase, up to the Outlook PST import.
Installing the software
Installing the software is a smooth task, thanks to the Windows-style wizard which is typical of most apps: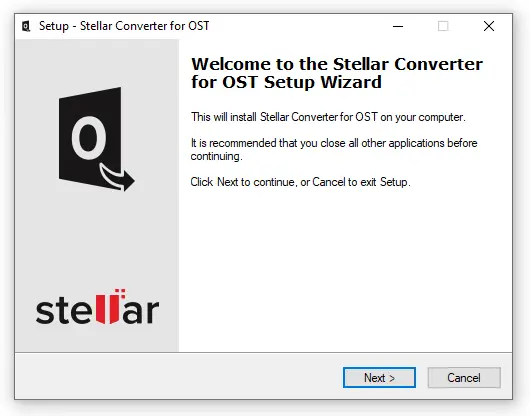 We just had to hit "Next" a couple times, read the EULA, accept the default installation folder (or choose a different one) and choose between creating the desktop icons or not.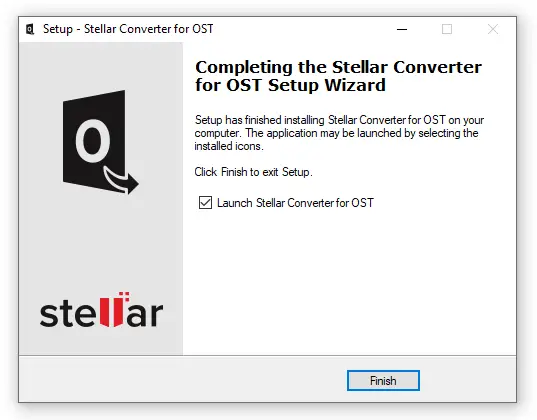 Selecting the OST File
Once the software has been installed, we were able to launch Stellar Converter for OST from the desktop icon. The program started with a modal window asking us to select the OST file to convert from.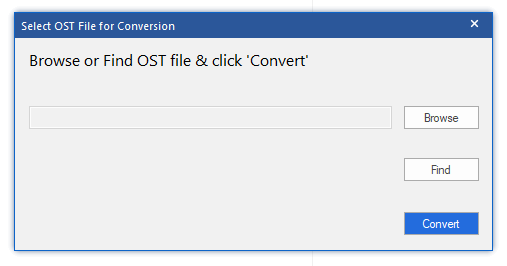 Again this was a rather straightforward task, we just had to select the OST file from the Microsoft Outlook folder. In our scenario it was the Outlook default data folder for Windows 10:
C:\Users\<YOUR_USERNAME>\AppData\Local\Microsoft\Outlook
It's worth noting that the Select OST File for Conversion task can also be activated from the File menu item: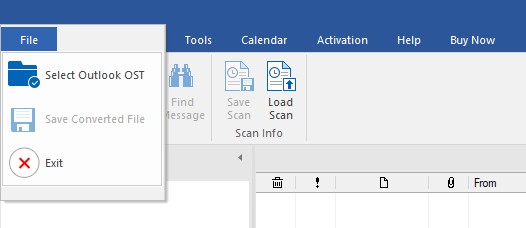 Or from the Home navigation tab, as shown in the following screenshot:

Activating
Before performing the conversion, we took the chance to activate the software, which was extremely easy: we just had to click the Activation tab, bring up the popup window, insert the registration code and click the Activate button to unlock all the product features reserved for our corporate license.

Converting the OST File
The OST file conversion process is a rather long process that strictly depends on the source file size and the PC overall performance. In our scenario (Intel i3 with SSD drive, 5GB, with 56K messages between inbox and outbox) it took roughly 30 minutes, which is approximately 6 minutes per GB.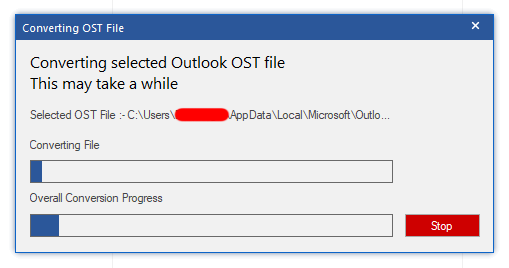 After the conversion task is complete, the software starts a subsequent step - converting Mails of Folders - which uses a GUI interface allowing us to see what happens in real-time: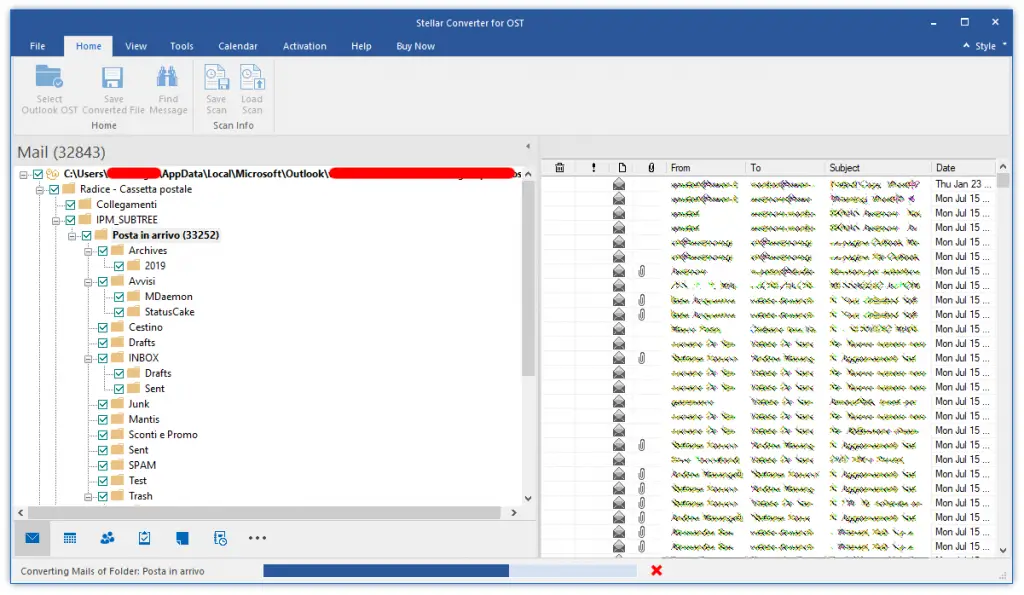 Post-conversion features
The above task took 15-20 minutes: right after that, we were able to perform the following actions:
Save Converted File (in .PST format)
Find Message (a search-like task within the OST contents)
Save Scan (saving the current scan)
Load Scan (load a previously saved scan)
We found the Find Message feature to be very good: messages can be searched through the whole OST using useful criteria such as To, From, Subject and Date: unfortunately, there is no way to search within the mail Body, which would've been great.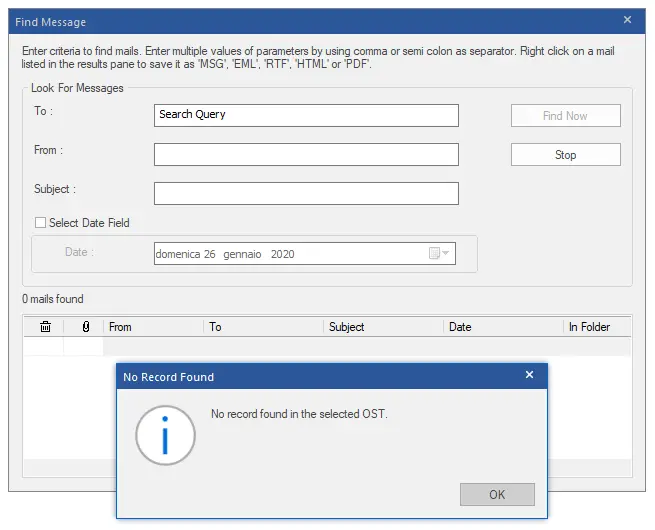 Saving the PST file
Right after that, we clicked the Save Converted File button, which brought out the following modal window:
As we can see from the screenshot above, we could save our messages in a number of different formats: PST, MSG, EML, RTF, HTML or PDF.
We chose to save our scan result to PST, which triggered the last task: a full export of all the e-mail message found inside the OST file.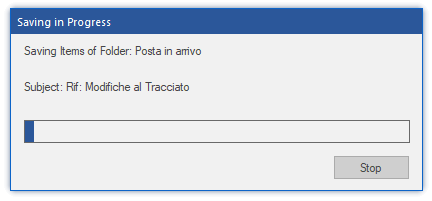 That last task took 20-25 additional minutes: right after that, we were able to import the PST file into Outlook with no issues.
To perform the "PST import to Outlook" task, we followed
this tutorial
  from the official Office Support website.
Software Download
Stellar Converter for OST can be downloaded from the official site at the following URLs:
The demo version enables you to preview the converted file and save 20 items per folder.
Other Downloads
Conclusion
We tested Stellar Converter for OST against a single MS Outlook OST file containing roughly 5GB of e-mail messages from a MS Exchange Online account and it successfully performed the task of converting them out to PST in less than 60 minutes with flawless results: all in all we were very happy of what we've seen and can't but recommend it to anyone - from MS Outlook users to System Administrators - who needs to perform these kind of conversions.