There are hundreds of internet hosting service providers in 2020. All claim to provide the best speed, storage, hardware, and service. However, very few of them are able to uphold this claim. It requires a great deal of knowledge, skills, and experience to start and run an internet hosting service. This article is about one such service provider that has been steadily strengthening its position in the industry.
Severspace is a European company that offers services like cloud, VPS/VDS, SSL, and DNS. It has been operating for several years, but it only started making headlines when it took to the global market. One can tell seeing its online presence that the tenure of Serverspace in Europe has by far been a huge success. It has multiple data centers in different cities, including Amsterdam and New Jersey, where it claims to have strict physical and network security.
One can't deny that the industry of internet hosting is a tough one. There are monopolies like GoDaddy and HostGator with an infinite marketing budget that make it difficult to survive for other businesses. However, Serverspace has a plan and its own Unique Selling Points that you will notice as soon as you visit its website serverspace.io to see its VPS services.
Pricing
First, it provides the option to choose any operating system with the latest updates. But, that's not unique. Every other company offers this. However, not many allow its clients to choose the location of the data center. Furthermore, the packages they have created meet exact requirements of all types of users and at extremely affordable rates. Nowhere else you would find 1 CPU core, 1 GB RAM and 25 GB SSD space for just €4 per month. It also offers bonus credits of 10%, 20%, and 25% if you make an advance payment of €100 or more. You also get a trial period with a money-back guarantee if you are not satisfied with the services.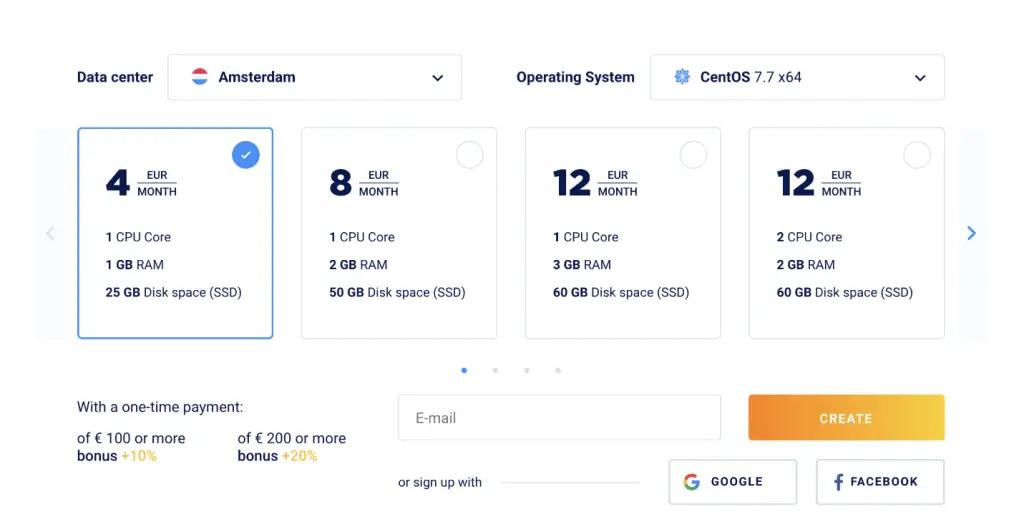 OS and Networking
Serverspace offers one of any five operating systems pre-installed for a virtual server: Windows, Ubuntu, CentOS, Debian, and FreeBSD. Each server gets one IPv4 address with 100 Mbps uninterrupted internet. Furthermore, its process is so simple and user-friendly that you can create a server in just one minute. Server locations are protected from all types of threats with many power backups and cooling systems to ensure you get a seamless connection.
Powered by vStack
All servers at Serverspace are powered by vStack, which is a great plus point to its service. First of all, it means that it can't share a server with more users than specified by vStack to ensure fast service. This is a point that really gives it an edge over big companies like HostGator that have way more users than their resources. In case there is ever an accident, its servers would automatically restart ensuring high availability. It uses the latest Intel Xeon Scalable v2 CPU for extraordinary performance, and it allows the user to increase or decrease the resources as per their usage.