Every business possesses different goals. The ultimate aim of any business is to earn profits and achieve ROI. Your chances to expand business virtually are infinite. SEO is the ultimate way to attract loyal customers to your business. It will provide you a steady flow of traffic for the years to come, unlike paid advertisements. Anyone owning a blog or site must possess all the knowledge regarding SEO in order to achieve better user traffic and rank higher among the competitors. Below is some good advice on how to improve your position on a search engine. 
SEO is a complex field, but there are certain things to put in mind to get started with it. Here are some useful and down-to-earth tips you must acknowledge before trying your hands on SEO.
Nature of Search Engine
The search engines every time change their approach towards ranking in order to put quality sites on top. Each search engine obeys its own rules and formula while ranking the sites. Search engine is no more a novice, it knows all the tricks in use and develop ways to filter them. They are intelligent enough to detect spam and maintain a separate 'black list' for it.
HINT: Search engines never rank a website, rather they rank a web page.
Nature of Google (in particular)
Over the past few years, Google has brought immense changes into its algorithm. It always thrives to get fresh and quality content and terminate all the unjustified SEO approaches. In brief, Google always changes its rules of games. So, better be updated with the new changes and alter the game-plan accordingly.
Look out for People's Interest
Raising the level of interest of your prospects is the key to enhancing business. Your website must be a platform which lets people self-select and learn what they want. It must engage people to explore what is on their minds and get the information they are seeking. By the time a prospect leaves the website, he must be in a state to come back to the site and make a purchase.
HINT: Researching the people's interest is the vital step in obtaining the idea of the content you must provide on your site. If you are well-aware with the audience thoughts, you can easily replicate them on your page.
Know "Your" Keywords
Keyword research is the primary part of SEO. Perform an extensive keyword search to find out what people are looking for. Make a note of the long-tail keywords and phrases related to your niche of audience. Long-tail keywords definitely hold much higher chance than general keywords.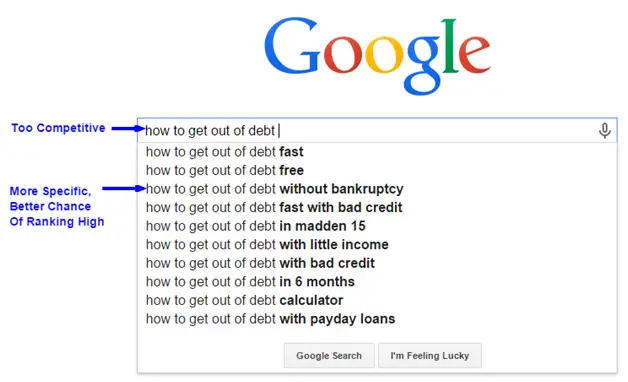 High-Quality Content
Once you obtain a viable list of keywords, it's time to compose high - quality article as Google penalizes low-quality content.
Every day millions of blog posts are created. But do you know which content gets ranked? SEO experts are well-aware of the importance of high-quality content which earns authentic links and win the best SEO practices.
An absolute high-quality content must be:
More than 1000 words

Original and useful information

Avoid stuffing the keywords

Indulge audience by adding several original media

Natural Keyword placement in title and subheading.
Content can be text-based, visual-based, or even audio-based. Whatever may be the medium of content, search engines always strive to deliver high-quality, fresh and valuable content. If your content serves all the above attributes, then you are on-the-go.
Earn your Linkbacks
It is always preferable to earn links & linkbacks rather than buying them, as paid links are least counted. Search engines are highly strict in stopping unnatural link building via anchor texts. On the other hand, if others think your product is useful and write about it linking to your site, it is considered as natural earned link. And these are the links that count the most today.
Social Media
There is a growing importance of social media on search engine rankings. Sharing content on social media like Facebook, Twitter, LinkedIn has definite SEO advantages and are much easier for search engines to index.
Create a strategy
If you are not interested and excited about what you are doing with your site, neither will your audience. So, it is advisable to prepare a week-long strategy and follow it religiously. Who says people are least interested when you follow a well-planned strategy? Well-defined SEO strategy generates impeccable leads. Set up the goals and monitor them periodically. Well-strategized SEO will make you earn lot more with a lot less.
Traffic Conversion
Organic links will give you the best possible results. Traffic alone doesn't increase sales, it takes engaged, and interested traffic to generate earnings. It is important to make sure that the qualified traffic on your site gets converted. Conversion means the site visitors becoming into successful customers.
Page Ranks
Well, after the long work done, you must now be in a position to check your performance. Google PageRank were a good way to measure up how your website was going... until they choose to have it discontinued few years ago. Today, you can use free rank measurement tools such as Alexa SiteInfo and VisitRank and/or paid services such as SimilarWeb and RankTracker to get an idea of your page rankings for a particular search term. You can analyze your standings and make improvements in the related field.
Conclusion
The best way to win SEO is to add value to your customers. All this propaganda might take a bit time, but if executed correctly, you would see an impeccable increase in sales in no time. Unification of all the above elements brings a rising effect in rankings. It takes time and effort to reach the most valuable spot on a search engine. But remember, SEO is a long-term strategy.
Now that you are aware of all the good things to be done. It is high time to evaluate where you stand and plan an approach towards it. Good Luck!