We all know that Redmond loves to know more about us: Windows 10 makes no exceptions here, introducing a revamped user data gathering framework which isn't exactly ideal for everyone. The reasons given are, as always in these scenarios, greatly altruistic, we would say almost noble: collected data will be used to grant each user with an unique and finely tailored Windows experience: on top of that, their registered behaviour will be also used to improve the future iterations of Windows. Pretty neat, isn't it? If you're happy with that, you don't need to do anything: if you would like to opt-out, you might as well keep reading and learn how you can get rid of it.
To be honest, we ough to say that Windows 10 is shipped with a native interface to limit or deactivate most of its tracking features: you can activate it via Start > Settings > Privacy , accessing to a comprehensive configuration panel from which you can turn off a wide number of things - as long as you didn't do that during the install phase. If you want even more control, you can grab a handy open-source application allowing you to shut down these same options, togheter with other pretty interesting stuff: it goes by the name of Disable Windows 10 Tracking and you can get it from GitHub.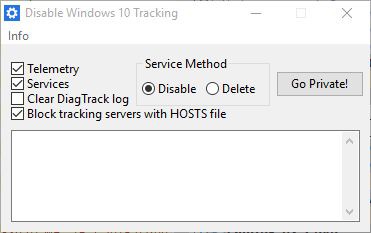 It's worth noticing that even the author, Syed Qazi, clearly says that the Windows 10 privacy issues are not so terrible as it might seem by reading most of the web post which have been spreading out these days. On the other hand, no one can force you to share your personal behaviours, system usage and/or navigation data with anyone - including Microsoft: hence the reasons behind his piece of software.
That said, my suggestion is to install the tool and deactivate everything you feel you would like to keep to yourself. Trust is a good thing, but these days you never know.