Do you know how vulnerable you really are? If you were to ask an individual who was robbed, whether or not they were surprised when it happened, I assure you they would reply with a resounding yes. The thief always approaches when the victim least expects. But even when you're somewhat awake to your responsibilities, that doesn't stop you from making those little mistakes, which malicious souls can eventually exploit.
When it comes to security, both money and privacy are easily the two most important aspects of it. We as people all want to ensure our finances, identities and privacies are protected. No one wants their finances to be stolen from them, for their bank accounts to be raided.
That's why I put together this article, which covers the most common security mistakes that computer users make. Neglecting to carry out any of the measures suggested in this article, will put your system in a vulnerable state for someone to infect it with a virus, steal your data or even worse.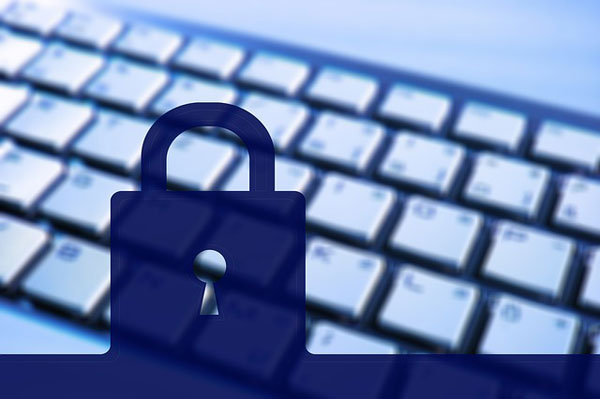 1. Update Your Security Software
This is probably one of the more common security tips out there. You need to ensure that your security software is kept up-to-date. Yet, despite how widespread this advice is, many people still ignore it. If you're reading this article and don't have any security software installed on your computer, then I suggest you go out there and get something right now. There are many FREE solutions, like AVG Free or Avast that you may want to consider.
But having this software on your computer is not enough; you must also ensure it is kept up-to-date – not just the program, but also its virus definitions. Most of these programs will automatically update themselves, providing the option is enabled. Ensuring they are always up-to-date will ensure your computer is protected from all the latest virus threats.
2. Update your Software (and OS)
System vulnerability lies in end users keeping out-dated versions of programs on their system. Even if you have the latest PDF reader or Flash player, it's important to know that older versions of these programs are not always overwritten, which means they can linger on your system for quite some time. Keeping these older versions of the same application on your computer can leave your computer vulnerable to computer hackers.
3. Avoid Click-Baits
There are always those users who can't help but double-click on everything. Whether it's a file attachment in an email, music of video file, such users are prone to clicking on anything, which naturally increases the chances of that somebody clicking on something they shouldn't, such as a virus.
4. Install Firewall and Antivirus
There are many people that don't use antivirus software on their computers. There are even more people that don't use a firewall. Do you need both? The answer is yes, you need both an antivirus tool and firewall program running on your computer at all times. These two programs are designed to fulfil two different purposes.
The firewall functions like an impenetrable wall, while the antivirus software is designed to zap viruses. The firewall will keep unwanted intruders out. However, there will be some holes in that wall from time to time that hackers will exploit. It's during these times when the antivirus software comes in handy, as it will locate and remove the virus files.
So the firewall will keep out those computer hackers that look to exploit your system. However, when a malicious file makes its way onto your computer, it's the responsibility of the antivirus software to locate and remove these files.
5. Beware of Shortlinks
Shortened URL services have increased with the increasing popularity of social media platforms like Twitter and Facebook. These shortened URLs are ideal for concealing the true destination of a link. However, it can also be used by criminal elements to hide the true nature of their malicious links.
6. Backup your System and Data
Another common mistake that many end users make is by backing their systems up too infrequently. Many people think one backup every month or year is sufficient. But the reality is that it is not, it's important that you consider backing your system up, daily, if possible, especially after creating an important file.
7. Use complex Passwords
It's a very common occurrence, primarily because computer users, especially new users have a tendency to forget their passwords. If you have difficulties remember your passwords, then you may want to consider writing down (and storing it in a VERY secure place) or you can use password manager software instead...
...or you could learn the following technique from the awesome xkcd web-comic (issue #936):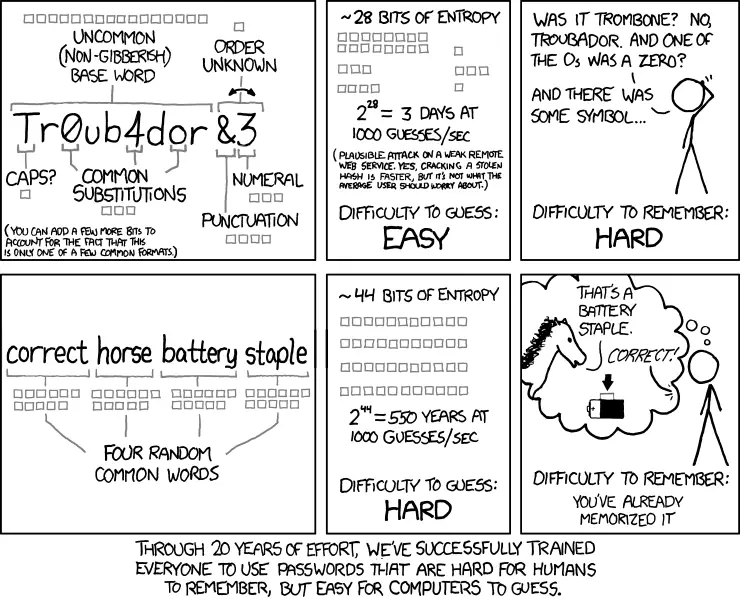 8. No downloads from insecure sources
Searching hastily while clicking on the first download link that you see, are bad habits that computer hackers look to exploit. It's very important that you ensure you are downloading a file from its official website or download mirror as computer hackers are always looking to take advantage of this, by creating fake download links to virus files.