Google search algorithm is like the Pyramid of Giza: intriguing, massive, sophisticated and everybody wants to know how it works. With more than 200 search engine ranking signals it remains complex even for the seasoned marketers. Above all, there are the frequent updates that Google rolls out to keep its search results top-notch.
2017 had its own share of new algorithm updates that sent ripples amidst the marketing community. We expect quite a lot in 2018 too. To help you stay on top of your Search Engine Ranking, here are some SEO trends that you ought to expect and be prepared for.
1. SERP Features
SERP stands for Search Engine Results Pages. It is the only thing that every digital marketer aims to improve for the website or business they are working for. Over the past few years, SERP has transitioned considerably. From being links they have now taken the form of rich snippets that give users instant access to information before they click on the link.
This is how a featured SERP snippet looks like: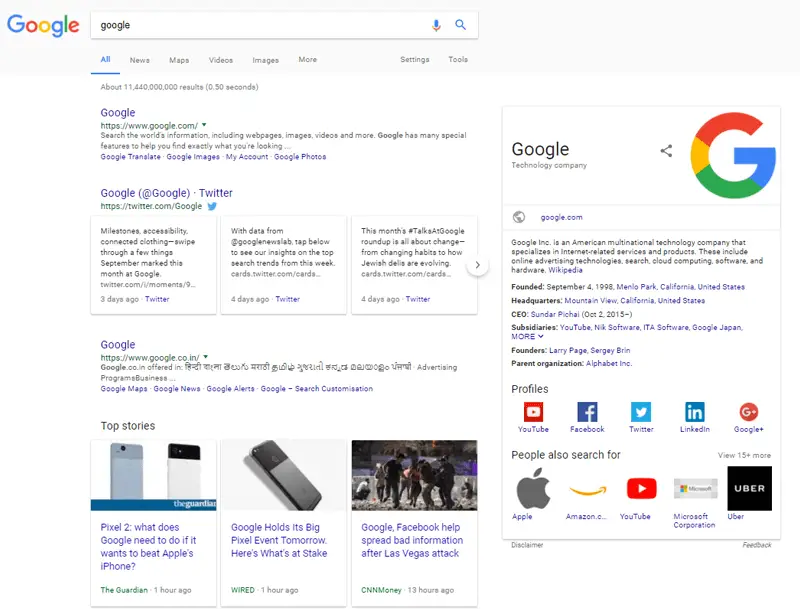 Google's featured SERP snippet is a surefire way to capture user attention and to win more click through and the probable conversion. As you can see, the SERP snippet caters to the user's information straight-away. They come as straightforward answers to the query being asked.
In 2018 SERP will drive more traffic and conversions than anything else. So take special measures to make your content friendly for SERP ranking.
2. Structured Data
Structured data is a way of organizing the HTML tags and content in the page so that it is easy for the search engine bot to read and understand content easily. For example, you use specific vocabulary to specify star rating, user reviews, price, stock left, and so on.
Rich snippets are of great benefit for eCommerce stores who want their products to be shown with maximum granular data as possible.
Needless to say, rich snippets enjoy a high rate of click throughs and conversion than other search results that get first page ranking.
3. Page Loading Speed
Time and yet again Google has been specifying on the need to make web pages load faster. Most users have followed the advice and have made their desktop version of websites load faster. But, Google has confirmed recently that mobile page loading speed a critical ranking factor.
This makes sense because more than 67% of web traffic today originates from mobile devices. And, there are technologies like Accelerated Mobile Pages that makes it possible to load mobile pages instantly without taking any loading time.
4. Content Relevance
Google has been working to improve the quality of results it provides since 2010. The search engine even rank into identity crisis when the Internet accused it of being party to spreading fake news through content farms. Google took immediate steps to banish fake news spreading publishers and also setup mechanisms to make the search result process more transparent.
One among them is the Knowledge-Based Trust system that was released as a paper by few Google engineers. The idea behind this system it ensure that the quality of results as given by Google is of remarkable and is relevant to what the user is searching for. In other words, the number of inbound links were not going to make a difference. So, by all means we can expect some kind of algorithm update from Google, similar to the Google Panda update released in 2011.
5. HTTPS Address Bar
As more and more businesses are getting connected to the Internet for carrying out business and to become an online presence, there is a need to ensure web security. Google, WordPress and almost rest of the world have already taken positive steps in this direction.
HTTPS everywhere is one such measure that is intended to make online transactions of users safe and secure. Google had already started flagging off Non-HTTPS websites as insecure. In the coming days expect some sterner action for these websites which do not have an SSL certificate set up. To avoid serious loss from data breach and vulnerability, a webmaster must install SSL certificate on his server. An SSL certificate will secure all the information traveled between user browser and server through an encrypted channel. HTTPS address bar would become a important ranking signal that will impact the SEO ranking in a big way. To do so, there are a number of cheap alternatives available nowadays: SSL resellers such as Cheap SSL Shop and ComodoSSLStore, or SSL authorities/brands like RapidSSL, Thawte, GeoTrust, GlobalSign, Comodo, Symantec (VeriSign), GoDaddy & more; you can even opt-in for costly-free solutions - if you can stand their non-trivial implementation process - such as LetsEncrypt. Theoretically, you could also think about creating and configuring your very own self-signed SSL certificate, but we strongly suggest you to avoid doing that as the red browser bar would instantly kill your SEO ratings.
6. Voice Search will Become Mainstream
The next evolution in online search is half way through. It is the form of voice searches. Virtual personal assistants like Alexa, Google Assistant, Microsoft Cortana, Siri, etc. are listening to their owners, taking voice commands to play a music, order something online or even run an online search.
Marketers should find a way to tap into this growing phenomenon so that they are able to reach 41% of the US adults who use voice searches (source: Forbes). Voice search would give more importance to structured data with rich snippets. So it is better that you start putting your data in order right away.
7. Manipulative Guest posting Could Be Penalized
Google had already warned webmasters that using article marketing as a means for link-building is a violation of its guidelines. To make things formal, there is a liability that Google would release an algorithm update that will penalize manipulative guest posting for link-building.
Conclusion
Google's SEO algorithm is going to keep on changing as and when new technologies and user preferences emerge. These are some of the trends which we hope would become mainstream in the coming days of 2018. From algorithm updates to new guidelines for penalizing there is quite a lot that is expected to happen.