Time to make your life more organized?
Instead of pushing tasks into your head in a chaotic manner, try to take things under control and organize all of them into one calendar. It'll become a single source of truth for all your to-dos, meetings, and other plans, so you'll never miss anything important and manage to do a lot more than you do now.
Luckily, there is a great number of various options to fit every taste: from typical calendars to task lists, from personal planners to more collaborative ones. All of them may bring much value and help you plan things without a hitch. In this article, we're gonna share the top 5 best planning calendar apps. Check out our insights below and choose the tool that works the right way for you to plan your calendar online.
Planyway
Planyway calendar is a versatile tool that works equally well for both personal and team planning. You can easily switch between daily, weekly, monthly views and plan things not only on the calendar but on a task list as well. Planyway syncs with Trello which lets you manage your work-related tasks and personal ones with a single app. Also, you can set up the integration with any other calendar: Google, Outlook, Apple, etc. to visualize all planning in one place. Once your Google Calendar is integrated, you can even send meeting invitations to anyone by email. If you'd like to go further and bring your team on board to manage workload and projects, there's plenty of awesome functionality for collaborative work including timeline visualization.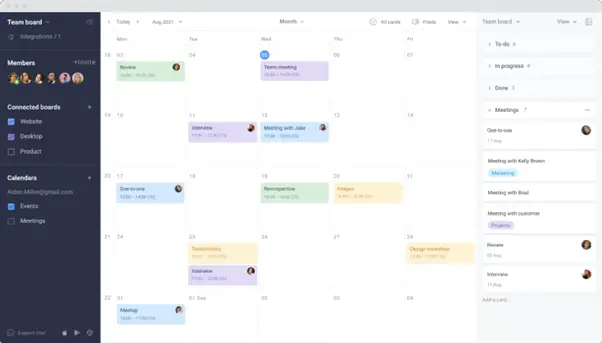 Key features:
Recurrent events
Shared calendars
Filters
Priorities
Subtasks
Meeting scheduling
Timeline view
Google Calendar
Google Calendar is a classic. It's very intuitive and lets you schedule appointments with a click. The app makes it possible to share your calendar with other people as well as visualize their schedules along with yours. Except for evident personal calendar functionality, there're also some advanced options for scheduling team meetings based on availability. Even though it lacks flexibility and mainly focuses on very basic needs, it can be a great start for you.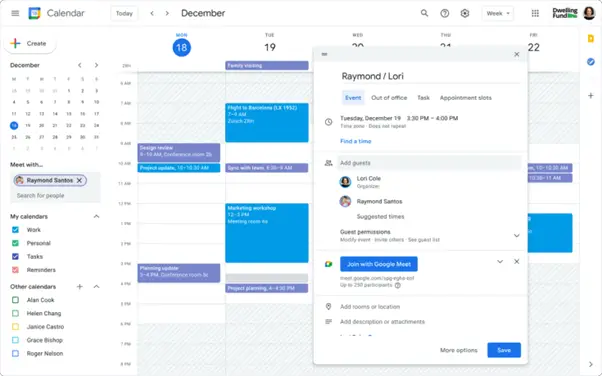 Let's dive into its best features:
GSuite integrations
Shared calendars
Side by side view
Suggested time
Embedded calendar
Calendar
If you're looking for a way to understand where the time goes, Calendar.com is the right choice for you. Thanks to the dashboards, you can analyze the schedule, see what you spend time on and manage it more wisely. It also has advantages in terms of meeting scheduling like sharing your availability with others as a customized personal scheduling link.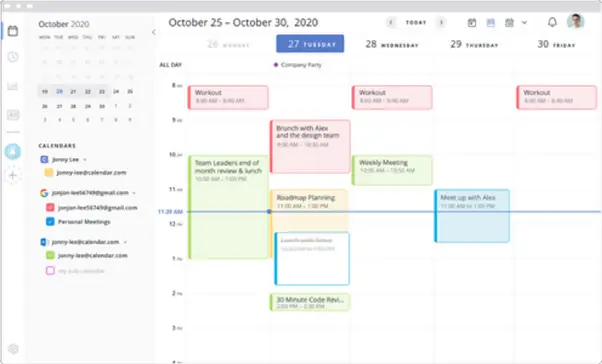 Key features:
Find a time
Calendar analytics
Availability link
Timezone adjustment
Plan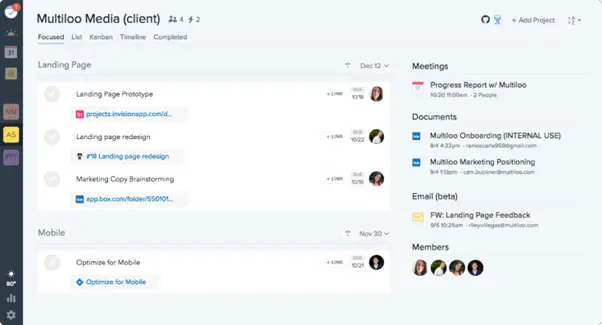 Plan is good for those who have to use lots of other tools like email, Salesforce, Zendesk, Jira, and Github as it can sync with all of them to reduce the time you spend when switching between apps. For personal use, Plan might seem too complicated but it can work really well if you need to coordinate tasks among team members. As extra features, they provide users with task lists and timelines as well.
They're good at:
Multiple integrations
Shared calendars
Workspaces
Timeline
Any.do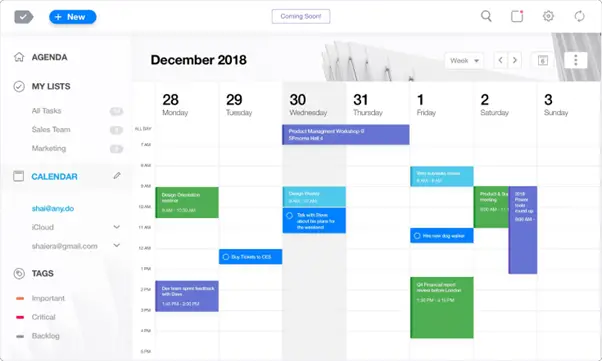 Any.do can become your loyal assistant for keeping meetings and appointments in order. It's famous for its mobile version which has an easy-to-use interface. The app lets you control events and to-do lists in a single view. Any.do may send reminders before the event including WhatsApp and location reminders, so you will always stay tuned.
Try out:
Homescreen widget
Reminders
Color Tags
Customized Themes
Conclusion
There are various calendar apps, so choosing one is not the easiest decision. Think of your goals and needs beforehand and find the best match when browsing through the feature lists. All of the apps above are free online calendar planners. Some of them have paid plans that can be tested properly before commitment during a 14-day trial. After moving planning from the head and a piece of paper to a digital calendar, the result will not be long in coming. It'll let you get more done while feeling less stressed and overwhelmed. Less juggling, more living!