Who doesn't know PDF files nowadays? Practically no one, given that this lucky file format has been among the main protagonists of the worldwide digitization process of the last 20 years. As a matter of fact, PDF files - or Portable Document Format files - are one of the most common file formats in use today: they are used to share documents, create presentations, and even store electronic signatures.
The PDF standard has established itself over its "competitors" for a number of significative advantages, such as:
Portability. PDF files can be opened on any device with a PDF reader, regardless of the operating system or software.
Security. PDF files can be password-protected to prevent unauthorized access.
Scalability. PDF files can be resized to fit any screen, without losing their formatting.
Accessibility

. PDF files can be made accessible to people with disabilities.
Nowadays PDF files can be created with ease thanks to the fact that the format is natively supported by most word processors (such as Microsoft Word): all we need to do is to select the PDF output format within the typical "Save As" window and let the software create the PDF file for us. Once created, a PDF file can be opened and read using several available software tools, such as Adobe Acrobat Reader, that can be downloaded for free.
However, what if we want to modify an existing PDF file? That's not as easy (and free) as opening it: more specifically, we need a dedicated software tool that is able to do that. The most popular is Adobe Acrobat, the "professional" version of Adobe Acrobat Reader, which allows not only to view, yet also to create, manipulate, print, and manage PDF files. However, Adobe Acrobat is not free like its younger brother: as a matter of fact, it costs quite a lot of money.
Fortunately, there are many other cheaper alternatives that provide roughly the same functionality as Adobe Acrobat, but at a fraction of the cost. In this article, we will talk about one of them: SwifDoo PDF, a powerful and easy-to-use PDF editor that offers a wide range of features for managing PDF files.
Introduction
SwifDoo PDF is a versatile and powerful PDF editor that is suitable for both home and business users. It is easy to use and offers a wide range of features, making it a great choice for anyone who needs to manage PDF files.
Some of the key features of SwifDoo PDF include:
PDF editing. SwifDoo PDF allows you to edit PDF files in a variety of ways, including adding and editing text, images, and shapes; changing fonts, colors, and layouts; and merging and splitting PDFs.
PDF conversion. SwifDoo PDF can convert PDF files to a variety of other formats, including Word, Excel, PowerPoint, TXT, HTML, and images.
PDF protection. SwifDoo PDF allows you to protect PDF files with passwords, digital signatures, and watermarks.
PDF annotation. SwifDoo PDF allows you to annotate PDF files with comments, highlights, and sticky notes.
PDF creation. SwifDoo PDF can be used to create new PDF documents from scratch or from other file formats.
Let's see each of these features in detail.
Download
Downloading and installing the product is quite easy: we just need to point our browser to the SwifDoo PDF official website, locate the Free Download button and click on it to get the free evaluation version, which is perfect for properly testing all the main features of the product.

Alternatively, if we don't need to try it, we can click the Buy Now button and purchase it (see the Plans & Pricing section below for details).
Installation
Once downloaded, we just need to click on the installer executable to start the installation process, which is quite straightforward. At the end of the process, we'll be greeted by a modal window telling us that the installation has been successful.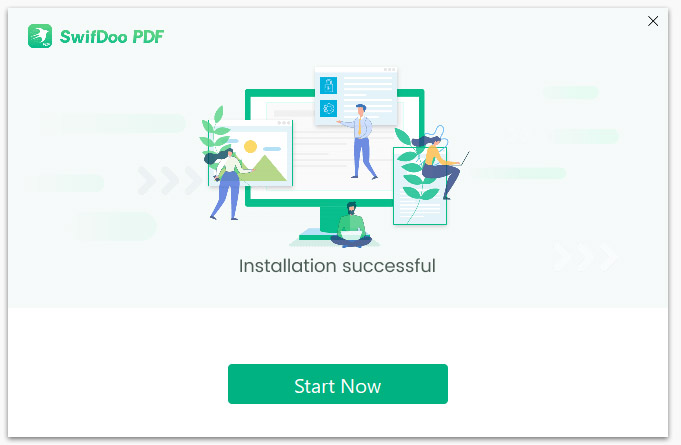 Now we can click the Start Now button to launch the tool, which will automatically load a built-in PDF document: the SwifDoo PDF User Guide!
SwifDoo PDF User Guide
If we are using the trial edition, the first time we launch SwifDoo PDF we will see a popup alert telling us when the trial will expire and how to get rid of that countdown - which is, purchasing the product's full version by choosing one of the available plans.
As we can see by looking at the screenshot below, the trial edition can be used for 15 days: more than enough to thoroughly test the product!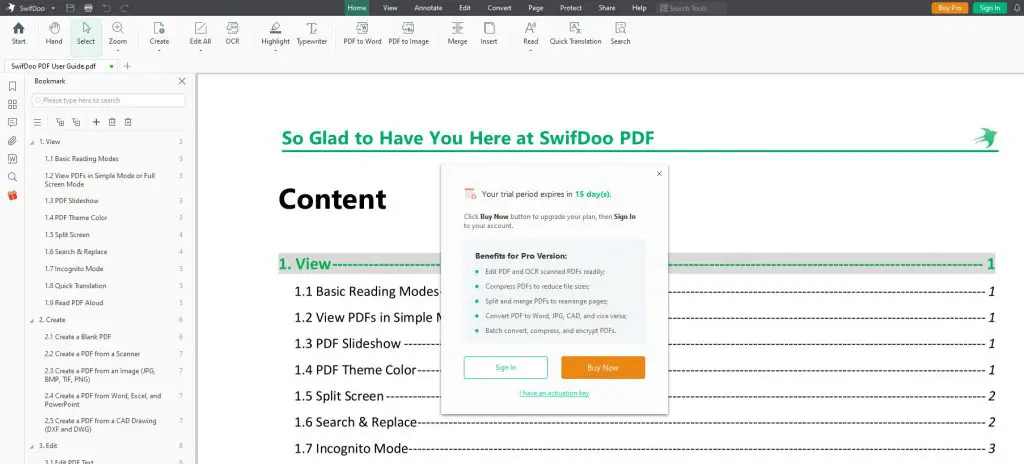 After closing the alert, we'll be able to look at the SwifDoo PDF User Guide, which explains basically everything we can do with the product.
Main Features
The tool's available features are grouped into several sections: View, Create, Edit, Annotate, Convert, Protect, and so on.
Most of these sections are also available as a selection tab on the top menu, meaning that we can browse them and access their features with a single click of the mouse: that's a very convenient UI approach, which is also quite similar to what Microsoft did with their MS Office apps such as Word and Excel.
Let's now take a look at the features provided by each of these sections.
View
The View section allows us to access the view-related features: we can select the PDF file(s) we want to open and then access their content in various ways, just like we do with Adobe Acrobat Reader.

However, there are also a lot of useful navigation features, such as: select, snapshot, split screen, slideshow, rules, real-time translation, word count, search, reverse view, many of which are not present - or not as powerful - in the Adobe tool.
Annotate
The Annotate section allows us to add comments and notes, as well as highlight the PDF content. This can be useful if we are reviewing a document and we want to highlight something and/or add our personal annotations to it.

There is even an attachment feature that can be used to attach files to the document, which can be very useful if we want to add screenshots, external docs, or any other third-party file.
Edit
The Edit section allows us to insert text, images, and hyperlinks within the PDF content, as well as performing operations like cropping, splitting, deskew, add/remove the background, and the likes.

There are also some handy advanced features like deskew, OCR and TOC extraction, and compress - most of them unavailable even in Adobe Acrobat Pro.
Convert
The Convert section allows us to convert a source PDF file to several available formats, such as: Word, Excel, PowerPoint, Image, plain text, HTML.

As we can see, we can also do the opposite - convert several formats to PDF files, such as: images, office documents, EPUB, HTML, and text files.
The convert feature can be triggered manually (1 file at a time) or using a batch process, which will allow us to convert several files recursively: that's a great feature if you have a lot of files to convert from (or to) PDF!
Protect
Last but not least, let's take a look at the Protect section, which allow us to encrypt/decrypt the PDF file, as well as adding a signature and/or a watermark, and so on.

There's also a nice "flatten" feature, that - when executed - will convert the pages of the PDF file to images, so text can't be copied or modified directly.
Plans & Pricing
Other than the free edition, SwifDoo PDF can be purchased by subscribing to one of the following available plans:
Monthly Plan. $20/Month
Quarterly Plan. $16/Month
2-Year Plan. $3.3/Month
Perpetual license (1 PC). $103.2
All the plans/licenses offer access to all SwifDoo PDF features and free upgrade service and tech support for the whole duration of the plan. Furthermore, all the plans/licenses are valid for 1 device/PC only, except for the 2-Year plan that can be activated on up to 2 different devices.
How-to guides
A great thing about SwifDoo PDF is the amount of learning resources available to understand how it works: in addition to the PDF guide we talked about earlier, the official website is full of useful tutorials explaining how the various features work, from the simplest to the most complex.
Here are some examples:
Conclusion
SwifDoo PDF is an outstanding PDF solution that caters to both casual users and professionals alike. Its user-friendly interface, advanced editing capabilities, efficient conversion tools, robust security features, and cloud integration make it a top-notch choice for managing PDFs.
All in all, we highly recommend SwifDoo PDF to anyone seeking a comprehensive and reliable PDF tool: if you need to edit PDF files, this tool is worth every penny - even if you could afford Adobe Acrobat Pro or other more expensive alternatives, you might as well give it a try!