Today we'll review Remo Recover, a full-featured data recovery solution for Windows and Mac PCs. These kinds of products can be a life-saver for most users who don't back up their data on regular basis and therefore are used to work with single copies of their data files... which is among the worst possible things to do nowadays! Even though modern storage devices (SSD, USB pen drives and the likes) are definitely more reliable than before, there are still tons of possible threats that can easily compromise the integrity of our beloved files, such as:
Accidental deletes, formats or other disk-based operations.
Storage device corruption or permanent damages due to logical or physical failures.
Viruses, malware/ransomware, and other malicious threats.
... and so on. Such scenarios are those where software tools such as Remo Recover become handy, being able to recover single documents (photos, videos, documents, archives and so on), as well as whole partitions. It can be configured to search for specific file extensions and/or to look on a particular region of the storage device(s). It's simple and minimalistic design makes it good even for non-tech users, and comes in two separate builds for Mac and Windows PC.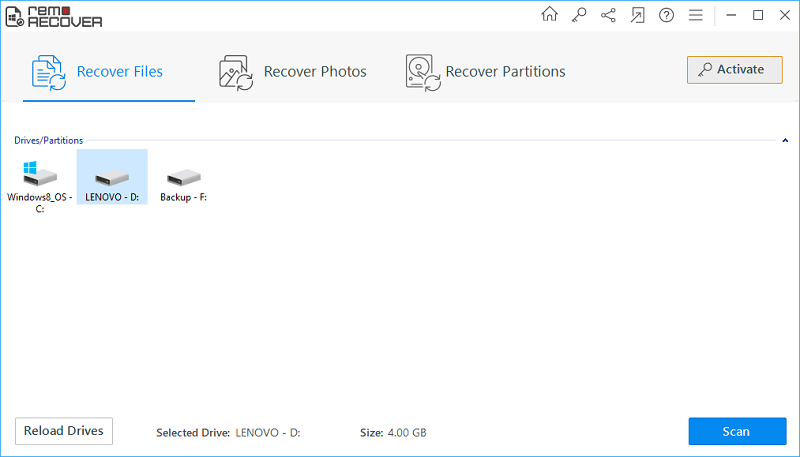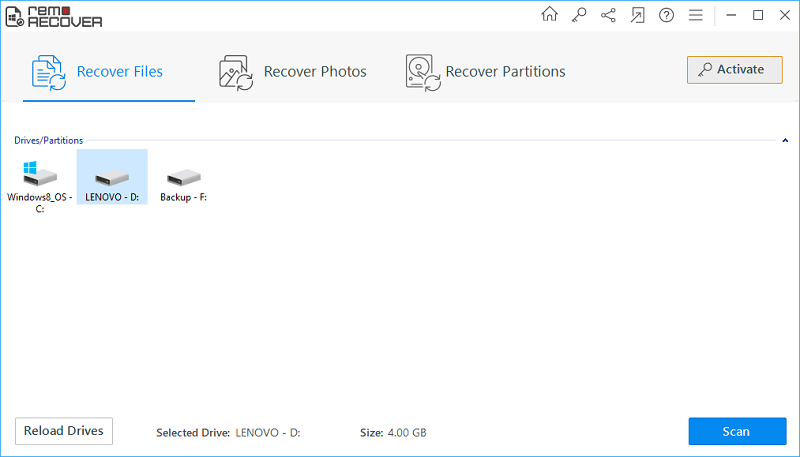 Demo Version
The first thing we look at while doing a review is the demo version. Luckily enough, Remo Recover actually has one, even though you can only use it to scan what it can be recovered: to actually recover those files you'll need to buy a license, which -luckily enough - is quite cheap. Despite its limitations, the Demo Version is still very useful to properly test the product and see if it can suit your needs.
To download the demo version, click here.
Editions and Pricing
Let alone the Demo Version, which basically acts as a read-only scan, Remo Recover comes in three editions for three different ranges of features and prices:
Basic Edition, $39.97
Media Edition, $49.97
Pro Edition, $99.97
Basic Edition
The Basic Edition is useful for Recovery of all type of files which are deleted or lost. As expected by these kinds of products, the Basic Edition will also allow the demo mode usage of all the advanced features specific for the (Media and Pro editions: this allows the user to seamlessly upgrade the tool in case a need for more advance recovery arises. Here's a list of Basic Edition features:
Deleted file recovery, even after using "Shift+Del"
Recover files emptied from recycle bin
Choose and recover a variety of files using Raw search
Media Edition
Performs all that the Basic Edition does and adds enhanced support to recover Media (Photo, Video, and Audio) file types including RAW photos taken from digital cameras. Some of the Media Edition unique features include:
Recover professional RAW Photo files
Recover photos, videos and music files
Create disk images to skip bad sectors
Recover data from disk images created using Remo Recover
Pro Edition
It performs all that the Media Edition does and adds enhanced support for recovering lost data from accidentally formatted partitions, lost/missing partitions or when a partition is corrupt or deleted. Some of the Pro Edition unique features include:
Recover data after Windows Re-Installation
Add new file types for recovery using Raw Signature Search
Recover data from accidentally formatted, re-formatted partitions
Recover data from lost/deleted partitions (see recover partition for details)
Recover data from re-partitioned drives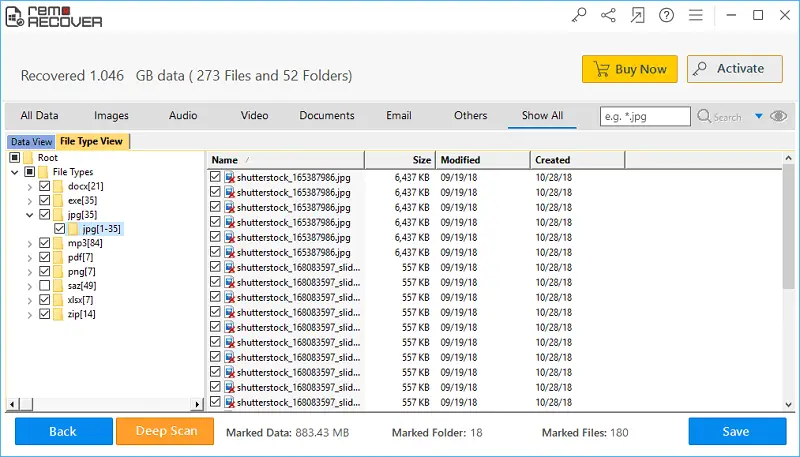 When you would want to use it
Here's a list of some typical scenarios, user actions or external threats that could lead to data loss.
Accidental file deletion or data loss
Shift + Del on Windows or Cmd + Del on Mac
Files getting erased while moving from one storage device to another
Emptying Recycle Bin or Trash without having a backup
Other related scenarios
Formatting of storage devices
Accidental formatting of SD card on camera or phone
Facing errors like "Drive is not formatted, would you like to format it now?"
Disk initialization error when camera SD card is just inserted
Quick formatting of hard drive
Full formatting of storage device
Improper handling
Reset device to factory setting
Camera getting turned off while write process is being carried out
Using the same storage device in multiple computers
Improper ejecting of HDD or removing the SD card while the camera is still on
Improper partition or facing partition errors
Other scenarios
Computer virus or malware causing file deletion
Unexpected power off or abrupt system termination
Reinstallation or upgrading the Windows / Mac operating system
Bad sectors, Hard drive crash, File System errors, the partition table is invalid, and other such errors.
Devices You Can Recover From
External Hard Drives: Seagate, Dell, Kingston, Western Digital, IBM, Buffalo, LaCie, HP, Maxtor, Toshiba, iOmega, Sony, G-Tech, Hitachi, Transcend, Verbatim, and more.
Memory Cards: SD, CF, SDHC, SDXC, miniSD, microSD, XD, SmartMedia, MMC, and others.
Flash Drives: Pen Drives, USB Drives, Jump Drives, Gig Stick, Thumb Drive, Flash Stick, Memory Stick, PNY, etc.
Digital Cameras and Camcorders: Canon, GoPro, Kodak, Casio, Nikon, Sony, JVC, Fujifilm, Samsung, LG, Panasonic, Olympus, Pentax, HP, Ricoh, and all DSLR.
Computers and Devices: PC, iMac, Laptop, MacBook, Notepad, iPod, Smartphones, Drones, Server, and more.
Operating Systems: Windows, Mac, Android
System Requirements
Remo Recover for Windows supports all Windows desktop operating systems from Windows XP to Windows 10 (32 bit or 64 bit), as well as Windows Server 2003 and 2008 (32 bit or 64 bit).
Remo Recover for Mac supports all Mac operating systems since Mac OS X 10.5 and above, thus including Mavericks, Yosemite, El Capitan, Sierra, High Sierra.
It's strongly advisable to avoid downloading and/or installing the software - as well as saving the recovered data - on the same drive/partition from where you are recovering your lost data: such behaviour might result in permanent data loss. Also, an administrative account is required to install and use the software: please make sure that you are logged in as a System Administrator.
Hardware Requirements
Intel or AMD class processor with minimum 1.2 Ghz or higher
RAM – 512 MB (1 GB recommended).
Free disk space – Minimum of 50 MB (100 MB recommended) for software installation and enough free disk space to save recovered files.
Minimum of 1024 x 786 screen resolution for better usability.
A graphics adapter card with at least 64 MB of memory.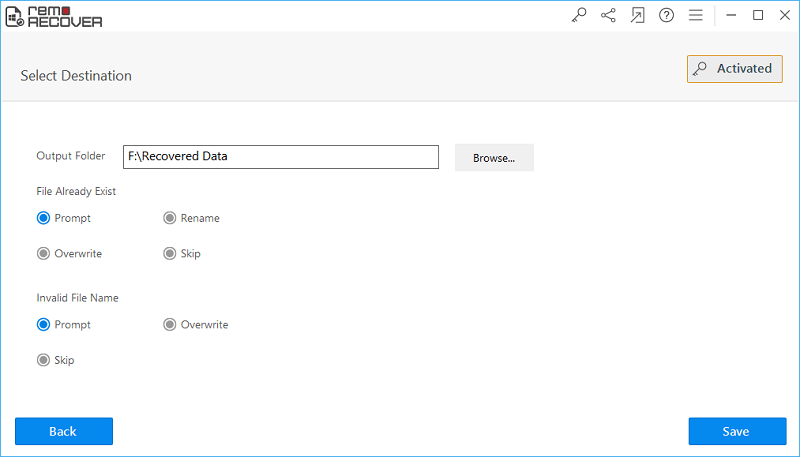 Conclusion
That's it, at least for now: all in all, we can say that Remo Recover is a solid data recovery software, with an easy-to-use interface and a lot of useful features - especially if you are willing to spend for the Pro Edition, which is definitely what you should be aiming for since it's the only one that can perform a more advanced data recovery (raw data, partitions, and so on).