If you've stumbled upon this post, it probably means that you're struggling against an old .BKF archive/backup file of some sort. As you might already know these are the files generated by NTBackup, a built-in backup application firstly introduced in Windows NT around 1997 and then shipped with all subsequent versions up to and including Windows 2000, Windows XP and Windows Server 2003. NTBackup, as most Microsoft-made tools developed in the '90s, is everything but flexible and user-friendly: it uses a proprietary backup format (BKF) to backup files, which can't be opened with third-party softwares - except for some commercial, costly alternatives who developed by companies who had to purchase the BKF license, such as BKF-Repair by SysTools and NTBackupExe.
For more informations about NTBackup, we strongly suggest reading the related Wikipedia page.
The Issue
In Windows Vista and later operating systems, NTBackup was replaced by Windows Backup and Restore, which uses the Virtual Hard Disk (VHD) file format, supports backup to modern media such as DVDs and image-based full system backups. Problem is, NTBackup.exe suddendly disappeared from the system, as well as any support for BKF files. Needless to say, no support is provided which is quite disappointing for users who had old data in the form of a .BKF file. Hooray, Microsoft!
Truth to be told, they did something to compensate the issue: if you have a Windows Vista, Windows Server 2008 or Windows 7, you can still use the NTBackup Restore utility, which can only read BKF files. That's great, isn't it? Except the fact that even this "new tool" doesn't work on Windows 8 and later! Hooooooray, Microsoft!
The Fix
Luckily enough, the guys at STSanford.com released NT5Backup.cab, an updated, portable build of the good old NTBackup tool that can be run from any Windows OS (including Windows 8 and Windows 10). You only have to unpack this zip package (also available through the STSanford.com official page) and execute it: it should work right off the bat, as long as you ensure that the vssapi.dll and ntmsapi.dll library files will be in the same folder where the NTBackup.exe  file is.
Once executed, the tool will prompt you with the following modal window, which you can safely ignore: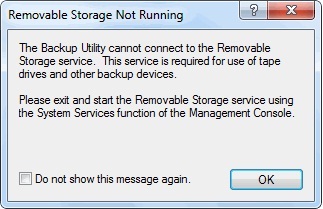 The fact that the Removable Storage service isn't running is perfectly normal, as it has been removed since Windows Vista. Not that you need that anyway, since it's only needed for tape backups. Check the "Do not show this message again", then click OK and go ahead.
We won't guide you further, as the rest of the software is easy enough to be self-explanatory: you just have to select the files and/or folders you want to recover, then follow the Wizard to have them restored on your local hard-drive.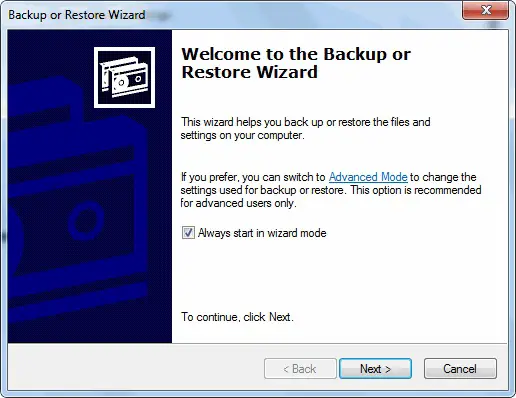 That's it for now: happy recovery!
EDIT: Thanks to this SuperUser answer we found an additional and effective alternative: you can use the open-source mdftar project to convert a MDF/BKF file to a TAR file, then you can open it with any standard program (WinZip, WinRAR, 7Zip and so on).