2020 has been a cumbersome year for many. The hit that many organizations have faced due to the global pandemic has had unbearable consequences.
With the obstacles came an additional responsibility and a huge opportunity for product owners to convert the scenario into a profitable and worthwhile consequence. Even though product analyst jobs were severely challenging and complex in the face of COVID-19, certain skillsets helped professionals in this domain quickly adapt to and sail through the ordeal smoothly.
With the year's challenges showing no signs of slowing down in the immediate future, we're here to ask the question: what are the key skills a product owner needs to develop to achieve success in 2020?
But before we dive into the skills, let us first understand what this all-important job entails.
An Overview Of A Product Owner's Primary Duties
The key job role of a product owner is to develop the product and to collaborate with stakeholders. Product owners should coordinate product development and maintain a focused contact with customers.
They must develop technological innovations and conceptualize new interfaces integrating innovative technologies in their work.
Effective product owners generate exceptional results because of focused vision and objectives. A project that is run without a product owner generally fails and results in delays and issues.
And especially in 2020, with a raging pandemic, product owners have been way more reasonable, adaptable, and efficient than anyone in that situation might be.
Now that we have a reasonable understanding of why product owners are so important let's move on to the list of skills that professionals in this field need to develop for greater success.
The Key Skillsets To Become A Successful Product Owner In 2020
Here's a list of the most important skill that you need to have - or acquire - if you want to become a successful product owner in 2020-2021.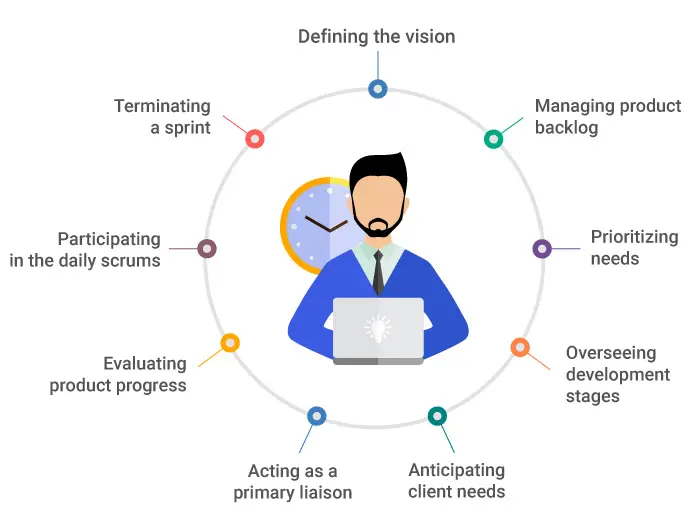 1. Being A Perfect Representative
The primary job of a product owner is to build a discrete team. It requires building utmost faith, transparency, and powerful authority as the title in itself holds enormous grandeur.
2. Immensely Knowledgeable About The Product
As many market uncertainties come down the pipe this year, product owners must know the minutest detail about the product and its scope in the market.
A product owner should be thorough in their research regarding customer acceptability, feedback, demand, and other trends so that the same can be percolated to the development team.
3. An Awesome Storyteller
Product owners are the middlemen and bridge the gap between the management and development teams to meet the company's objectives and expectations.
As a result, product owners are expected to be perfect in their style of exercising power and delegating responsibilities.
Moreover, they need engaging storytelling skills to produce impeccable product features to entertain and delight clients.
4. Extremely Empathetic And Communicative
Communication is the key to become a successful product owner, especially in 2020.
It is not only about voicing out your opinion to the development team. Product owners must also give support and guidance to your team members whenever required.
With mental health crises played down to near non-existence up until the pandemic, there's now a rising awareness regarding the topic among employees and organizations alike.
As such, empathy is the need of the hour in 2020. Product owners should be all ears for issues, opinions, judgments, and complaints of their team members and strive to minimize them.
5. A Great Conflict Resolver
Listening to your team's concerns is an indispensable quality in a product owner, but that hardly ever matters if you do not act on them.
Immediate action, a quick response, and an impactful resolution are the key skills that a great product owner should project in his work.
They also need to make sure that, in the process of resolving an issue, they should be empathetic towards all stakeholders, considering potential resources, and finally, protecting their team members.
6. Maintain A Great Balance Between Authority And Responsibility
The job of a product owner is quite glamorous because of the direct link with the top management.
At the same time, the expectations need to be drilled down to the development team, and the best output needs to be retrieved from them.
Miscommunication and failure to be a reliable point of contact between senior and junior employees can completely destroy the organization's workflow, especially amid the COVID-19 crisis.
7. Keep The Customer As The Priority
No doubt, top management is who the product owner reports to, but it's the client and their latent needs that they really should be concentrating on.
More than processing information, they should gather better forage into customer demands to make them happy takers of the final product.
Learning the often lost art of delighting customers is an essential job role of a product owner.
8. Undisputed Commitment
Product owners need to have their attention and focus on meeting organizational goals, vision, and team demands.
They need to take ownership and portray their commitment to the project at hand. But more importantly, product owners must cascade the same ethics to their team members.
9. Curiosity
There is nothing like extra knowledge, and learning never stops for product owners. The more inquisitive and interrogative they are, the better their insights and performance will be.
With a desire for knowledge, product owners will be more focused on what is expected of them and the development team. Resultantly, they will strive to get outstanding results.
10. Decision-Making
Product owners have a lot on their shoulders, but they should be ready to make instant and effective decisions with or without data without wasting any time.
11. Results Evaluation
The output is not only part of the journey, but it is also the end result of what the consumer gets, which makes it a vital aspect.
To maximize the value of the business and the product, evaluating results, and monitoring discrepancies is a vital skillset for product owners this year.
The Bottom Line
Focus and functionality are the key talents that hiring teams look for in employees applying for product owner jobs in 2020. In addition, product owners should be fun to work with, friendly, and open to having on and off work conversations with their peers and team members.
Above all, this job is all about making yourself available 24/7 to your team, which generates results amid COVID-19 and make your organization a highly successful one.