A few months ago we published a comprehensive review of iTop Data Recovery (a software tool to recover lost documents, photos, videos, and audio files), and iTop VPN (a cost-effective Virtual Private Network service for Windows, macOS, iOS, and Android).
Today we'll talk about a new tool by the same publisher: iTop Screen Recorder, which can be used to record our PC screen: from desktop apps to conference calls hosted using Zoom, Google Meets, or MS Teams, to streaming channels, as well as video, audio, PC games, and the likes.
Are we ready? Let's start!
Introduction
Before digging into the software, it could be wise to spend a couple of minutes introducing the concept of screencasting - a word that is precisely used to describe the software tools that allow recording activities on the computer screen. These tools are commonly used to record desktop programs - for example to create on-screen tutorials for training courses - but can be also used to record PC games (for gameplay videos), and/or to create raw pieces to assemble later on using video editing software tools.
The term screencast was coined in 2004 by an initiative of Jon Udell, which invited readers of his blog to propose names for the emerging genre. It is closely related to the term screenshot, which is used to describe single pictures of a computer screen. A screencast is essentially the same thing, except it's a video of something that happens on screen and changes over time instead of a single frame of it. It's also worth noting that, conversely to screenshots, a screencast can also have audio.
Screencasts can be very useful to demonstrate and teach the use of software features: almost all software tutorials that we can find on YouTube, for example, are basically screencasts of the software application showing how to access and use the features we want to learn. They are often used together with slideshow-based presentations, especially when using tools - such as MS PowerPoint - that can embed videos into their slides.
Many recent studies clearly demonstrate that videos are particularly suitable for explaining complex concepts, especially for the new generations, as they are easier to use than other types of content (text articles, podcasts, etc): screencasts allow students to move at their own pace since they can pause or review content anytime and anywhere. For this reason, video tutorials are also gaining ground in many educational contexts, and are often used in schools (high schools, universities, etc.) as an alternative or together with other more conventional types of lessons.
Feature List
Now that we have listed the benefits of screencasts, let's see how iTop Screen Recorder can help us to achieve them. Let's start with a brief overview of the main features it offers:
Screen Capture. The tool allows capturing any area of the PC screen with audio and webcam. This basically means that we will be able to capture & record Video Conferences, Movies, Music, Online Courses, and even Webcam streaming.
4K/1080p Resolution. The tool supports both Full HD and 4K video resolution, with no lag and - most importantly - no time limit.
Video Editor. An advanced, yet simple-to-use, video editor that can be used to post-produce the captured videos and create stunning presentations.
Low CPU usage. The tool performs its job using moderate hardware resources, meaning that we don't get other apps to lag or miss some steps while we are using it to record our screen.
Hardware Acceleration. Native hardware acceleration capabilities of NVIDIA, AMD, and Intel chips allow recording PC games without lagging, which is crucial to obtain smooth gameplay videos.
Easy to use. Thanks to its user-friendly dashboard, the tool can be used by anyone - including novice and inexperienced users - to easily record their desktop screen (or PC games) in a few clicks or by using the built-in hotkeys.
One-click Save & Share. The advanced social media features allow you to save and share high-quality video recordings instantly with a single mouse click.
Video Formats. The tool supports a wide variety of output formats, including MP4, MKV, MOV, AVI, and more.
Download
Now that we have an idea of the main features of the software, it's time to download it - which can be done from the iTop official website.

When the download is over, we can execute the installer to start the installation process. As we can easily guess, the process is quite straightforward: we just have to click the Install Now button and the wizard will automatically take care of everything -  unless we want to change some of the default settings, which can be done using the Customize link just below the big red button, as shown in the screenshot below.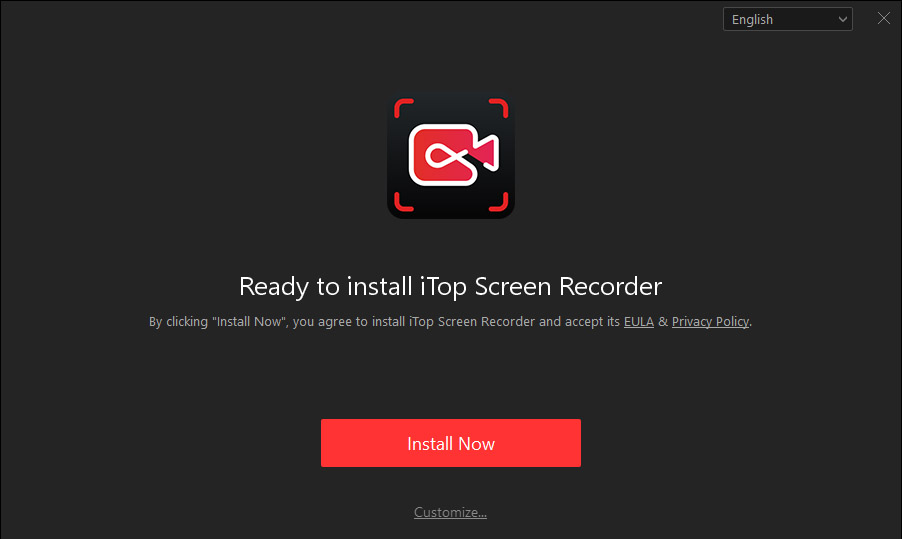 Needless to say, before being able to install the software we'll be asked to agree with the EULA (End-User License Agreement) and the Privacy Policy.
Using the Software
As soon as the installation completes we will be asked to launch the software: once we do that, we'll be taken to the tool's main dashboard.

From here we can access all the tool's features, such as:
Choose the recording monitor (in case you have multiple monitors).
Choose between recording the whole screen (full-screen), part of the screen (select region), or a given window (select window).
Setting the Speaker, Mic, Mouse, and Webcam ON or OFF to enable or disable their recording.
Access the main Settings (via the top-right hamburger icon) where we can choose the recording folder, configure the hotkeys, the video format (frame rate, size, file type, compression level, etc), default language, and other stuff.
As you can see by looking at the top-left corner of the above screenshot, we're currently using the FREE version, which comes with some limitations that we're going to see in a short while. However, it's fully usable - and hence perfect for this quick overview.
Recording Test (FREE version)
Let's start our test drive with a video recording attempt using the FREE version. We have chosen to record a window of BlueStack, an Android Emulator software - which we have used to play a session of Path to Nowhere, a popular game. To do that, we just had to launch the BlueStack app, select the Android emulator window, and hit the big red RECORD button to start the recording.
Here is the result:
As you can see, we got a great result - without even changing the default settings! Notice that, since we have used a 4K monitor, the recording quality is very high (2160p).
However, we can't help but note that there is a small Recorded with iTop Screen Recorder watermark in the middle of the screen: that's one of the limitations of the FREE edition, which can go away only by activating the PRO version - which requires us to purchase a license.
PRO version benefits
Compared to the FREE edition, the PRO version comes with the following advantages:
Video Resolution up to 4K / UltraHD
Unlimited recording time
Custom Watermark (with Watermark editor)
Schedule Recordings
Optimized gameplay recording (30% faster than the FREE version)
Hardware acceleration (up to 50% faster than the FREE version)
Automatic updates
Tech Support 24/7
As we can easily understand, the FREE version is great for basic, occasional usage and for testing the product: however, if the tool meets our expectations, the PRO version is required to unlock its full potential.
Recording Test (PRO version)
Let's now perform another test drive: this time we'll upgrade the software to the PRO version and, right after doing that, we will record another session of the same game using the same source settings.
Here's the PRO version outcome:
As we can see, the resulting video is much better in terms of smoothness and quality. That's hardly a surprise, as the PRO version comes with several important benefits in terms of performance and video quality that we have briefly listed early on.
Pricing and Licensing Plans
iTop Screen Recorder offers two licensing plans:
Lifetime -  79.99 EUR (currently available at a discounted price of 44.99 EUR for a limited time)
One Year - 49.99 EUR (currently available at a discounted price of 26.99 EUR for a limited time)
Both plans can be purchased from the iTop Screen Recorder official website.
Conclusion
iTop Screen Recorder is a great tool that can be used to capture any area of PC screen with audio and webcam, featuring high performance, low CPU usage, and an easy-to-use UI. The FREE edition is great because it allows to thoroughly test the software before buying it: however, to unlock its full potential, purchasing a license and activating the PRO version is definitely the way to go.